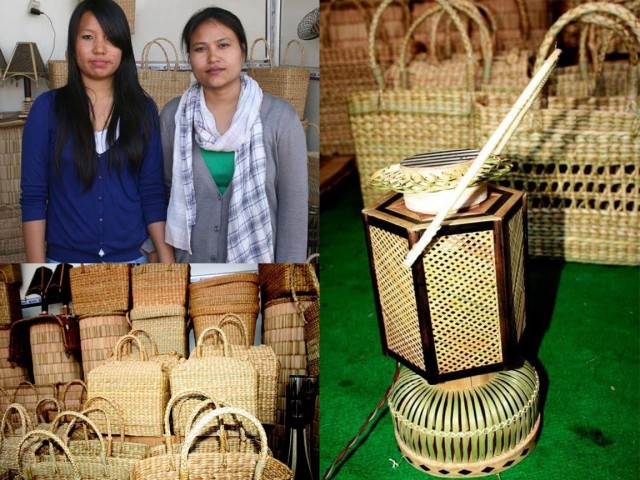 Konsam Leikai Handicraft which showcases varied designs of craft items made of Kouna, Cane and Bamboo at the Premium Stall No 79 at the Manipur Sangai Festival 2015 is a joint venture of two like-minded and industrious women of the state. The firm is providing jobs to 15 local men. They are also providing training to other interested persons.
Irungbam Pecha Devi D/o Jatra of Pungdongbam and Ningthoujam Rishi D/o Romen of Wangkhei Konsam Leikai started the venture of making Kouna craft after they completed a training course in Kouna craft organized by an NGO called Eco-Craft in 2006 at Pungdongbam.
The training course highly motivated the duo. Initially, they found problems in marketing their craft products as they were not so popular by that time. Now, their costumers have increased by leaps and bounds enabling them to earn up to Rs 30,000 per month. They have also received orders from some companies of Chennai, Bangalore etc. Kouna made Items include lady's bag, Lukmai, mat, cushion flower basket, mattress, Lady's purse, jewellery box, Mora (tool).
Among the bamboo craft, decorative table lamp designed by the Artisan of the firm is one of the attractive items where are on display at the ongoing festival.
Among the Kouna craft items, they received high demand for mat, a much needed domestic item in every household of Manipur. They have popularized the artistic skill of Manipur in Kouna craft in various craft exhibitions held at different parts of the country.