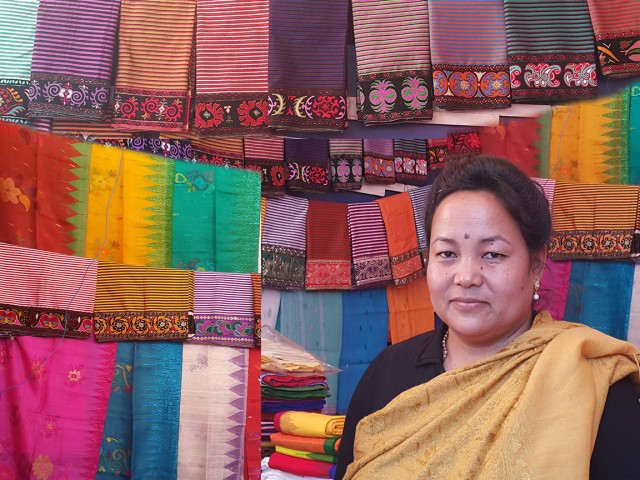 Embroidery is the art that she loves, says Moirangthem Sushila Devi, mother of a lovely son, L. Lalheiba Meitei who is 7 years old and a supportive daughter, L. Ningshingleima Chanu who is 15 years old.
Sushila was born to Late M. Ningthou and M. (O) Nungshi Devi in a small village called Tentha in 1973. Since schooling life, she came to know a little about manual knitting and embroidery. In 1988, she passed Class X and continued her study and could complete graduation (BA) from Oriental College in 1995.
Since she attained 15 years of age, she has been dreaming to create a niche in embroidery business. She never let it go out of hand and she kept on practicing this art. When she grew up too, she did not heed to any other options suggested by her family. After college, she approached to one of her neighbouring sisters to learn more about embroidery and it was her turning point.
During her stay at Babupara, she was very fortunate that she could learn more from a Home-guard woman personnel, Sanajaobi and it took only a month to learn so many things about embroidery. Subsequently she began to dream about starting a small business.
In 2000, she was married to L. Dorendro Singh, who supported her idea. The husband and wife together opened an embroidery centre at Andro Parking, Wangkhei dealing almost all kinds of embroidery works.
Since 2002, she has been imparting six months training to many youths at her shop cum work-shed and still continuing. Mosquito net, bed-sheet, traditional and contemporary wrappers (Phanek), Enna-phi etc. are the products they are dealing with
embroidery works.
In this year's Manipur Sangai Festival, Sushila shares the stall with Laishram Ningol Padma who is 50 years old, professing the same business. Padma is the proprietor of Padma Embroidery Centre, Palace Compound. According to Sushila, her stall could earn about Rs. 10,000 per day in last year's festival but cannot meet the pace this year. Further sharing her success story to MT, Sushila reveals that she is now preparing for the State Award. She is doing research regarding several designs of loin cloth known as Phanek Mayek Naibi.
According to her, Meitei's seven clans (Salai Taret) have specific designs (mayek) embroidered on the edge of the loin cloth. Based on colour, these loin cloths are divided into three – Kumjingbi, Thambal Leikhok and Loirang. Kumjingbi (black colour) was meant only for widows in the King's family. And another such design is Hijam Mayek which is worn by widows. Such strict traditions are no more followed these days.