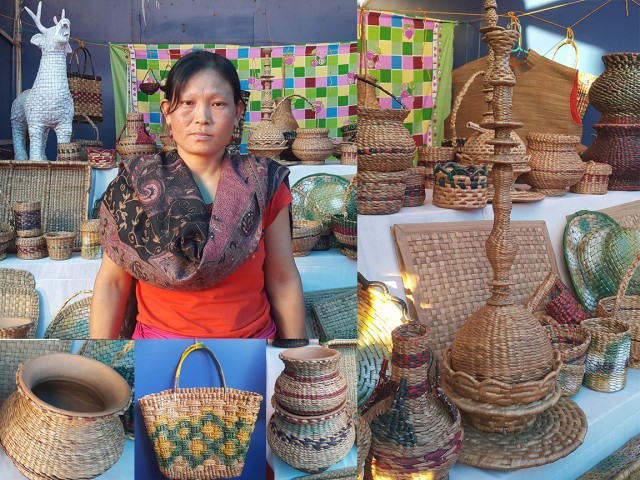 Have you ever seen a waistcoat made of Kabokang (dry water hyacinth)? Come at Stall No 57 of Manipur Sangai Festival 2015 and try it. Items made of dry water hyacinth have peculiar looks and distinctive qualities. Mayengbam (O) Wangkhem Bilashini Devi of Laiphrakpam village is an Artisan who has a huge experience in water hyacinth (Kabokang) craft. She showcases her items at Stall No 57 of Manipur Sangai Festival 2015. According to her, she visits many localities to collect water hyacinth plants. She said that it is found in her locality as well aplenty. The state government has acknowledged her talent and skill and awarded her Merit Award for promoting Kabokang craft. 42-year-old Bilashini is the wife of Mayengbam Sarat Singh from Laiphrakpam Makha Leikai in Imphal West district. She has one son and two daughters. Bilashini is the fourth daughter among seven children born to Wangkhem Tombi and (L) W. (O) Ibemhal.
Bilashini said that she never thought that she would become a noted Artisan of Kabokang craft one day not only before her marriage but also after marriage for long. However, she knew a little about embroidery since childhood. Sixteen long years after marriage, she happened to participate a 10-day training programme at her locality in 2011. An instructor namely Rasho from Kongba taught the trainees about Kabokang craft.
Not so long after the training programme, she got the opportunity to take part in another training programme on the same trade at Guwahati.
She said that she along with 40 other women went to the Assam capital for the training programme. The importance and value of these training programmes came into picture only in 2013 when she was honoured with NEDFI Award for making a popular handbag made of dry water hyacinth. This year as well, she received Merit Award for her Hidakphoo (hookah) model.
Bilashini said that unlike items made of Kouna (reeds) and Chumthang, Kabokang items are washable though its colour is a little bit dull.At present, Bilashini is imparting training at different parts of Manipur to popularize the craft. She said that she had organized 10-day training programmes at Leiphrakpam, Nungei (Lilong), Irom Meijrao, Thongju and Top Khongnangmakhong. Bilashini said that Oja Rasho is her mentor and she is accompanied by
asho and a student everywhere they go to give training. She said that her items are very popular at the ongoing Manipur Sangai Festival
2015.
One such item which attracts everybody's attention is waistcoat made of Kabokang. Though Kabokang craft is relatively new in Manipur, it is very popular in Thailand, Guwahati and some parts of Assam, she said. The only thing she needs is one month to dry the herb, and then she is ready to weave anything.