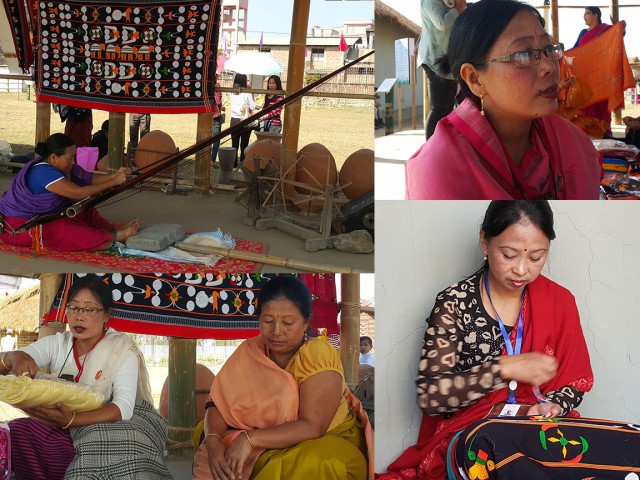 48-year-old Hemolata inherited the art of weaving from her late mother Pishak Devi. Since childhood, she used to learn it from her mother. She was born in 1967 and her father's name is L. Gokullo Singh. She passed class-X from Khoyathong High School in 1984 and completed BA from D.M. Arts in 1991. In 2001, she married to Ningthoujam Rohinichandra of Kwakeithel Mayai Koibi. And now she is a mother of an 11-year-old son.
During her P.U.C and college life, she used to weave Phanek and gradually shifted to weaving Shaphee Lanphee in course of time. The art of weaving Shaphee Lanphee was learnt from two her Gurus – RK Sanajaobi and L. Toto, who are no more amongst us today.
Hemolata's new idea, style and innovation in this art were supported by her Gurus. And thus she could develop her creativity. In the beginning, the products were meant only for hill tribes but now such products are in demand for gifts in functions in valley areas too.
The product even goes to foreign countries, said Hemolata. She received Sate Award in 1992 but she did not have any knowledge about Shaphee Lanphee at that time. She often visited the house of Sukumar Haobijam, an eminent expert of Textile industry in Manipur, to know more about Shaphee Lanphee. They together consulted Mutua Bahadur of Andro as well regarding the matter.
Before and after receiving the State Award, she visited different states to demonstrate and instruct about this art. She participated in several exhibitions and every year she attends 3-4 fairs outside Manipur. In 1995, she was adjudged first position in a design competition organized by Sericulture Department held at Indira Park
for her wall-hanging designed in Shaphee Lanphee craft. She has also received awards for Pung Cholom embroidery and Shaphee Lanphee in Women Craft Bazar in Kolkata and Haryana. She has also been honoured by MANIREDA for her creativity.