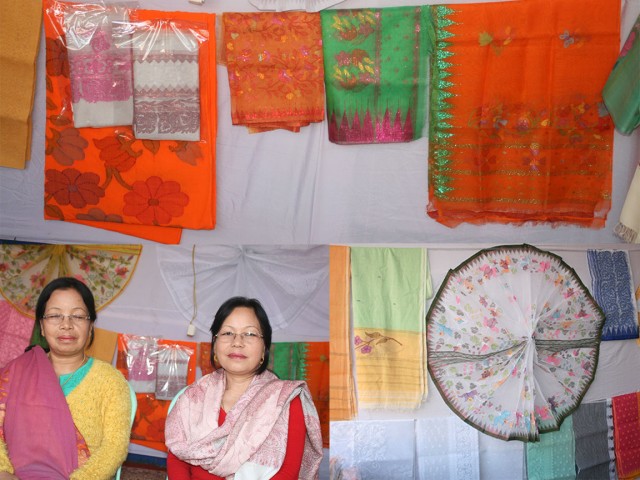 Handloom industry plays a pivotal role in sustaining the family income of many Manipuris. The traditional skill of handloom weaving is not only a matter of status symbol for the womenfolk in the state but also an indispensable aspect of their socio-economic life.
Handloom industry generates maximum employment for the womenfolk both young and old. In Manipur, the women community takes part in the handloom industry readily.
47-year-old Phanjoubam Usharani and her sister Phanjoubam Romita Devi of Wangkhei Yonglan Leirak in Imphal East are busy in weaving traditional attires embroidered with artistic motifs and designs generally worn by Manipuri womenfolk.
Both the sisters are state awardees in handloom and these two unmarried Meitei Ningols (daughters) are playing a pivotal role in supplementing their family income through handloom.
Usharani and Romita are the daughters of late Phanjoubam Tombi. Usharani bagged the prestigious state award conferred by the Commerce and Industries Department, Government of Manipur in 2014. The award was conferred on her in recognition to her artistic handloom design "Kwak Mahum".
Usharani shares her stall with her sister Phanjoubam Romita Devi, who received the state award for her artistic design "Shamjin Apakpa" in 2011.
The two Artisans showcase different designs of their manually woven handloom items like Shamjin Apakpa, Lamdang Khulak, Kwak Mahum, Atar Gulap, Wangkhei Phee and Rani Phee at their stall of Manipur Sangai Festival.
Handloom craft becomes a thriving business for the two women Artisans who took up the job some 20 years back. They can earn Rs 20000-Rs 30000 a month from this occupation.