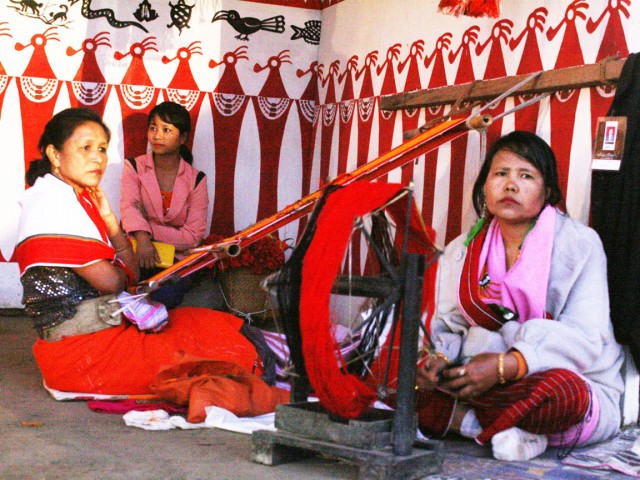 Sorojini Rongmei, 50 years, W/o late Nakul from Ragailong in Imphal West district is a lady handloom Artisan who weaves various traditional attires of Kabui community, an indigenous ethnic tribe settled in the state.
The lady handloom Artisan demonstrates how the Kabui traditional attires are woven on loin looms at the Kabui traditional house constructed at the Heritage Park as part of the ongoing Manipur Sangai Festival 2015.
Sorojini learned weaving of Kabui traditional attires from her late grandmother Lalailu and mother right from her tender age of 10 years.
An elderly lady endeavouring to promote the legacy of the colourful traditional fabrics of Kabui community, she used to supply the woven material to both wholesalers and retailers.
She has been doing this job for almost 20 years. Some of the Kabui traditional fabrics she makes include Langjenpheisoi, Bungkham, Pheingao Pheisoi, Lengrang, Lakmu Pheisoi, Pheingao Phei (shawl), Lenglan (worn by boys used in traditional dance), Mareipan, Haopheishoi, Lakmu Pheisoi some of the traditional dress she designs with artistic motifs.
She also weaves Sinaiphai, a traditional scarf mainly worn by both boys and girls of Kabui community during religious festivals like Chakan Gan-Ngai.