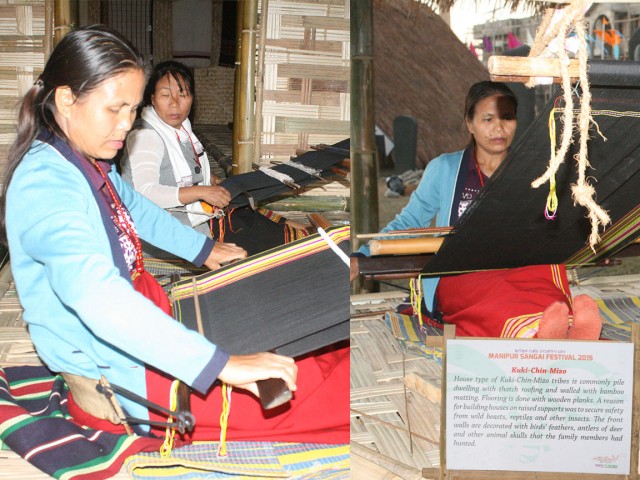 Thadous are tribal people, native to North East India, Chin state and Sagaing Division in Myanmar and eastern Bangladesh.
In Manipur, Thadou is a sub-tribe of Kuki-Chin-Mizo, who are mostly residing in Churachandpur district, Senapati district, Ukhrul district, South-Western Hills and Sadar Hills, Chandel district and Jiribam.
Like other ethnic tribes, Thadou has its own distinct culture, identity, handloom and handicraft.
Mrs Ningjahoi, wife of Lalkohong from Moreh Ward No 7 is a Artisan who weaves a variety of traditional attires which are mainly worn by the women of Kuki-Chin-Mizo group.
She weaves the Kuki traditional fabrics using loin loom (handloom) at her house.
She has seven children (five daughters and two sons). The lady handloom Artisan demonstrates how the Kuki traditional attires are woven on loin looms at the Kuki-Chin-Mizo traditional house being constructed at the heritage park as part of the ongoing Manipur Sangai Festival 2015.
'Khamtang', a Phanek attire worn by Kuki women is one of her finest handloom works woven with loin loom. She sells 'Khamtang' attire at Rs 2000 to Rs 5000 according to different motifs embroidered in it.
She said that 'Khamtang' is mainly worn by girls and woman of Kuki community during religious festivals and merrymaking. She has been in the craft for 10 years and maintaining her family with the income generated from weaving such Kuki traditional attires.