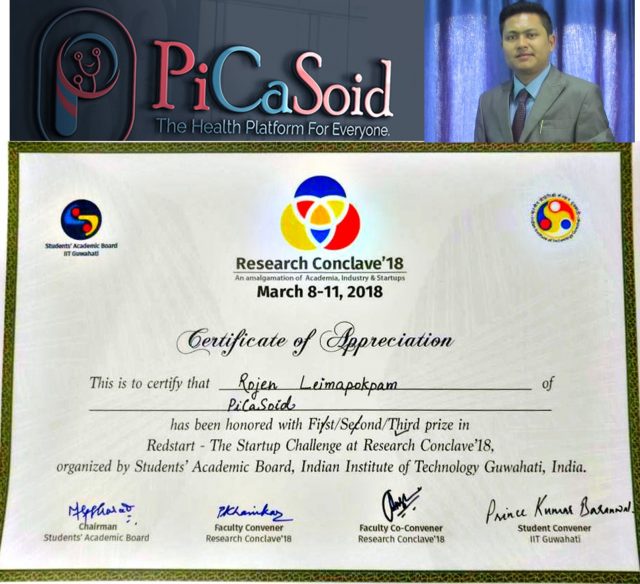 @picasoid team entered into the hall of fame of IIT Guwahati, by winning 3rd position at the recently held "REDSTART -THE START UP CHALLENGE at "Research Conclave 2018" organized by IIT GUWAHATI, India.
The challenge consists of two stages, submission of abstract and final presentation. All together, 60 teams submitted their abstracts, out of which 18 teams were selected for the final presentation which was given on 9th March 2018. The judging criteria was on the Feasibility of Startup, Impact (Energy, Rural, Social), Presentation and Innovation.
It may be noted that PiCaSoid was also a winning team at STARTUP PITCH UP, organized jointly by @Global Shapers Imphal Hub and @India Network. The team will be visiting Japan in the month of April 2018, for attending a boothcamp in the city of Tokyo.
Brief about PiCaSoid:
@Picasoid is a health platform that every individual, doctor and healthcare centre can use from anywhere anytime. Developed in our state Manipur, Co- founded by @Rojen Leimapokpam and @Ravi Kumar, PiCaSoid started delivering their services from "May 2017" with a total of 6,970 users from the state of Manipur till date.
Benefits of having PiCaSoid Health Account are
1) Permanent Personal Health Account.
2) Upload, view and share lab reports.
3) Online appointment and LAB tests booking.
4) Message directly with Doctor.
5) Health tips and information.
6) Discount on healthcare services requested through PiCaSoid.
For more information, kindly visit www.picasoid.co.in or mail at [email protected]