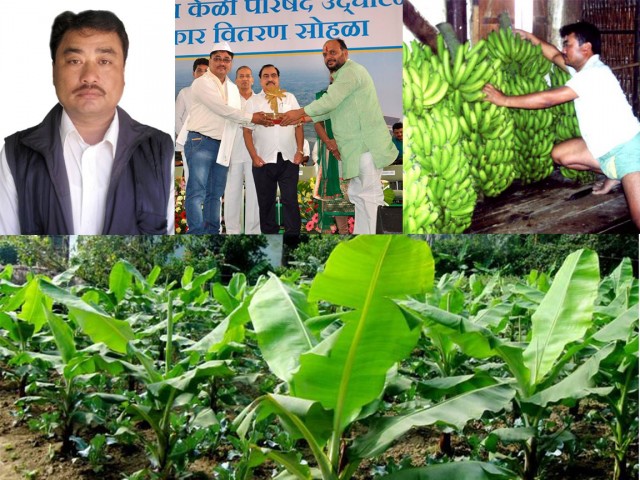 Soibam Manitomba of Arapti Lilong Mapal, a journalist by profession, took up banana farming when he was motivated by the success story of a banana farmer, covered by him during his routine news reporting. Recognizing his effort in promoting banana production in the region, he was conferred with the prestigious Late Gaurai Hi-Tech Banana Award 2013 recently.
The award carrying Rs 51,000, a citation and a memento was conferred on Manitomba in recognition of his valuable contribution and promotion of modern hi-tech agricultural techniques and efficient agricultural practices including tissue culture and drip irrigation in banana cultivation in the hill areas of Manipur. The award was handed over to him by the Agriculture Minister of Maharashtra, Eknath Khadse at International Conference on Dynamics of Technology for Quality Production of Banana. The conference was held under the aegis of Jain Irrigation Systems Ltd and Bhavarlal and Kantabai Jai Multipurpose Foundation at Jain Hills, Jalgaon, Maharashtra on March 15.
Soibam Manitomba, staff reporter of Kanglapao, an evening daily published in Imphal is also president of Kanglei Economy Development Organisation (KEDO). He is also running a Photo studio at Lilong Bazar.
How he started the venture
A journalist by profession, Manitomba was hard pressed to maintain his family with the meager income from his job. So, he started to chalk out a plan to cultivate Banana in his small plot of about one acre from the year 1983. This also could not help him earn enough to maintain his family comfortably. Later on, with the assistance of TMNE in 2008-09, he planted about 500 Banana saplings of Grain Nain variety in his small plot. With the banana plants bearing fruits, he could earn more than Rs 1000 per banana bunch. Altogether, he could fetch a lucrative income of about 80,000 in the initial year. Buoyed by the initial success, he continued banana cultivation and expanded his area of operation by planting another 1000 plants of Grain Nain variety. Seeing the success venture of the farmer, the vegetable growers in the vicinity are now opting to cultivate banana. Manitomba is now a banana motivator in his locality.
Manitomba said that once he, as a journalist, went to Chingmeirong for covering a story on distribution of banana seeds and sapling to the beneficiaries under the Technology Mission of Horticulture department and he requested for some of the seeds and sapling for him to start banana cultivation. Seeing his enthusiasm, mission director TMNE Kh Ratan Kumar handed him 500 banana seeds.
With this he started cultivating banana at his one acre farm with the seeds he managed to receive from mission director. His successful banana farm was inspected and endorsed in the 2009-10 annual report and hence he was shortlisted for the award. He was the only awardees from the entire North Eastern States out of the 14 banana cultivators from India felicitated during the conference.
Motivation after joining the conference
Participating in the international conference and receiving the award has motivated me more to expand my banana cultivation. During the conference, I met a success banana farmer from Tamil Nadu who cultivates banana in about 50 paris. His success story has rather motivated me, he said.
Lamenting that he has no enough land for banana cultivation, he said, "If I have more land to expand my banana cultivation, I can produce more products. The present farm where banana trees are being planted is not enough for a success banana farmer if compared with those success farmers in Tamil Nadu, Kerala and Maharashtra.
Ups and downs are usual to an entrepreneur. Cultivator Manitomba too faced loss in his business when the big flood of 2011 damaged his banana cultivation.
Hardships in life journey
"Compelled by poverty, I could not continue my studies after graduation while helping my poor parents to maintain the family. I did any available job for earning.  As I was engaged in work for earning, I missed several classes in college days. Sometimes, I earned for the family working as a mason, digging of ditch as well as collecting fire woods from the hill to meet both ends meal a day. It was hard for my parents to afford us enough meal to our stomach full, not to talk of our studies. Since childhood, my life is full of work and struggles to make a living. Now, I can maintain my family comfortably with the income gained from banana farming and journalism job", recalled a visibly moved Manitomba.
Message to the people
Although most of the people in the state lack of good work culture and the state is hinging on others for survival, they like the best food, best dress as people of the developed countries do. They never introspect how these developed nations arrived at the present juncture. It is right time that we should put in sincere effort so as to make the poor state economically self-reliant through work culture. Development, economic self reliance of the state will be possible only when people cultivate good work culture. Otherwise, we will continue to survive begging from others", observed banana farmer Manitomba while urging the state government to focus more on encouraging the agro based industries which are highly conducive to state economy growth.
Market viability of banana
Cultivators need not worry for market as Banana is a vital nutritive fruit item and is widely used in the state as an important item during religious rituals and ceremonies like Lai Haraoba, marriage ceremony, shraddha ceremony, Ningol Chakouba festival and so on. Banana farming doesn't require huge capital investment or heavy machineries. Without much effort, a farmer can adopt the banana cultivation with an affordable capital investment. A Lou-oo of banana tree usually gives 20 to 30 bunches of banana and a bunch of banana is usually sold at Rs. 60-100 at whole sale rate. If a man takes up banana cultivation successfully, his income will not be less than that of a well paid Government employee, observed Manitomba.
A banana plant takes about 9 months to grow up and produce a bunch of bananas. Then the mother plant dies. But around the base of it are many suckers, little baby plants. At the base of a banana plant, under the ground, is a big rhizome, called the corm, small banana suckers.