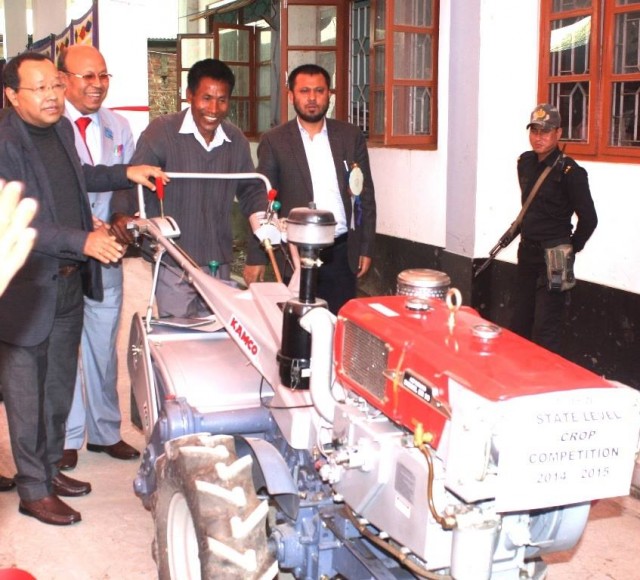 Although farmers have a tremendous sense of pride in the fact that they've been able to help feed the world, they are not regarded in high esteem, do not enjoy the high social status as other professions like doctors and engineers do. No parents send their children to schools to become a farmer in life. Nobody respect and encourage the farmers who produce food to feed the people. The state still depends on imported food products. This dependency culture will end only when the people encourage and pay due respect to the farmers, said farmer Huiningsubam Ibohalbi Meetei.
Winning the best farmer award
Huiningsubam Ibohalbi Meetei of Lamboikhul Makha Leikai, Imphal East, is among the success rice crop farmers who recently bagged the best rice crop farmer award in the state level rice crop competition 2014-15 organised by Dept of Agriculture. He produced 12,437.17 kgs of paddy variety R-1 locally known as "Tampha phou". Nongthombam Brojendro of Awang Potshangbam, Imphal West, who produced 11,338.62 kgs won the second prize while the third prize was given to Leishangthem Rajen of Thoubal Wangmataba, Thoubal district. Rajen produced 11,264.06 kgs of paddy. A power tiller was given as the first prize while a reaper and a water pump were presented as the second and third prizes respectively.
Brief life sketch
Born to Huiningsubam Apabi Meetei and Huiningsubam Ongbi Bokullei Leima as eldest son among nine siblings (six daughters and three sons), farmer Ibohalbi was brought up in a penury driven family and was compelled to work in their paddy field at his tender age to help his parents in maintaining the family. He is a self made farmer who carves out a niche in agro farming in the state.
"I am very happy to receive the prestigious award. I think I have reaped the fruit of my endeavour. Government has now acknowledged my effort", he said.
Failure in first attempt did not dishearten him
Farmer Ibohalbi could not achieve any award when he participated the rice crop competition 2007-2008 organised by the Agriculture department for the first time. But it did not dishearten him. In his second attempt, he could bag second prize in the district level rice crop competition 2008-2009 which carried a cash award of Rs 15,000 for producing 9029.60 kgs of paddy in one hectare of land.
Buoyed by this achievement, he again participated in the district level rice crop competition 2011-2012 in which he won second prize which carried Rs 25,000 for producing 9266.77 kgs of paddy in one hectare of land. This achievement in the district level highly motivated the farmer to compete with other farmers in the state level.
This time, Ibohalbi doubled up his effort to increase his crop productivity with a view to clinch the coveted first prize in the state level competition. He reaped the fruit of his hard pressed effort when he received the first prize in the rice crop competition 2014-15 organised by Dept of Agriculture for producing  12,437.17 kgs of paddy "Tampha phou", a variety provided by the Central Agriculture University (CAU). Tampha Phou is among the six paddy varieties eligible to join the rice crop competition organized by the Agriculture department, Government of Manipur.
Sharing his view as to how paddy yield could be increased, he said that farmers who still depend on traditional farming cannot increase their rice productivity. Farming with modern scientific know-how and inputs, consult with experts and personal experience are the key factors for increasing productivity.
His appeal to Government
He said that Agriculture department needs to keep a good relation with the farmers. There seem to exist a gulf between the farmers and the department. Productivity cannot be increased until an amicable relation is brought between the department and farmers. Citing an example, he said that paddy production cannot be increased in the state despite Agriculture department providing seeds to farmers at gratis. Reason, what the department is providing is contradictory to what the farmers like. The imported seeds sometimes are found inadaptable to the local soil. Cultivation of Paddy seeds which would adapt the local soil will be more conducive to good productivity.
Message to people
We are generally lack of work culture. It has been a long culture in the state to leave the vast fields lie barren and dry for long after paddy harvest. We can earn more income by greening the vast field if we all have work culture and wish to toil for earning. We should not mean the fields in Manipur only for paddy cultivation. Besides paddy, farmers need to produce other crops. Untill and unless the present work habit of Manipuris is amended, the state which is lack of resources and job opportunity will never develop and dependency culture will go on, observed Nabachnadra, who wishes to convey the message to the people that other crops can also be cultivated to earn more income as compared to paddy cultivation.
[ecwid widgets="productbrowser search minicart" categories_per_row="3″ grid="10,3″ list="60″ table="60″ default_category_id="21294227″ category_view="grid" search_view="list" minicart_layout="MiniAttachToProductBrowser"]