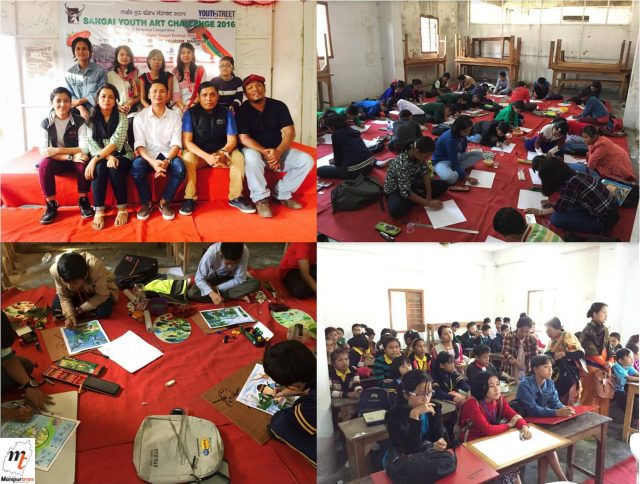 IMPHAL, 13 NOV: The Sangai Youth Art Challenge 2016-  A Pre-Event to Manipur Sangai Festival 2016 has been successfully held on 13th November 2016, Sunday, from 9 a.m. till 3 p.m at TG Higher Secondary School, Imphal. This youth event was organised by the Department of Tourism, Government of Manipur in association with Youth Street News.
More than 200 young students from various school of Manipur participated. The Sangai Youth Art Challenge 2016 is the 2ndEdition to the highly successful Sangai Youth Art Challenge which was also held as a part of last year Sangai Festival. It is an artistic youth event wherein painting competition was held with the theme Promotion of Tourism and Conservation of Environment. The painting competition was held in three categories comprising students of class III to X; Group A (Class III-V), Group (Class VI-VIII) and Group (IX-X). This youth event was organized to ignite the young minds so as to know their thoughts regarding tourism and conservation of environment.
Eminent personalities, namely, Mr. Ashok Kumar, IAS, Special Secretary. Tourism Department, Manipur; Mr. L. Biren Singh, Principal, T.G. Higher Secondary School; Mr. Kangleinganba Maisnam, Managing Editor, Youth Street News and Ms Mehnaz Nasreen, Founder Editor, Youth Street News graced the event as the Chief Guest, Guests of Honour and President respectively.
Speaking at the occasion, the Chief Guest, Mr Ashok Kumar said: "A very good initiative by Youth Street News. This is an opportunity to the young talents of the state, and I know there is a lot of talent. He further added, " We are in full support of initiatives like this and we will carry forward this event on a better and larger scale. All the very best young partic