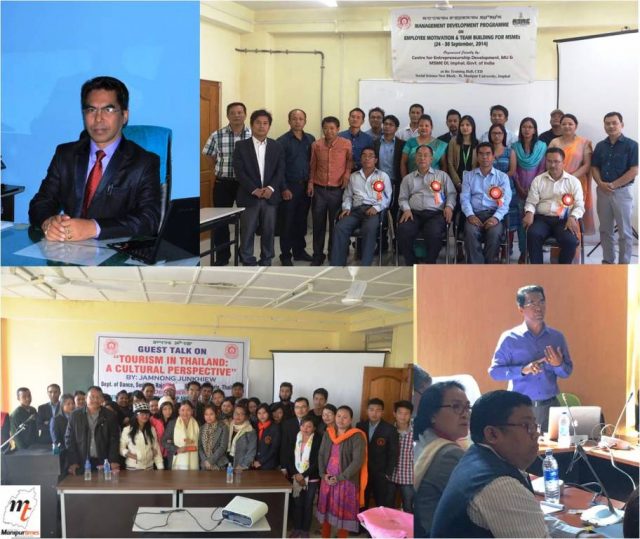 Bill Gates has rightly said, "As we look ahead into the next century, leaders will be those who empower others." Prof. Ch. Ibohal Meitei is one such leader who has been actively involving in the entrepreneurship development and enterprise creation activities in Manipur by organising various training and consultancy activities in collaboration with the industrial units, government agencies and financial institutions etc.
He is also extending consulting services in his own capacities for the growth and development of many organisations engaging in entrepreneurial and industrial ventures. Prof. Ibohal is the incumbent Director of Centre for Entrepreneurship and Skill Development of Manipur University. He is also the non-executive independent director in the board of directors of couple of companies in Manipur.
Early Life and Education
Born on February 1, 1968 as the eldest son of Chingakham Deba and Chingakham (O) Borsana at Nambol Sabal Leikai, he passed his Class X from Nambol High School in 1983.
After passing Class XII (Science) from Imphal College, he did BSc (Physics Honours) at Aligarh Muslim University. After completing BSc in 1989, he pursued MBA at the same university. Prof. Ibohal earned his MBA degree in 1992 and worked in some corporate houses in Delhi from 1992 to 1995.
Later, he returned to his home State and joined Manipur University as an Assistant Professor of Management at Manipur Institute of Management Studies (MIMS), Manipur University when Manipur University started the MBA programme in 1995.
Further, he had completed FDP in Management from Indian Institute of Management (IIM) Ahmedabad (1999) and PhD in Management from Manipur University (2001).
Contributions and Connections
Prof. Ibohal now has 23 years of industry and academic experiences. He had completed successfully a term for the directorship of Manipur Institute of Management Studies, Manipur University (2008-11).
He had visited Peking University, Beijing, Europe China Business School, Shanghai and Zhejiang University, China, Cholalongkorn University, Bangkok, Thailand and Mandalay and Monywa, Myanmar for academic related activities.
Recently, he had been invited as a resource person in the 3rd Education Sub Forum organized by Yunnan Open University, Kunming, China from 12-14 June, 2016 as a part of 11th China-South Asia Economic Forum.
He had eight PhD research scholars completed under his supervision and also guided quite a good number of MBA dissertations. He had more than 30 publications in various journals of repute and also he had presented papers in international and national conferences and seminars held at various institutions like IIT Delhi, IMT Ghaziabad and XLRI, Jamsedpur etc.
Prof. Ibohal had attended various courses at IIM Kolkata, IIM Bangalore, IIM Kozhikode, IIM Lucknow, MDI, Gurgaon in the area of Strategic Management and Business Policy. He has been associating in the administrative affairs of the Manipur University in various capacities during his service in Manipur University since 1995 till date.
His Vision Through Centre for Entrepreneurship and Skill Development (CESD)
Prof. Ibohal during a recent chat with MT opined that entrepreneurship and skill development activities is regarded as one of the important determinants for the industrial growth of a country and it has emerged as dynamic and vibrant area of any growing economy.
It contributes a lot in the employment generation and helps in the socioeconomic development of the country or the state, he added.
In the present day global competition establishment of a business unit and sustaining it is becoming a big challenge, he said and added that the dearth of the entrepreneurial and managerial skills is one of the most major problems being confronted by all the developing economies especially the region like Manipur.
Manipur and North Eastern states have now become a major place of attraction for entrepreneurship due to the Look East Policy/Act East Policy of the Government of India. Both the trans-Asian highways and trans-Asian railway will be passing through Manipur (Moreh-Tamu sector) and Manipur is now becoming the gateway to South East Asian countries.
In order to meet the global challenges and the new opportunities thrown to the industrial development in the region and also to generate more employment for the youths and utilities of the human resource potential, entrepreneurship and skill development activities have to be given a priority, Prof. Ibohal opined.
With increasing unemployment among the educated, the need is being felt for giving due attention to employable skills in higher education too. Further, there is a need to motivate and guide the educated youths to enable them to move a step forward and take up a career of self employment and set up enterprises as an entrepreneur and become job creators in the tight job market, he said.
About CESD
Prof. Ibohal said that the Centre for Entrepreneurship and Skill Development was established under the School of Social Sciences in 2014 with an objective to act as a catalyst to the promotion and advancement of entrepreneurship and skill development activities in Manipur in particular and the nation in general.
He further said that the centre would provide training on entrepreneurship and skill development programmes and create avenues for employability of the educated youths apart from grooming entrepreneurs to acquire sound management knowledge for running the organization in general and small scale industry, export-import units, services business and unorganized sectors etc in particular.
Prof. Ibohal further said that the centre would identify, design and conduct skill development training programmes for existing and budding entrepreneurs and act as a catalyst for development of self employment/entrepreneurship, industry/business and to document and disseminate information related to self employment and sources of finance etc.
The centre aspires to undertake joint research projects and collaborative works with institutes/universities of national and international repute which are interested in entrepreneurship and skill development within the country and abroad. As a part of skill development, the centre is at present offering B. Voc degree in Tourism and Hospitality Management and Retail Management and Foreign Trade.
He further disclosed that evolving linkages with industry, government departments, Banks, Financial Institutions, NGOs, civil society organizations and other academic Institutions to promote the entrepreneurship and skill development culture in the state and disseminating information related to self employment, hand holding activities and sources of finance are also the objectives of the centre.
He said that the centre organizes visits and exchange programmes and to conduct research for generating new knowledge of management to accelerate the process of entrepreneurship and skill development activities in addition to providing motivational and managerial traits and other training needs and support the skill development activities particularly in establishing service and knowledge based enterprises and export oriented units.