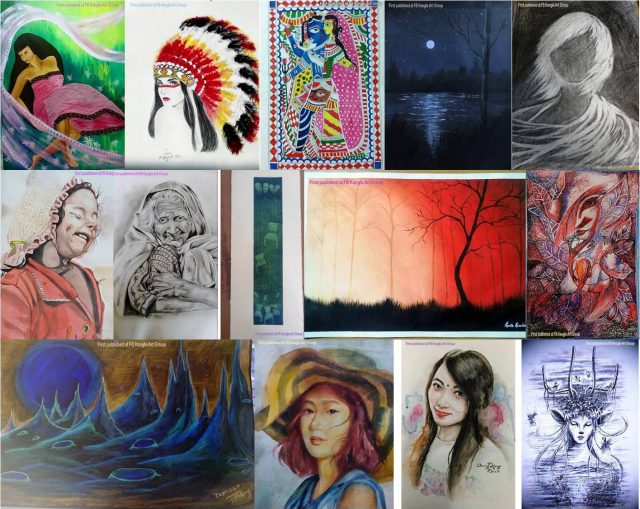 Kangla Art Group warmly welcomes "Ningol Chakkouba" festival, 2016 by sharing a special album of artworks by 'ningol' (female) members of the Group. Kangla Art Group & Manipur Times wish all the patrons "A Very Happy Dipawali" and "Ningol Chakkouba".
Contributed Artists for this month: Renuka Maisnam, Monika Devi, Puni Ngangom, Tun RK, Sushma Chabungbam, Pramodini Moirangthem, Kavita Kanchan Ningthoujam, Kiran Chongtham, Davina Sanasam, Ranapriya Konsam, Mutum Meeta, Sodia Ningthoukhongjam, Golmei Bliss, Chaning Devi Moirangthem
Selected Artworks from Kangla Art Group – October 2016
KAG is a group of Art Lover, Amateur, Semi-Professional and Professional devoted to encouraging the growth and development of emerging Fine Art.
For Latest update form KAG, please join and follow at
https://www.facebook.com/groups/KANGLAARTGROUP/
Disclaimer: Manipurtimes do not hold copyright of artworks published here. Please contact KAG or respective artists for redistribution in any form or original artworks.
Artworks are shared as per provided by the KAG Admins, however if an artist wishes that his/her artworks can't be shared here, please contact us at [email protected]