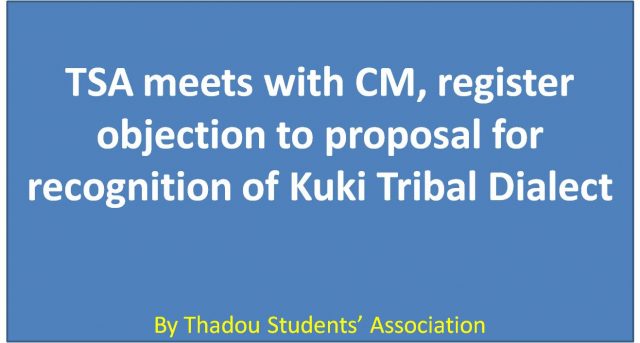 A team of the Thadou Students' Association – General Headquarters (TSA-GHQ) met with O Ibobi Singh, Hon'ble Chief Minister of Manipur on 19 October 2016 and submitted a representation of objection to the so-called Kuki Literature Society, Manipur (KLSM)'s secret, but leaked out, proposal to the Government of Manipur for recognition of the non-existent 'Kuki Tribal Dialect' in the School up to Class-VIII.
The said memorandum for cabinet, a copy of which was attached, stated that Honourable Minister, Education (S) Manipur, has approved the proposal, and Hon'ble Chief Minister of Manipur has also agreed to place the matter before the Cabinet. It also stated that Kuki population in Manipur is a meagre 28,306 (twenty eight thousand three hundred and six) with 55 (fifty five) villages and 55 (fifty five) schools.
TSA objects to the proposal in the strongest term and provided the rationale that there is no Kuki dialect/language as such, and Kuki is a generic term, originally generally referred to hill tribal peoples of Chittagong Hill Tracts in Bangladesh, for various related or unrelated ethnic groups of peoples and has no particular dialect or language, whereas Thadou is a an indigenous tribe of Manipur and a specific group of people with distinct language/dialect, traditions, costumes, culture, customs and identity.
The history of Thadou language has been recorded since the 13th century and Thadou literature and grammar as far back as 1857, since when a host of publications on Thadou literature and grammar have been around, a list of which was attached in the representation. 
The name of the language spoken by the Thadous and the name of the tribe has always been Thadou since time immemorial. However, a section of people with vested interest within Thadou tribe, speaking the same dialect/language (Thadou), falsely claim the name of the dialect/language as Kuki, instead of Thadou, and eventually the matter landed in the court.
Following a ruling of the Guwahati High Court, the Government of Manipur issued an Order dated 12/05/1987 to the effect that the name of the dialect/language shall henceforth be known as 'Thadou-Kuki' for the purpose of literature or Major Indian Language (MIL) subject until further orders.
Thadou-Kuki has been offered as an MIL subject from Class-VIII up to Graduate level, and everyone, irrespective of tribe or organisational affiliation, as is the case, is always welcome and encouraged to benefit this to the maximum without any restriction or hurdle.    
Thadou-Kuki Literature Committee is one and the only legitimate body responsible for the advancement of Thadou literature and language. The Governor of Manipur has issued an Order, dated 30th August 2016, re-constituting Thadou-Kuki Literature Committee with new members as recommended by the Thadou Inpi – General Headquarters, the apex body of Thadou tribe (copy enclosed in the representation).
Another literature committee for MIL subject for the same language/dialect (Thadou) under a different name is absolutely unnecessary, and if there is any, it is illegitimate or fraudulent and should be treated as null and void.     
Any arrangement for a new Thadou-Kuki MIL subject has to be within the parameter of Thadou-Kuki Literature Committee with the approval of Thadou Inpi. Otherwise, it would be unlawful, breaching court and government orders and inciting communal tension and violence. 
Thadou, the largest tribe in Manipur, has been recognised as a scheduled tribe by Government of India on 29 October 1956, and its population in Manipur alone is 2.16 lakhs as per 2011 Manipur Census.
There is a slot of daily program in Thadou named 'All India Radio Thadou Program' for Thadou tribe at All India Radio, Imphal station for the whole of Manipur and at Churachandpur station for the district.  
TSA, in its representation, demanded that the Government of Manipur rejects the proposal, or any other proposals, for recognition of Kuki Tribal Dialect/Language by Kuki Literature Society, Manipur or any other body, but to maintain status quo.
Should the government fail to meet our demand, and any untoward incidents arise out of the issue, then the government would be held solely responsible.
We trust that the Government of Manipur will uphold justice and fairness and take up necessary action to avert any undesirable situation in relation to the issue.