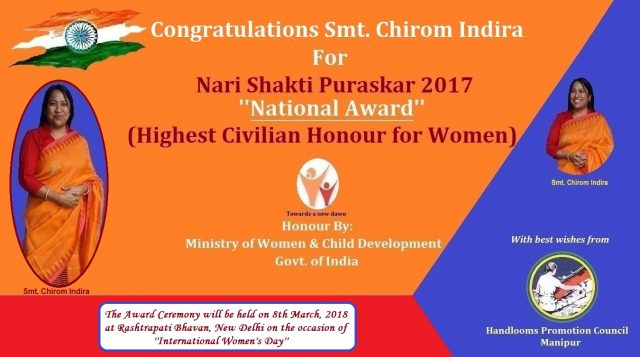 Ministry of Women & Child Development, Govt. of India confers the 'Highest Civilian Honour for Women'' on International Women's Day, 8th March, every year by presenting ''Nari Shakti Puraskars''. The objective of the award is to acknowledge and recognize the services of individuals and institutions who have made a lasting contribution to women's empowerment. The awards are also an effort to recognize role models who act as torch bearers for the younger generation and catalysts of change in the lives of women and society at large.
Smt. Chirom Indira W/o. Ch. Sanjoy Singh from Thangmeiband Lairenhanjaba Leikai, I/w (Manipur) is selected for this prestigious award ''Nari Shakti Puraskar 2017'' for her remarkable contribution towards the women empowerment, development of socio-economic conditions of the weaker sections and handloom sector.
Smt. Chirom Indira was one of the Women Entrepreneur, Designer, Exporter, and Social Worker from the North-Eastern Region of India. Her dedication and contribution for the development of handloom sector and working for the women empowerment made her a well-known figure in the region. She was born in Sagolband Sayang Kurao Makhong (Imphal West). Activities such as social works, women empowerment and working for the development of socio-economic condition of the weaker sections were always close to her heart. As a woman entrepreneur, she believed communal harmony is key to social development in multi ethnic society like Manipur. Empowering and embedding self-esteem into women is her life's biggest mission. She is also a strong supporter for women empowerment. By giving women skills and new opportunities, we can unlock their full potential and enable every woman to find a new meaningful place in society.
She is a lady of huge ambition and she works really hard to achieve what she wants. She worked nights and weekends. It's a known fact that success doesn't happen overnight. Things take time; it demands hard work and enthusiasm. She believed on herself and her work. She took all the problems as a challenge.
She has never been one to rest on her laurels. She has always looked ahead, towards newer challenges. Her natural instincts and foresight have always led her to the next frontier. She performed silently and continues to let her works talk for them. She has always maintained a very positive and friendly attitude towards all the section of peoples. She loves people and always tries to lift the spirits of those around her. She has a keen interest in paying it back to the society by doing something for its welfare. The efforts of her hard work bring smiles to thousands of women in the region. The best thing about Chirom Indira is her utmost simplicity.
She has earlier received many prestigious awards including National Award in Design Development of Handloom Products honoured by Ministry of Textiles and DMA All India Women Entrepreneurs Award 2018 (Super Achiever Award) honoured by Delhi Management Association (DMA). She is a woman who has consistently strived hard to attain sky height success and still managed to maintain her foot firmly on the ground.