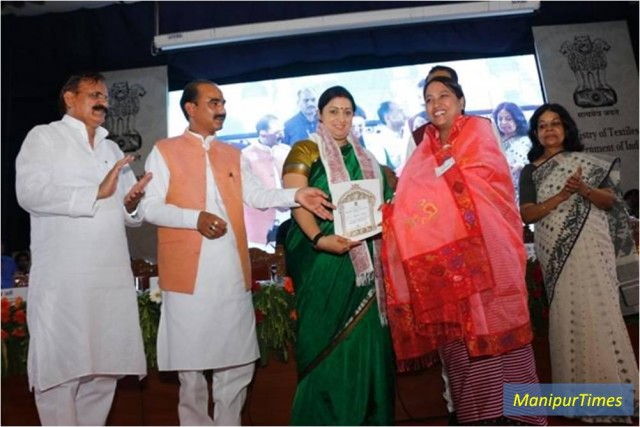 Smt. Chirom Indira, W/o Shri Chirom Sanjoy Singh from Thangmeiband Lairenhanjaba Leikai, Imphal West, Imphal-795004, Manipur has received National Award 2015 in Design Development of Handloom Products. The award function ceremony was held at Varanasi on 7th August 2016, 2nd National Handloom Day. This award was honour by Smt. Smriti Zubin Irani, Hon'ble Minister of Textiles, Govt. of India. She is the first Indian lady and only one who have receive this prestigious award for the first time in the history of Indian Handloom. This award is newly instituted by O/o DC Handlooms, Ministry of Textiles under the instruction of Hon'ble Prime Minister Shri Narendra Modi on the occasion of 1st National Handloom Day, 7th August 2015  held at Chennai.
She was born on 21st November, 1972 at Sagolband Sayang Kurao Makhong, Imphal of Manipur. She is a Graduate from Manipur University and has a professional qualification Diploma in Handloom Technology (DHT) from Indian Institute of Handloom Technology (IIHT), Guwahati.
She has been an important name in handlooms from the north eastern region of India – promoting Manipuri handloom products for national and international markets for last 22 years. The development of a diversified Manipuri handloom sample ''TALIT'' using Jala weaving technique (helped by WSC, Imphal) for an Israel buyer become a game changer for her as it opened up the path for international reach of a humble product.
She was the front contributor to the transition of weaving from traditional products to the modern products. She adopted many traditional techniques and designs. She guided many weavers in designing and weaving with advance technique of Jala weaving. Her creations were displayed in various National & International exhibitions organized at different places. She has visited to Denmark, Greece, German, Belgium, Netherland, U.K, Austria, France and Myanmar for promotion of handlooms products.
Continuous training programmes on creating awareness of the importance for modernization of looms, design development, diversification of products, quality control and advanced weaving with Jala, weavers can now produce varies of designs or they can produce fabrics according to demand and order of the buyers. As a result of it, the weavers can earn more wages than their previous earning level.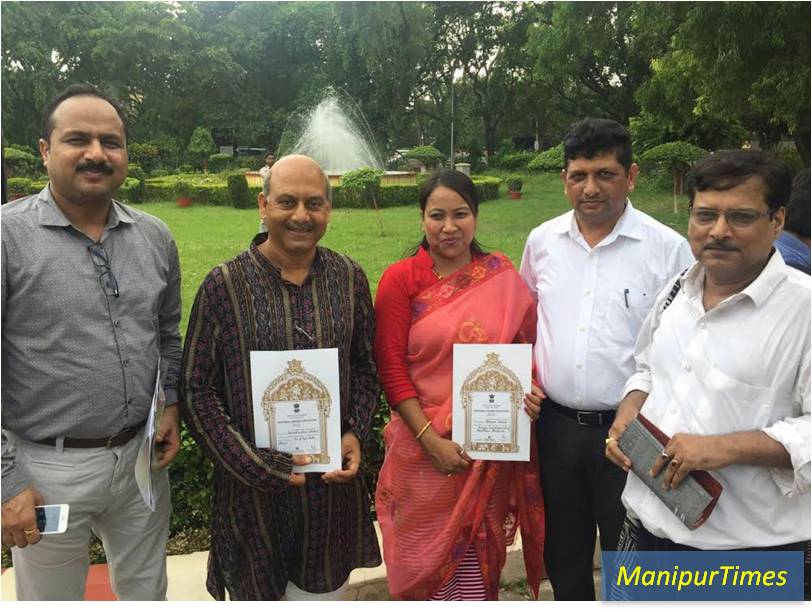 She has contributed to lot for development of different types and forms of Jamdani designs, Jala designs, Ataobi designs, Moirang Phijin designs, Pungri designs, Diversified from different community of tribal designs and fusion of Jamdani & Jala technique designs for national and international markets. Her products was showcased in ''TANTAVI'' 7th edition based on the theme of Tradition and Trends published by O/o DC Handlooms, MoT, Govt. of India. She was also featured in ''PRAYAS'' a compile success stories in handlooms published by Hon'ble Prime Minister Shri Narendra Modi on the occasion of 1st National Handloom Day held at Chennai on 7th August 2015.
Her natural instincts and foresight have always led her to the next frontier. She perform silently and continues to let her works talk for them. She is one of the very few people who are not money driven in their cause but work round the clock to bring about a change of socio-economic conditions of the weavers. She has always maintained a very positive and friendly attitude towards all the section of peoples. She loves people, works hard and always tries to lift the spirits of those around her.
She was member in various organizing body under the O/o DC Handlooms, MoT for the development of handloom sector. She is now member of ''All India Handloom Board (AIHB)'', Member of ''Handlooms Promotion Council'' Manipur, Secretary ''Look North East Women Development Association'', Secretary ''All Manipur Handloom Exports Development Entrepreneurs Consortium (AMANHEDEC)'' Manipur.
---
A News report from Handlooms Promotion Council, Manipur