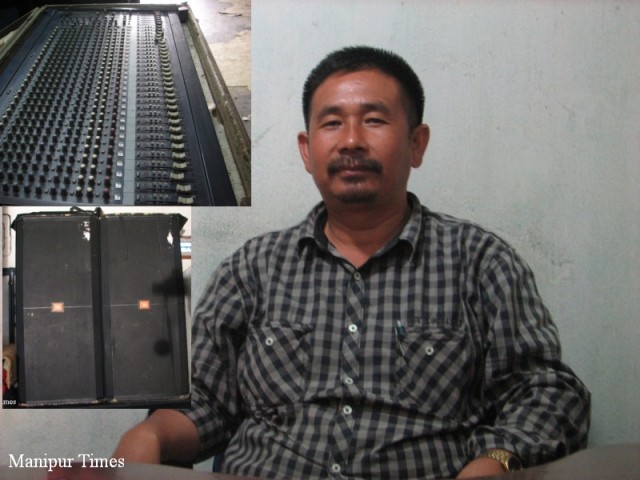 Sound technicians usually face the ire of the organisers and audience if any technical error disturbs a programme although everybody knows that electronic break-down is unpredictable. Even though sound technician is not a well to do profession, it deals with lots of risk. Even as the popular saying goes on – 'You can't predict machines' – the whole responsibility is usually slapped to the sound technician in case any disturbance happens because of a slight mistake or electronic break-down. But, who cares when they have to return empty handed when a programme is suspended or postponed due to some reasons or other, perhaps nobody! Passion and tolerance keep their fingers going on and profession alive.
This is the tale of sound technicians of Manipur as told to Manipur Times by Sister Sound Service (SSS) owner-proprietor Naorem Open Singh.
SSS has now become a household name in Manipur regarding sound service whether it is in mega musical concerts or important events and functions.
EARLY LIFE OF NAOREM OPEN SINGH
45-year-old Naorem Open Singh from Kakwa NameirakpamLeikai was brought up in a poor family. His struggle in life to achieve the current status was tough. He passed matriculation from Ramlal Paul Higher Secondary School in 1984 and completed BSc from Mayai Lambi College.
He was also studying in Lilong Haoreibi College for some time. He completed Engineering in Electrical and Electronics from St. Thomas Institute, Chennai and sound engineering from World Music, Chennai. He pursued studies in professional fields outside Manipur with his self-earnings.
"My father Chaoba was a renowned sound operator in Singjamei area. He was also an expert in repairing works of battery, radio and mike. People gave him different names – Battery Chaoba, Mike Chaoba, Radio Chaoba and so on. Being the eldest son in the family, I had to help my father wherever he went for sound service. This aged-old family business inspired me to become one of the biggest sound service providers in the state under the brand name Sister Sound Service (SSS)", recalled Open.
Popularly known as SSS, besides sound service, it is also providing event management, tent and stage set-up, light, generators, audio, video, electrical and electronics services.
Open's father opened a shop at Singajmei parking which provided sound service. He also used to repair electronics items such as radio, TV and battery. His father used to go here and there for providing sound service in various occasions like meeting, wedding ceremonies, bashok, nat sankritana and many others. With his father's meagre income, it was hard to maintain the family of eight members. Open helped his father's business day and night. It disturbed his studies. He, however, managed to go on his studies with his own earnings.
"My family suffered a severe impact when our parents got ill. Poverty of our family reached to an extreme level when our father, the sole bread earner of the family could not work because of his illness. I had to look after my father's business. Being a student, I went to many places to provide sound service as a sound operator. As a result of this, I could not attend college regularly. One day, I went to Lilong Haoreibi College to provide sound service with regards to a fresher's meet function of the college. I could not show my face in front of my college mates and teachers. One teacher scolded me for not attending college regularly", recalled Open.
He could save some money from his sound service business. With that savings, he went to Chennai to study diploma in sound engineering in World Music, Chennai. He could get a thorough knowledge of sound engineering from there. Under St Thomas Institute, he completed engineering in electricals and electronics. He also got knowledge of sound engineering from City Music Camp, Kolkata.
After having completed sound engineering from these institutes, he returned home and started his work to promote SSS. He started to showcase his new and improved sound equipment in big musical concerts held at various places of the state. Gradually, people of the state started recognising his sound service.
At present, SSS is providing jobs to at least 32 employees. The firm is equipped with six sets of sound systems now. His firm can provide sound service in five musical concerts held at different places simultaneously. So far he has invested more than Rs One crore for procuring new and improved sound systems. During the season in which music concerts and festivals are frequently organised, many organisers rushed to his office to book sound and light systems. To satisfy the customers, it has been a compulsory for the firm to procure more equipments, Open told to Manipur Times while adding that he took a loan of Rs 8 lakh from Imphal Urban Cooperative Bank to upgrade his firm in 2008.
Open said that almost all the earnings from his business is utilised in procuring new sound systems, maintenance of office and payment of staff salary. He cannot use it in personal matters. He has to join the growing competition in sound business in the state.
New equipments in sound technology are kept on coming and people like to listen to the new system. That is why sound service is a challenging business. When other rival sound service providers introduce a new technology, SSS has to procure the same to compete with them. Otherwise, his business may suffer loss if he fails to attract customers.
His firm charges about Rs.15,000 as sound and light charges from the customers. People might consider the current rate too high. Nothing is left when payment of the staff and other office maintenance are made. For sound service providers, September to April is the best season when they enjoy good business growth, because many festivals, entertainment programmes are usually organised during these months, and the weather is mainly dry. SSS has even visited Assam for providing sound service during Bihu festival.
[ecwid widgets="productbrowser search minicart" categories_per_row="3″ grid="10,3″ list="60″ table="60″ default_category_id="21294227″ category_view="grid" search_view="list" minicart_layout="MiniAttachToProductBrowser"]