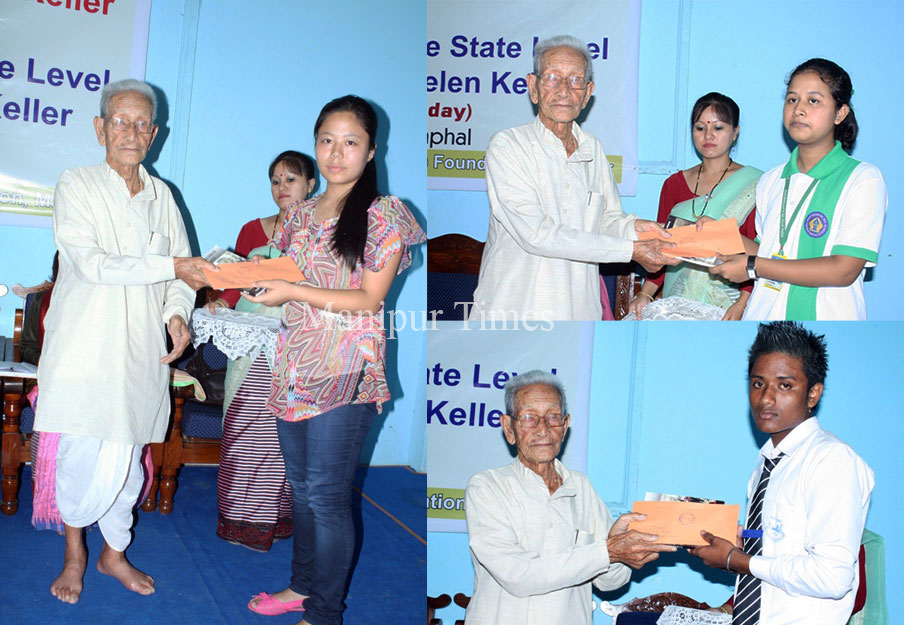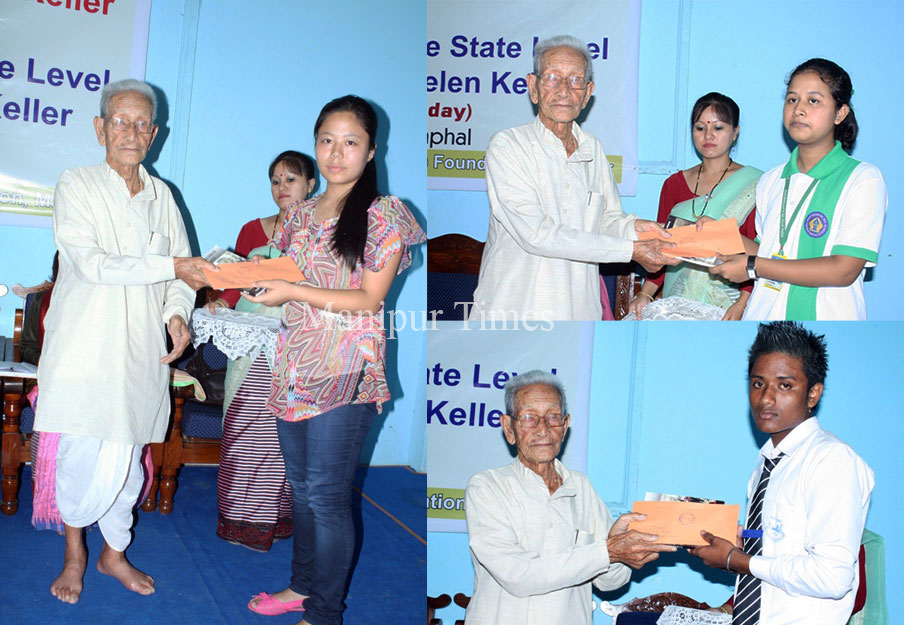 Imphal, june 27: Mairembam Rambha Devi of TG Higher secondary school, Imphal won first position in the state level essay competition based on the life and works of Helen Keller  while Sonali Das of Maria Montessory Sr. secondary school won second and  Naoba Yumnam of Vision Creative of Science won third place.
Thounaojam Nikita, Ningombam Omita, Ingudam Inunganbi, Kakchingtabam Darsana, G. Gaichuimei, Lily Kamei, Monika Hemam, M. Chonngamla and Linthoi Asem from TG higher secondary school, P. Nutan, P. Jyoti of Indira Gandhi National Tribal University, Ningombam Reziza of Kangleipak Modern school and Naotombi Pukhrambam of Kebol high school won fourth to ten positions.
Organized by Handicapped development foundation, Manipur, the position holders were conferred the awards with cash prize, citations on the occasion of 134th birth anniversary of Helen Keller held at Manipur press club today.
With Thounaojam Iboyaima, father of social worker as chief guest, the function was also attended by Dr. Ch. Rupachandra, Chairman, HD Foundation, as president while Dr. Dhanabir Laishram, Social Activist, Rose Mangsi Haokip, President Kuki woman Union, Chingsubam Thoiba, Associate Professor, English Department, MB College, Kh. Ganashyam, Sr. Graduate teacher, Praja High school as guests of honour.
 Diability is uncertain and it may happen to anyone accidentally. People living with disabilities should be treated properly with love and sympathy as they have roles to play as part of the society, said father of Social worker Th. Iboyaima who attended the function as chief guest.
Dr. Sapam Jasobanta, General Secretary, HD Foundation, Manipur, while giving Key note Address, said that society need to regard the people living with disabilities instead of discriminating them. Handicapped persons can play key roles in bringing social change by converting the word 'Impossible' into 'I am possible'.