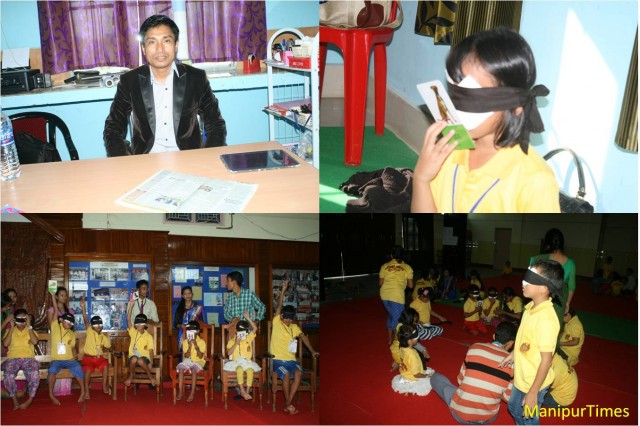 With all eyes closed, these kids can read out entire pages of a book without much difficulty or differentiate the colour of any object just holding and smelling it. They can identify any picture shown in a monitor screen or TV. Even if they are not able to tell quickly, then they try touch, smell or listen to sense the colors on the flashcards. It's amazing.
Secure Genius Mid Brain Activation Centre in Imphal trains kids
These amazing and talented kids developed their skill after having attended month long training at Secure Genius Mid Brain Activation Centre in Imphal providing special training sessions under the world famous Sichida Method introduced by a Japanese Professor Makoto Sichida.
Manipur Times recently chanced to witness such a training session being provided to the school going kids by the Secure Genius Mid Brain Activation Centre, Imphal at its training centre at Manipur Press Club and Chingmeirong Tribal research Centre hall. In an interesting live demonstration, the trained kids whose eyes got blindfolded with a black cloth could easily read the entire pages of a book and tell the colour of any object.
Mr Arunkumar chief coordinator of
Secure Genius Mid Brain Activation Centre
in an exclusive interview said that Secure Mid Brain Activation Mid brain is a bridge between our left brain and right brain. Its activation is a scientific method. It is about super speed learning and boosting a child's learning ability, to unleash a child's hidden potential – beyond imagination. It is an accelerated learning program inspired by Maria Montessori, Glenn Doman, Makoto Shichida, Tony Buzan and many others. It is a gentle but powerful method of activating both hemisphere of the brain. With all eyes closed, a kid can perform activities like reading, writing, painting, playing, riding etc.
Mode of Training
He said that hundreds of kids are undergoing such training sessions in about seven training centres set up at Manipur press club, Mantripukhri, Chingmeirong TRI etc. We play certain videos using specific software to guide the trainees exercise their left and right brain apart from playing cartoon videos to free the mind of the kids from outer influences and made them sleep while playing sounds of waterfall, bird chirping and other natural sounds. Such simple activities under right structure help the trainees improve their senses using their mid brain and channelize their concentration, he said.
"According to researchers, 95 percent of human brain is not used. Brain usage can be increased through mid brain activation. A boy or girl who have properly undergone such training can  maximize his/her brain power, improve memory, concentration, self confidence, creativity, imagination, emotional stability, improve sports, balanced brain usage and balance hormones. 'Midbrain activation' is a training programme to equip children to sense visual properties without actually seeing them," he said.
Such training is best provided to children between ages of 5-15 year. During the course, the initial aim of blindfolding is to enhance a child's concentration. We try to achieve this by disabling the sense of sight on which most people heavily depend. Blindfolding also helps sharpen the other senses.  Immediately after the course, blindfolding is essential to increase a student's concentration. As time progresses and the students' abilities improve, they could opt to close their eyes. Their concentration and other mental abilities should eventually improve dramatically. Blindfold practice is mostly required for the first few months following the course.  After the course, the right brain (responsible for long-term memory) and other parts of the brain would have improved. There are only advantages, no disadvantages, he said.
Many parents throng the centre
Secure Genius Mid brain Activation Centre, Imphal which offers such training programme are tempting many parents by claiming that it will improve memory, concentration, and intuition of children by stimulating some parts of the brain. They also charge some amount of fee from the parents for the training programme offered to the children.
With Secure Genius Mid brain Activation Centre launching such training sessions recently in Imphal, thousands of parents who wish to make their kids "genius and talented" continue to throng the training centres opened at different parts of greater Imphal. Training is provided only on Saturdays and Sundays. Secure Genius Mid brain Activation Centre Imphal was recently set up in the state as a franchise of a Haryana based training centre.
The brain will be so awakened that the children will be equipped to read and see even while they are blindfolded. We can provide satisfactory result to every trainee kids after successful completion of the training, claimed the training instructor. He also said that a state level competition would be organized shortly in which the trained kids of the training centre would demonstrate their talents.
Some facts about Shichida Method
The Shichida Method is a proprietary right-brain training system with more than 40 years of research and over 35 years of track record in Japan, involving special processes and materials created by The Shichida Educational Institute.  The method is considered as a good toll for improving learning abilities of the school going kids through early education. The number of centers has surpassed 450 all over Japan and is the most popular course in Singapore and Malaysia since it was introduced in year 1999.
The Shichida Method has grown phenomenally to be recognised as the Number One brain development programme. The Shichida Metshod also entered the Singapore Book of Records in year 2007 as the only programme that has the highest number of children below the age of two. The popularity of this programme has propagated a movement in young parents to explore what it takes to raise a superb child at the right time. From the thousands of personal stories and anecdotal evidence reported by parents on the programme, many now firmly believe in early sensory stimulation to draw out rich creativity and hidden innate abilities in children.