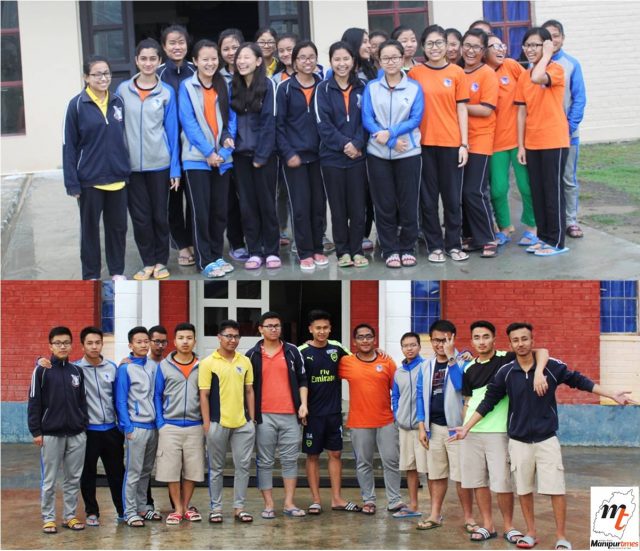 Everyone feels safe & sound at home. It is universal acceptance that one's home is an abode of happiness despite many disturbances and problems. When a student starts preparing for a probable career, one begins to look for a good school with an ideal educational environment; the search is quite natural. Finding both the environment and strategically cut educational facilities is very hard to get in Manipur, but the worry is over, for Herbert School is there with an environment of best schooling and home like hostels for both genders. Herbert School has a unique culture of breeding good scholars; the School Hostel has a taste of its own. At the hostel, it is the combination of both schooling and nurturing one's career. The School has a very spacious campus measuring about 3.5 acres and has it in hostels, canteen, and playgrounds apart from the main building of the school.
In imparting formal education, the School constantly comes through with flying colours. As, Plato an ancient Greek philosopher said, education is a lifelong process starting "from the first years of childhood and lasting to the very end of the life which makes a man eagerly pursue the ideal perfection of citizenship and teaches him how rightly to rule and how to obey." Education not only provides knowledge and skills but also inculcates values, training of instincts, fostering right attitudes and habits. In the Republic, Plato points out, that "true education, whatever that may be, will have the greatest tendency to civilise and humanise them in their relation to one another and to those who are under their protection." The very process indeed happens in Herbert School.
Choosing a good school is equally important to looking for a quality place to live for the schooling. Here, the Herbert School Hostel comes to play. Herbert School creates a remarkable distinction of producing some of the best scholars in Manipur and many of them are boarders. The School has a decade or more of successful chronicle of crafting students for much desired profession, like Medical and Engineering under the guidance of hard working experienced teachers and dedicated as well as supportive non-academic staff. Herbert School has 2 hostels for different genders within its premises. Herbert Boys Hostel has a capacity for 80 plus boarders equally divided among 11th and 12th standard students while Girls Hostel intake capacity is more than 110, quite more than that of the Boys. The Herbert Girls Hostel is brand new and provides a perfect safe & secure atmosphere for girl hostellers. Both the Hostels have separate buildings, although they follow a similar routine concerning study and other activities to maintain consistency. Many of the students prepare for NEET, JEE, AIEEA (Agriculture) and others. The hostels are indeed a kaleidoscope of many chaps preparing for diverse professions and waiting eagerly to fulfil their dream.
The Study time schedule is so designed for the students to get maximum study hour without the loss of sleep and rest. Maximum study hours don't mean boarders are deprived of extra-curricular activities. The hostels boast of a well maintained lusty green football field, basketball court, volleyball court for the outdoors, whereas for the indoors carom, chess and badminton are available. For amusement, Telly watching time is granted lengthily on Sundays during which the boarders utilised by movies or music. The food is really good and nutritious. To mention, the food at the hostel menu is one of the best compared with any school hostel in Manipur with varieties of vegetarian & non- vegetarian menu being served that increases the aroma of the Mess Hall.
Students from different community are residing at the Hostels inculcating an idea of unity in diversity portraying a mini Manipur. No doubt, food is served according to one's own faith and custom also. This is the very unique characteristics and singular image of the Herbert School Hostel. All the boarders breathe and eat together preserving the main value of education which is "every individual is equal in the realm of education".
The infrastructure of the hostels is quite commendable and designed to provide utmost comfort. As mentioned prior, the Hostel time table is structured in such a way as to provide undisturbed reading hours along with injection of extracurricular activities. Each room accommodates 2 boarders one each of 11th and 12th standard with separate closet, bed, table and chair with officially provided mattress, pillow etc. Washrooms are clean and attached to every wing of the building. Mess Hall is spacious and fully lighted. Students are provided clean, healthy drinking water. Everything in the Hostels, may it be kitchen, mess hall or washroom is cleaned every day to maintain the old English saying "Cleanliness is next to Godliness" .
Enjoying hostel life during school is a memorable stance for every student. Here boarder not only learn the basics of education, but the very essence of education, i.e. discipline, co-operation, adaptability as well. Boarders only wear school issued attires that changes each day to maintain uniformity. Rules and Regulations are prioritised in addition to study. At the hostel, boarders are not only tailor made to score good marks, but rather crafted to score good position in life. The place is a combination of education and professionalism. Herbert crafted student to rich height of success & satisfaction, that's why Herbert School is literally termed as "Education with a Difference" in every dimension. To get admitted to the Herbert School Hostel, one may not be an extraordinary student, but rather a good hardworking one intended to follow rules and determination to move forward. It is not about the question of How, it's all about the eagerness of When.
Come and try Herbert Hostel's life, you will definitely leave with unforgettable memories of friendship and companionship. A second home to none.