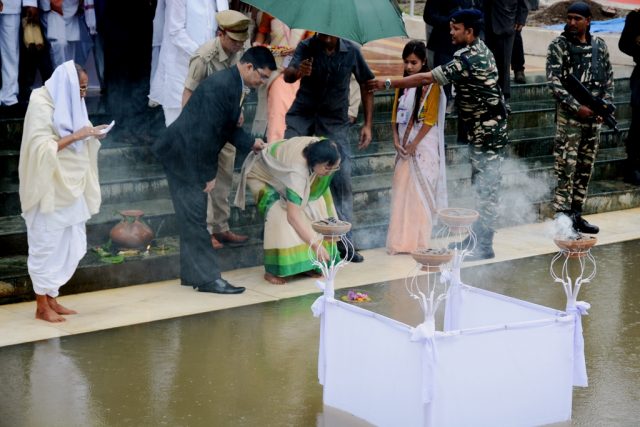 Imphal, April 23, 2017 (DIPR): Governor Dr. Najma Heptulla and Chief Minister Shri N. Biren led the people of the State in paying homage to the martyrs, who laid down their lives in the Battle of Khongjom (1891) on Khongjom Day today.
The Government of Manipur organised the State-level function at Khongjom War Memorial Complex, Khebaching in Thoubal district.
            Governor Dr. Najma Heptulla, Chief Minister Shri N. Biren, Manipur Legislative Assembly Speaker Shri Y Khemchand, Deputy Chief Minister Shri Y. Joykumar, Ministers, legislators, bureaucrats, civil and police officials and large number of people offered floral tributes at the Khongjom War Memorial atop Khebaching.
They also paid floral tributes to the statue of Paona Brajabashi, located at the foothill of Khebaching before they offered Tarpan at Khongjom river.
A contingent of Manipur Rifles gave guard of honour, general salute, reverse arms, sounding of last post, two minutes' silence, slope arms and order arms in honour of the martyrs.
Since Chief Minister Shri N. Biren left the memorial complex after paying homage at Khongjom War Memorial, Paona Brajabashi's memorial and Khongjom river as he had to catch the flight to Delhi to attend an urgent meeting, Governor Dr. Najma Heptulla and Deputy Chief Minister Yumnam Joykumar graced the main function held at the memorial complex as chief guest and president respectively.
Speaking at the occasion, Dr. Najma Heptulla urged the people of Manipur to build memorials for the martyrs and freedom fighters in their hearts apart from paying homage to the existing memorials.
She said that paying homage to the war heroes would be meaningful only when people of the current generation collectively take a pledge to fight against poverty, deprivation, illiteracy, underdevelopment, discrimination and other social evils.
Dr Heptulla recalled that brave Manipuri soldiers valiantly faced the mighty colonial British forces although they knew that they would be defeated.
She said that Khongjom war heroes knew that British troops were far better in weaponry and larger in numbers, but they did have the will and desire to protect their motherland.
"While paying homage at the Khongjom War Memorial, we can imagine how the Manipuri war heroes fought the British forces with swords and little shields", she added.
The Governor said, "We are living in a free country today because of the supreme sacrifices made by these martyrs and freedom fighters."
Dr. Heptulla also urged the people of the current generation to ask themselves everyday whether they had contributed their bit in nation building and bringing development.
In his speech, Deputy Chief Minister Shri Y. Joykumar reminded the gathering that Manipuris had to fight Khongjom War with British forces due to disunity among princes.
He said, "Even today, we will get to see many discords and unwanted happenings if we are divided."
The Deputy Chief Minister further said that while observing Khongjom Day, people need to remember and pay homage to all those unknown soldiers as well.
Apart from Khongjom Parva performance, a play based on the battle of Khongjom was also staged on the occasion. (DIPR)