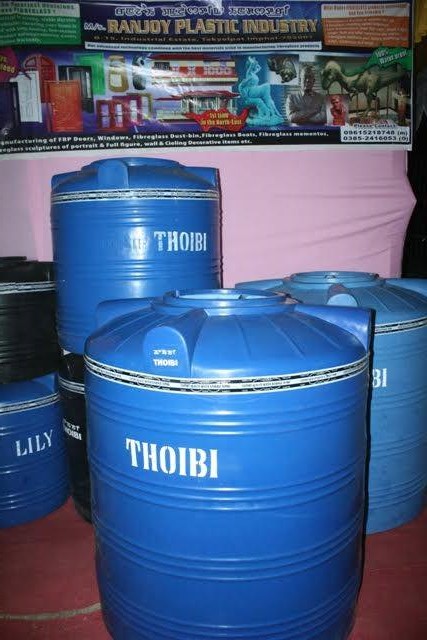 Ranjoy Plastic Industry, Takyel Industrial estate, one of the prominent plastic industries in the state, showcases its new water tank brand "Thoibi" at the ongoing Imphal expo being held at Iboyaima Shanglen organized by National small Industries corporation Ltd.
The company presently manufactures water tanks of varied capacities ranging from 300 Lts to 500 Lts and 1000 Lts to fulfill costumers' choice under the brand 'Thoibi' which is a popular local name in Manipur. The company is tireless in manufacturing and developing new plastic items for public utility and convenience that it is currently working on manufacturing of a 5000-litre capacity water storage tanker for a Church in Tamenglong district, 20-foot long statue of Imoinu deity for a public park as well as a Keibu Kei-oiba for the first time.
The company run by one Manipuri youth Khumanthem Ratankumar (38) is highly acclaimed for manufacturing various quality plastic made items including FRP Doors, Windows, Fibreglass Dust-bin, Fiberglass Boats, Fibreglass mementos, Fibreglass sculptures of portrait and full figure, Wall and ceiling Decorative items etc. Apart from manufacturing such items, the company also makes small canoes/boats for water surface transport purposes.
Earlier, Ranjoy Plastic Industry had successfully developed a fibre-glass vessel which capable of carrying 100 to 150 people at a time. The newly developed fiberglass vessel branded as 'Loktak Express' was commissioned in Loktak Lake a month back with an aim to solve the inconveniences faced by people living  in and around Loktak Lake in terms of connectivity. The state's  Plastic Industry is the first in the region to successfully develop such a huge motor-operated fibre-glass vessel which can ferry people from one end of the sprawling water body to another. Apart from ferrying passengers on water surface, the fibre-glass vessel can also conveniently transport weighty construction materials such as sand, brick or steel. The fibre glass vessel was exclusively developed on the request of one Jugeshwar of Thanga Karang island for public transport in the island at the cost Rs 4.5 lakhs.
Khumanthem Ratankumar, proprietor of Ranjoy Plastic Industry hailing from Yairipok can now generate employment for some jobless youths of the state in his industry. With the products of the Industry on the rise, the company can also fetch a good turnover with maximum production capacity. At present, the plastic products are manufactured from the work-shed inside the Takyel Industrial estate provided by the Manipur Government.