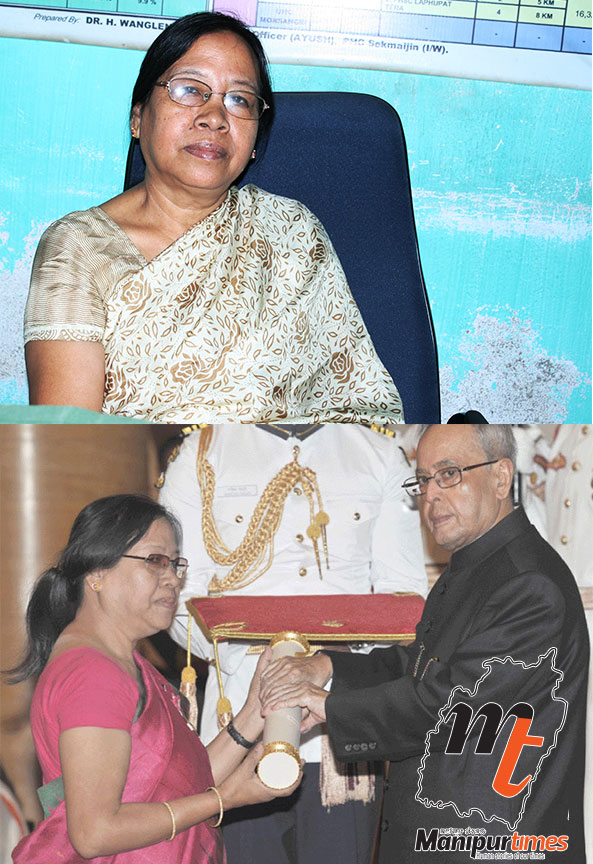 IMPHAL, December 23: Veteran Manipuri Singer and theatre artist Asem Bimola was conferred the prestigious  Meitram Bira Award for the year 2014 by Rupmahal Theatre during a function at Rupmahal hall here today.
RK Nimai, Consultant to Manipur Government handed over the award carrying a cash prize of Rs 5000, a shawl and Abhinandan Patra to the veteran singer during the 71st  Anniversary of Rupmahal Theatre and opening of 15th Rupmahal Artistes Memorial Drama Festival – 2014 .
Donated by the family members of late Meitram Bira, the award is presented every year to those Artises who have dedicated for the cause of theatre, Arts and Culture.
Awardee Singer Asem Bimola from Yaiskul Hiruhanba Imphal is working as Lecturer at Shri Shri Bal Mukunda Government Music College. Bimola, began her career in theatre, Art and Music right from her tender tender age of 7,  has contributed a lot in the field of Manipuri Music and Theatre to her credit.  Though she is mainly popular as a singer, she is also a theatre Artistes who joined many dramas and theatre groups as a child artist, and then moved to Manipuri dance. Later she became a performer of solo dance following the footsteps of many veteran vocal maestros. She exhibited her solo dance performance before the first President of India, Dr Rajendra Prasad at Rastrapati Niwas, Shimla, and the commissioner of AIR Imphal. She has performed for AIR Guwahati, Delhi and Allahabad and also she became the first announcer in Hindi after the commissioning of AIR Imphal.
With RK Nimai, Retired IAS and Consultant to Manipur Government  as Chief Guest, today's function was attended by and O Biramangol, Chairman of Rupmahal Theatre, Imphal as president and  Imphal West DC K Radhakumar as Guest of honour.
Speaking on the occasion, RK Nimai said that despite the state is globally recognized for its aesthetic rich heritage of Art and Culture, Contribution from the side of the Government is less. A group of experts in the field of Art and Culture is on hectic study to find out possible ways so as to promote Art and Culture. When the Government takes up action on the basis of recommendation/decision of the expert committee, some developmental changes in the field of Art and culture would be seen shortly, he said.
While lauding the Government  cabinet decision to set up cultural University in the state, he appealed the Government to allocate more fund for the promotion of Art and culture and the living status of the Artiste. Without state patronage, development of Culture is not possible, he said