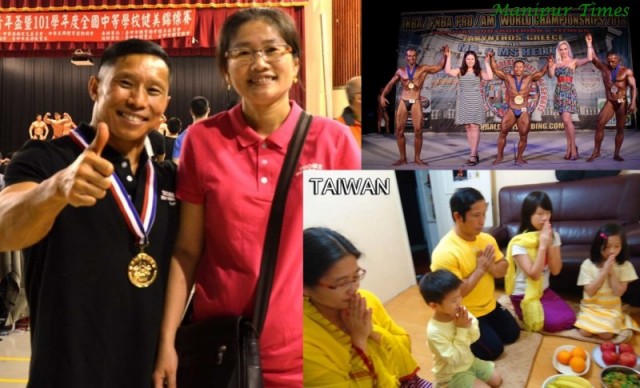 Source : Finding The Voices
In the previous article of Dr. Shantikumar, he shared a little bit about the never ending hardships at every interval of his life, overcoming it, and now stand on such a platform that world knows. The specific identity of Shantikumar is very unique that it would not be wrong to mention him a natural body builder. He grew up his body gradually with only naturally available nutrients giving foods. Nevertheless it took a lot of time; he made it up little by little with no drugs and no steroids. He never encourage using such food supplements.
Being represent Taiwan
It's been around 10 years, Shanti flexed for first time in Mr. Universe contest, which held at Mumbai. He was fought for the title in 65 Kg category even though he was only 59-60 Kg. In his first attempt in the world championship, he stood at 9th position out of the 20 athlete but he did not fall his crest. He says it was pretty good. Since then, for 6 years, he continuously flexed for the title that the almighty never bestowed. As a matter of fact, he states that the Mr. Universe contests organized by either IFBB or WBBF hold a right place of politics. Numbers of judges from different countries for different categories who have strong hands in choosing the top list out of the contestants always try to push up their own athlete irrespective of their body, muscle or proportion. The shameful scenario even at the world's platform never holds him back. In the mean time he flexed for different titles in different countries representing Taiwan.
Taiwan is a small island and he felt very sorry not for being a small island but for short of powerful judge who can fend for him in need of time and the federation like IFBB is a very powerful federation which hold amateur body building competition. Having a judge in such federation is the best way of the contestant to achieve the title or even at least to be in the top list. Shantikumar always failed to be the winner for this reason and he was disappointed every time but never stop amidst the struggle. He gets never better than 9th position in his entire contest. For last 3 years, of the Mr. Universe contest, there were no dope tests and he had been competing with other athlete who at the most uses extra steroids.
Natural body builder
Shantikumar is a person who is very conscious about health, so is a natural body builder. He rightly says that using drugs and steroids is threat to our body metabolism, and it may cause heart attack, BP stroke, liver damage or kidney failure. For the sake of few titles one should not cost ones precious health. The WBBF also do not have drug test and that make him embarrass so much that he commit himself to quit from the federations. Later he joined International Natural Body Building Association. This Association was established in 1991 and the best part of it was the doping test. There is no room for steroid users in this association. He could open an account in top list in the competitions organized by this association as the title was only in his dream for 6 consecutive years.
Best achievements
In IFBB Asian Championship he was always in top list and once he torn his certificate and threw the trophy of being given 3rd position. It was the expectation of all that Shantikumar will be the first but the result came out something else. He was so upset and disappointed, he recounts. The moment he felt the best happiness was at INBA in Greece where he stood first. It was unbelievable, as he says that at the very first entrance to that federation and the competition, he could hold the title, in his grasp, which he has been dreamed for long. He beat the other athletes from USA, Europe, Canada and others. Before announcing the result, he even thought of negative result as he got long experience of politics and unfair in bodybuilding championship. But beyond his thought, the worries were chased away by the unexpected result at last. Obviously he has very proportionate body and muscle to be No.1. That time, the Almighty showered the blessing upon him when he represented Manipur. Although he owes to Taiwan as he built up himself there and he never abnegates Taiwan. He has been dreaming to represent Manipur since long time back and he got the chance at the right time when he dropped himself off from IFBB. He spends a lot of money, time and afford to go Europe but he never cared about them as it was his long cherished dream to represent his own motherland.
My Medal History:
Sub Junior Manipur – Gold, 1989 (First medal)
Delhi 4 times – Gold
Northern India 3 times – Gold
Northern India Overall Title
Taiwan 14 years – Gold
Taiwan National Games 3 times – Gold (2007, 2009, 2011)
Hong Kong Invitation – Gold, 2006
East Asia – Gold, 2006
East Asia – Silver, 2008
Senior Asia – Gold, 1999
Senior Asia – Silver, 2007
Senior Asia – Silver, 2008
Senior Asia – Bronze, 2012
World – Gold (Masters 40 to 49 years), 2013
World – Silver (Open Men Short Class, 2013
World – Award of Excellence, 2014
World Cup – Gold (Master 40-49 years), 2014
World Cup – Silver (Open Men Short Class), 2014
World Cup Overall Masters Champion, 2014
World Cup Overall Open Men Champion (Senior), 2014
Natural Olympia – Gold (Masters 40 to 49 years), 2014
Natural Olympia – Silver (Open Men Short Class), 2014
Natural Olympia – Bronze (Professional Masters), 2014
Natural Universe – Best Presentation Award, 2015
Natural Universe – Silver (Professional Masters), 2015
Still to Come …
Titles /Awards honored:
Meetei Nongsha
Kanglei Athoiba Mapari
Light of Taiwan
Meetei the Masters' Super Star
Award of Excellence
Award of Best Presentation
Kind and patriotic
Shantikumar's home in Taiwan is Manipur Bhawan.Whoever, any known or unknown Manipuri comes to Taiwan is always welcome and ever ready to treat well, he says. Last year in the months of February and March, ten Manipuri Masters Athletes who came there for their Asian Masters athletic Championships were served well and expensed his own money treating them, making himself busy looking them after for three four days, hiring vehicles for them, taking them out for tour, treating foods, drinks and lunch, Shantikumar recounts. His family bowed the elders touching their feet when time, to bid them farewell, came. The best response the family received was the blessing upon their head and his family deserves it heartily.
Routine, Diet and precaution
Being a body builder one should follow strict food habit, routine training, rest and discipline, Shantikumar says. When family member eats chicken, fish and oil, he had to eat salad, steamed or boiled vegetables, and skinned chicken breast. He had to eat all different from the other family members. He has to control and keep as a habit. Sometimes it brings trouble to his 15-year-old daughter who cooks for her father. He loves this sport as a part of his life but not as professional. He is full time professor but not full time bodybuilder. He knows that status where an educated professor stands. He always wanted to mobilize the young bodybuilders to go on the right way. Not to worry too much about muscle size but about the structure and proportion. Steroids or drugs are for short-term gains and we have to be very careful about our health. The best example is he, without any steroids he could win the National Title, Asian Title or the World Title. Drugs and steroids will make look a person older than actually is. This must be the reason why everybody does not believe Shantikumar is almost fifty years old, but he looks 30s.
Natural food and supplement is best for health. Most of the steroid users have hair-fall problem, kidney problem, heart problem and they are usually short-temper and do not have nice family. One should not compromise his onetime precious life with drugs for few titles or monetary gains. To be successful in high level competitions, a bodybuilder needs to rest for 7-8 hours a day, eat boiled or steamed foods 5-6 times a day, take less salt and oil, and train 2-3 hours in the gym for 5-6 days a week.
"The best part of my life is my family, and I never abandon them for my job or sport"
Original Podcast is available at FindingTheVoices.com by MONICA INGUDAM  (Episode-41)