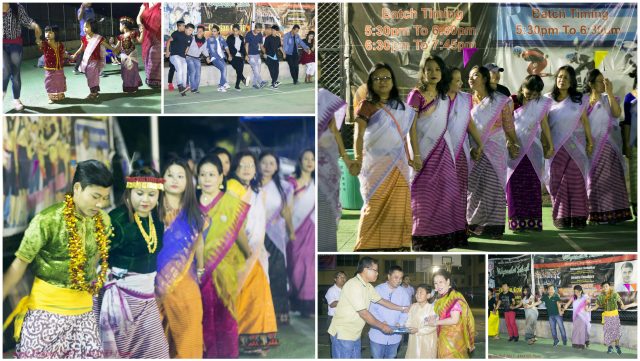 16th March,2017 : The Association of Manipuri Diaspora (AMAND) Pune is a registered non-government,non-profit community organization formed by working as well as retired Manipuriprofessionals in and around Pune. As a part of its traditional & cultural program, AMAND Pune organized its annual Yaoshang Thabal 2017 (Moonlight dance) on Yaoshang day,Sunday the 12th March 2017 at the Vidyanchal Sports Academy, Aundh, Pune.
This unique age old traditional cultural folk dance on the eve of Yaoshang will help not only in promoting our rich cultural heritage but also in fostering the spirit of unity & co-
existence amongst the Manipuri diasporas in this city- a home very far from home. This event was attended by about 300 students and about 100 Manipuri families living in and around Pune. Some guest families from Mumbai Manipuri Association, Mumbai and many non-Manipuris from the city also joined us to celebrate this traditional cultural folkdance.
Mous (married ladies) wore traditional Phanek Mapal naiba with Wangkhei phi and most of the leishabis (girls) wore phanek. Some boys and girls also came in traditional attires and enjoyed the traditional folk dance. A panel of anonymous judges identified the most graceful traditional Thabal dancers in various categories during the Thabal which was announced at the end of the program.
Manipuri food stalls were set up at the venue and served the audience with Manipuri cuisines like Singju, Bora, Kelichana, Fola, Chakhao Kheer, Aloo chhak, kwa, etc.
The Yaoshang Thabal 2017 was a grand success and was appreciated by all. The attendees also reaffirmed to celebrate the occasion every year with the same spirit and vigour. This event was well coordinated by Mr. I. Jiten Singh, Cutural Secretary & Mr. Y Sanjoy Singh, Sports Secretary, AMAND, Pune.
AMAND Pune also highly acknowledges Mr. Y. Sanjoy Singh for sponsoring the music & sound system for this event.
The program of the day was concluded by presenting various encouragement prizes sponsored by Mr. Th. Premkanta Singh, Mr. I. Jiten Singh & Mr. S. Sonamani Singh to the best performers followed by a note of sincere thanks and profound appreciation by Dr.H. Narendra Singh, Vice President, AMAND, Pune to all the generous donors, sponsors and attendees.
(N. Giridhar Singh)
General Secretary
AMAND, Pune