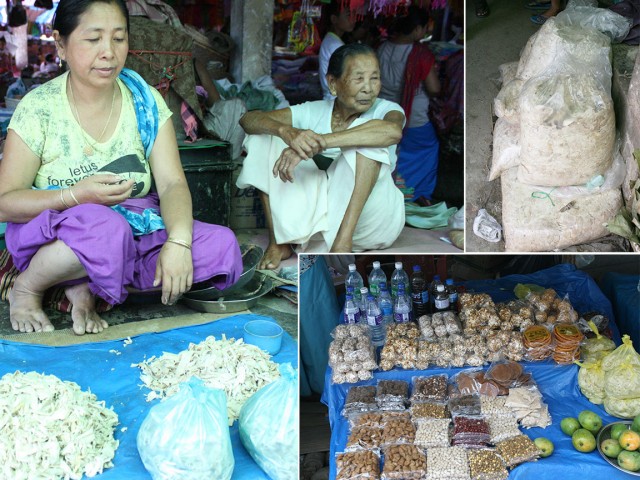 Round about 41 kms away in the south-eastern ward of Imphal along Indo-Burma Road, here stands "Kakching Keithel"(Keithel means market place), a small lovely town just about three km turning western ward from Kakching Lamkhai. Like other Keithel (market places) in Manipur, Kakching keithel which is also one of the places providing livelihood options for many and where varied essential commodities are available has also its own historical significances.  Kakching keithel which can be regarded as second biggest town next to Imphal is popular for its uniquely availability of Shoibum (fermented bamboo shoot), Chashubi (Manipuri cuisine "Paknam" made of rice instead of Bason), Chak-hao tal made of black rice, Shoibum Kanghou and Chak hao Matum and so on and on.
The lovely market place Kakching Keithel is a livelihood option where many women from various surrounding areas such as Chandel, Wabagai, Keirak, Pallel, Laimanai, Kakching Khunou, Langmeidong, Tokpaching, Wangoi, Suganu, Hiyanglam, Mayang Imphal, Wangjing, Unciwa, Shekmaijin etc. use to  throng to sell varied items vegetables, fruits, rice, fish, handloom and handicraft items brought from their respective villages. Since the town locates along side of Indo-Burma road, all kinds of goods, ranging from vegetables to electronics, garments imported from Myanmar and other handicraft items, are also available at reasonable rate at Kakching Keithel. Kakching is a unique place where mainly settled by many people conscious of work culture and mutual co-operation and understanding. Seasonal agricultural products produced by hard working farmers are available here in plenty.
During a recent visit to Kakching keithel, Manipur Times chanced to have a chit chat with a 63 years old woman vendor Naorem Muktarei who has been maintaining her family with selling Shoibum inside a woman vendor shed located at Kakching Keithel. She is also one of the hard working Manipuri women braving life to keep the kitchen fire burning and struggling for her children.
Naorem Muktarei Devi, wife of late Biramani Singh from Kakching Ningthou Leikai, has engaged in  'shoibum'(fermented bamboo shoot business)  at Kakching bazaar for the last 15 years. With the meager income earned from selling shoibum, she maintained her family and sent her children to school.
She said that the fermented bamboo shoots are primarily procured from Fungang and Kotha villages famous for their expertise and production of processed fermented bamboo shoots. She sells it at Rs.50 per half kg packet and Rs. 80 a kg.  People from Fungang village and  Kotha village situated along Imphal-Moreh road use to bring the bagful of fermented bamboo shoots daily with the help of bus or DI Tata and sell it off to the woman vendors at Kakching bazaar at a whole sale rate. She can sell off fermented bamboo shoots of worth Rs.2000 to Rs. 3000 a day.
She said that though shoibum made by Kotha village is popular in Manipur, its price is a bit lower than Fungang village Shoibum. Costumers demand Fungang Shoibum the most because of its special taste. Fresh bamboo shoot known as Ushoi, finely sliced is fermented to make Shoibum. This provides one of the popular Manipuri dishes Shoibum Iromba. The tender shoots of a very small variety of bamboo are chopped into pieces and then fermented to provide a food called 'Shoidon'. The fresh bamboo shoot also provides another popular Manipuri cuisine "Ushoi OOTI".
For her, business on this particular Manipuri food item 'Shoibum' has been a sole source of earning with which she could help her family to some extent.
"It was not a tough task to maintain family and bring up the six children with the income of my husband, a driver cum mechanic by profession and my daily earning from selling Shoibum. After the demise of my husband due to a severe illness, I toiled whatever I could to support my family as well as studies of my children with the daily meager income from selling Shoibum. With all my children having grown matured and helping me in family maintenance, I can now breathe a sigh of relief. Eldest son is doing job in Indian army and others are doing private jobs. My daughters and daughter in law are also helping me in my business, Muktarei recalled.
She said that use to engage herself in her Shoibum business from early morning to late evening daily and can earn Rs.300 to 500 as profit at the average.  Sometimes, she earns more than Rs.1000 a day as profit when luck favours her business.
"My business on Shoibum was growing at a time where there were limited women vendors. With many women vendors dealing with Shoibum and other items increasing in Kakching Keithel with a view to maintain their families like us, my business has regressed to some extent in terms of its sale rate these days, she said.
[ecwid widgets="productbrowser search minicart" categories_per_row="3″ grid="10,3″ list="60″ table="60″ default_category_id="21294227″ category_view="grid" search_view="list" minicart_layout="MiniAttachToProductBrowser"]