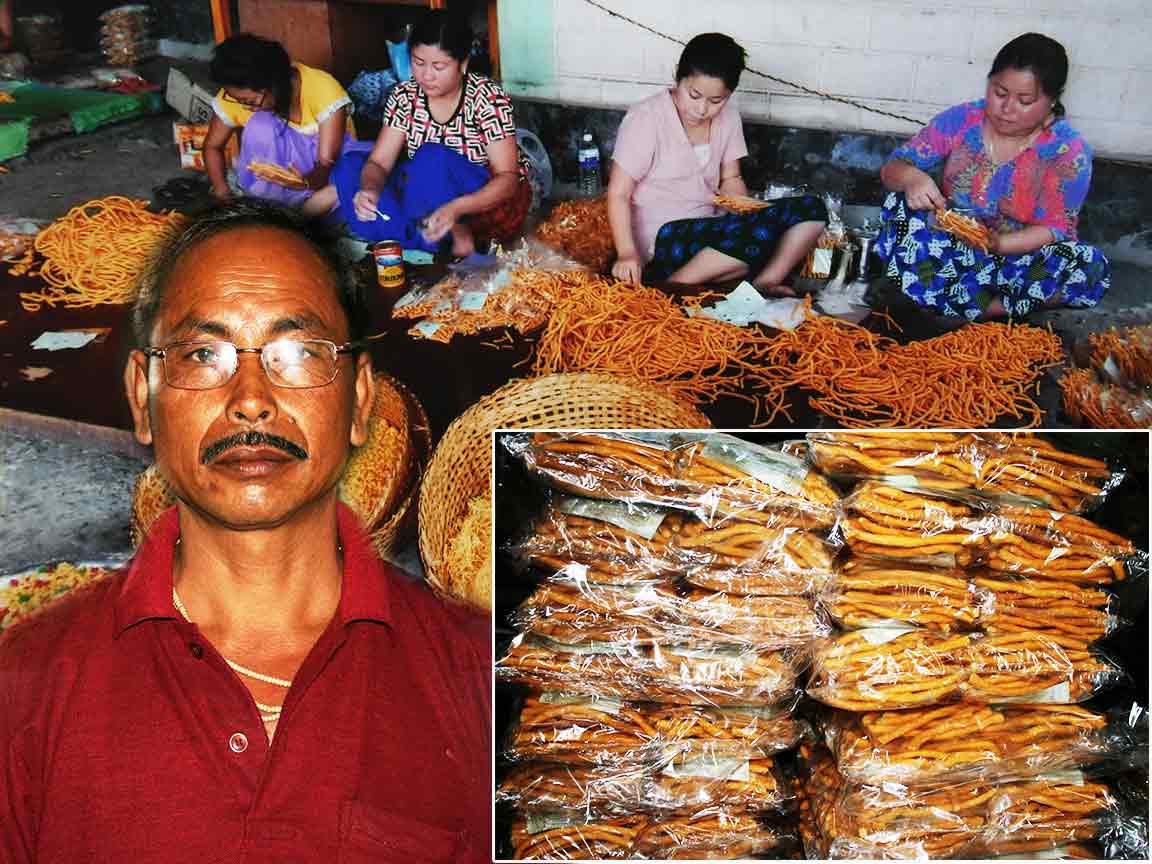 "With many Watin making factories coming up in the state, there comes competition. In such a crucial juncture, my factory has to maintain quality in its products not to divert customers' choice. For survival, my factory entirely depends on customers. I always try to deliver my customers the best quality products. Anyone who chanced to taste Selungba watin, he never forgets the taste of it," shares in a chit chat with Manipur times, Laishram Selungba, proprietor of Selungba watin shares his observation about his watin products.
LaishramSelungba, 57, son of Late Laishram Sagor Singh hailing from Kakwa Pukhri Achouba, Imphal West has been earning by making Watin for the last ten years.
Watin is a simple noodle like food item prepared with Bason (chick pea flour) and Palm oil (Ruchigon). The chick pea flouris mixed with water, salt and Sodium bicarbonate  to make it into paste. Then it is cooked on a frying pan full of palm oil. This food item is widely used in the state as one of the favourite food items. At first, Selungba purchased bags of wheat and rice flour and chick Pea flour from the market at Rs.2050 to make watin at his firm. Considering the high price of Chick pea flour, he thought of purchasing a hammer mills for his firm to produce wheat and rice flour and chick pea flour. With the profits earned from his business, he could install a hammer mill in his firm and start functioning. Now, he no longer depends on other dealers for flour, the main raw material as his own firm produce flour.
According to Selungba, the watin packets produced by his firm are made available to the consumers on daily basis through its distributors. The said distributors come to his firm and collect the watin packages for selling to the local shops of Imphal east, Imphal west, Thoubal and Bishnupurdistrict. Watin packets of worth Rs.5, Rs.10, Rs.25 and Rs.150 per piece are made available for public convenience.
His firm prepares various types of ready to food items such as Watin, Bujiya, Mixture(MorokShabi), Kata Nimki, Khajur, Khoiraman, Jiribi and so on. Moreover, food items made of ChanaTangkhai, Kangtak, Badam, Nunghawai and Mussori are also prepared by his firm.
In the past, I could sell the products of my firm worth Rs.30,000 per day. With many Watin manufacturing firms coming up in my locality, the daily sale rate of the firm has reduced to some extent. In such a situation, Selungba watin have to struggle for survival by maintaining quality in its products to attract the consumers. Those consumers who have tasted Selungba watin still demand the products of my firm.
Selungba, prior to establishing his Selungba watin firm, ran as a tailoring house at Paona Bazar in 1975 which employed at least 12 men. To promote his tailoring house, he applied loan from Khadi and Village Industries, Manipur. For availing loan, he not only wasted six months but also 40 thousand. Despite losing time and money, he was not given any loan because of an official order cancelling loan for carpenters, Automobile and Tailoring.  As he failed to look after his tailoring firm for months, the business growth of the firm was declined. His failure to avail the Khadi loan has made him desperate that he never applied any loan since then.
"Concerned Government officials and Bank need to look for only genuine entrepreneurs and provide loan or financial assistance so that they can promote their business. Favouritism should be avoided while disbursing loan". For poor entrepreneurs like us who have no good connection with Government officials or Bank, It is a difficult and long process to avail loan and subsidy from the Government. I like to expand the present scope of my factory with some financial assistance from the Government. However, I feel bored considering the long official process to availthe said financial assistance," said he.
After leaving his tailoring job, he ran a Grocery shop nearby his house. He did not go on with this business for long as he and his wife could not look after it. Thereafter, he returned to his tailoring job again and started a Readymade tailoring house at Paona Bazar. He employed ten tailors by giving them Rs.3 a shirt. The dress from which his tailoring house could earn huge profit was Salwar because womenfolk liked this particular dress as a fashion at that time. For about six months, he could maintain his family with his tailoring job easily. The business growth of his readymade Tailoring housetoo got declined when a UG organisation banned Slawar dress in Manipur.
Having no work to do, he joined the hotel business of his mother Radhe who is an expert watin maker. He learnt the whole process of making Watin from his mother. After sometimes, he set up his watin manufacturing factory under the brand " SelungbaWatin"in 1995. Initially he could not get profit and lost many bags of pea flour, wheat flour and edible oil due to wrong process of watin making. Right from the year 1998, his firm witnessed growth in the business with increased public demand and popularity. His firm could sell watinpackages made out of worth six to seven bags of flour daily. At least 21 women are being given jobs by Selungbawatin at present. Two shifts for working hour are divided i.e. 6 am to 11 am and 2.30 pm to 6 pm. The workers are not paid on monthly salary basis. They are paid according to their performance of work.
He said that he plans to export the watin packages produced by his firm. Some Outside dealers have demanded his products.