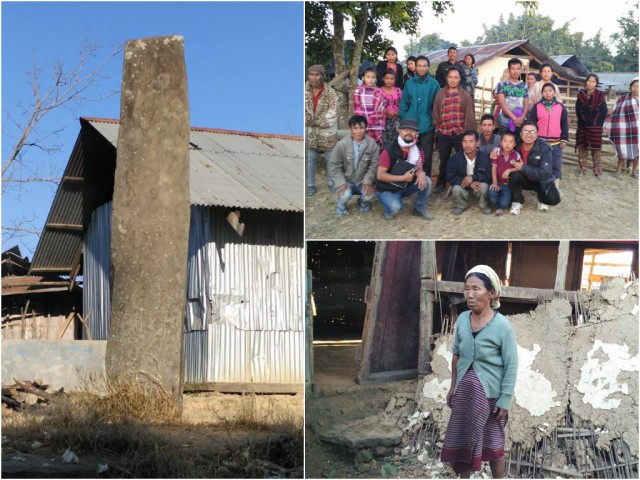 By Sam K Angom
On 5th January, 2016, Dr. Malem Ningthouja, Jugindro Akoijamba,Surjit and two brothers (an advisor and a general secretary of MSAD, Delhi) and myself visited the epicentre of 6.8 magnitude strong earthquake of 4th January, 2016.
Kabui Khullen Part 1 is the epicentre of the earthquake which claims lives and properties of Manipur state and neighbouring places including Bangladesh. It is at the peak of a mountain known by the name of Kabui Khullen Ching neighbouring Naga Ching which might be of similar height as of Koubru Mountain at a distance of 30 km from Noney Bazaar up the steep, narrow and rough path. Noney is again at a distance of 64 km from Imphal.
We started from 9.00 am from Imphal. By the time we reached the epicentre, none of the local or national media houses, CSOs nor MLA or Ministers or Youth Leader/ICON or the National Disaster Relief Team sent by GOI had reached the spot so far before our team except a team of Catholic Church, two adventurous Meitei elders including a retired DM College Professor and a PRO of local MLA. Soon after our arrival, a team of state BJP unit arrived at the spot.
At around 5.00 pm, we bid adieu to the panic villagers and finally I reached home at 10.25 pm.
We have counted number partly of fully damaged houses to be 54. For those we could not stay at their houses, are taking shelter at the neighbouring houses.Cracks on the ground are found on several location of the village. Physiological and relief supports are need of the hour.
Another interesting finding apart from the damages made to more than 50% of the houses is the stone landmark erected by then king of Manipur Khagemba about 500 years ago. King Khagemba, the Meetei king visited Kabui Khullen Part 1 and showed his care about his subjects and erected two stones for the villagers travelling in deep jungle.