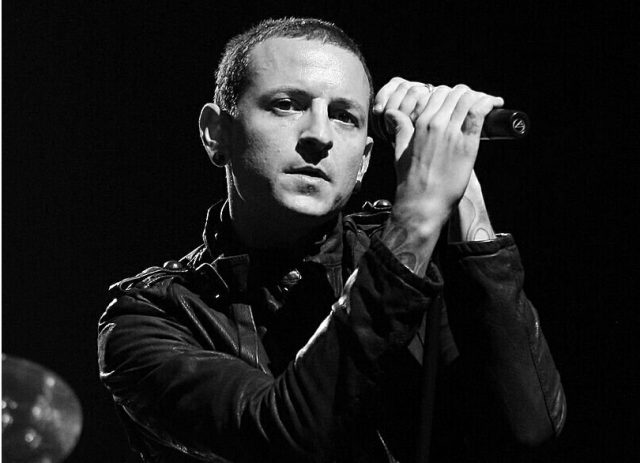 By: Ringo Pebam
Flipping through The Hindu newspaper sometime ago last month, I came across the news of the sad demise of Chester Bennington, the front-man of Linkin Park. I was shocked, because just three months ago it was Chris Cornell, one of the architects of grunge movement of the 1990s, the voice of a generation, who passed away, and then before the grief receded, came the turn for Chester.
Chester Bennington, an American singer and songwriter for the rock band Linkin Park passed away on 20th July this year. His music has moved many a hard rock music lover in Manipur, especially the youth, and the news of his untimely demise shattered their hearts. Of late they talked commonly how they have been inspired by Chester Bennigton. The angst of Chester's songs was the inner voice in their growing up phase, when they were in their crucial decisive stage of boyhood or girlhood. His songs motivated them to fight the demon within and overcome the dark times.
Michael Gurumayum, former vocalist of Spoon and Fork, Pariahs Of Paradise and currently of On The Verge… says that the birth of Linkin Park changed the definition of Nu-Metal with their unorthodox style of heavy guitar riff, blend of heavy melodic rap into the music. "Linkin Parks blending of turntables caught our heart off guard. That's how veteran bands like On the Verge…, Slackjam, Pornkidproject, Stepping Stones, to mention a few, became the new face of rock scene in the early 2000s. And yes from that moment on youth of Manipur were blended to the Nu-Metal scene," he infers.
Chester had a big impact on all of us than we thought. He was arguably the purest font of angst. His songs could capture the distress of the listener, giving an emotional outlet, providing solace. "To me, Linkin Park was an evolution, revolution, revelation of a new sound," mentions Reuben Akham, an acclaimed guitarist, who founded bands like On The Verge…, Slack Jam, Spoon and Fork. He adds that they (Linkin Park) had the energy and the angst screaming to be released; once it got out, the listeners followed suit, one step closer to the tune every-day. On the Verge…, Slack Jam, Stepping Stones, Spoon and Fork, among other bands pushed up the rock music scene of Manipur in the late 1990s and 2000s to a new wave.
My friend Anil Laishram remembers, "I was in Class VI or VII in 2004 when I first saw the video of Linkin Park In The End in ICTV's programme Pure Passion. After seeing that I immediately went to a CD parlour and bought the band's 'Hybrid Theory' and 'Meteora' albums' mp3s and videos burnt on a CD. On our Teachers' Day programmes at school, it was always for sure my friends, my juniors and my seniors played Linkin Park."
Another friend of mine who grew up studying in Manipur Public School (MPS) at Koirengei in the early and mid 2000s recalls how Linkin Park used to be her company and how the band or Chester helped her. She says, "Chester and Linkin Park for me are like the beginning, the alphabet to all my poems. But to go through something, something difficult with music as a company was something I experienced for the first time with Linkin Park; I was fourteen then when I first discovered the band with their song 'Somewhere I Belong', then I belonged to them and bought two of their popular albums – 'Hybrid Theory' and 'Meteora', and listened to both every single day after school, and it helped with whatever I was going through."
My MPS friend further says school and teenage life aren't always fun, it's a horrible phase for some of us; however, she refers to Linkin Park as a vital force helping her in overcoming it. "I might have skipped Linkin Park over the last few years. But the news of Chester's death shattered me and seemed to me a kind of void," she mourns.
In the similar tone, Guitarist Gosaimayum Chanu Sapna of the all-girl band Maniac agrees, "Linkin Park is one of the few artists whose music provides us strength to embrace loneliness and even overcome it." She adds, "I started listening to the band when they released 'Hybrid Theory'; since then I never stopped; their lyrics are powerful and their composition excellent. And most of all they had had a strong vocalist – Chester Bennington."
Amid this Linkin Park generation I talk about here, I am a little bit of an old-school chap as I grew up my teens in the years of Guns N Roses and Nirvana in the 1990s. In 2006, I was going through a bad phase, and a Kannadiga friend made me sit down and listen to Linkin Park's 'In the End', indeed a song that pushed me up.
Chester Bennington underwent depression through a major portion of his life, and this intimate experience was reflected in the words he sang. It is impossible not to feel the pain in his voice and the words. As sad as it is that he left the world so young, he must have had his reasons for taking his own life, and it is not in our place to judge. He may be no more, but he still remains in our heart and in his songs.
Chesters untimely demise nudged everyone to say something or lament awhile. The Guardian wrote that his cleanly articulated tales of emotional struggle gave millions the sense that someone understood them, and the huge sound of his band around him magnified that sense, moving listeners from the psychic space of their bedrooms into an arena of thousands of people who shared their pain.
There has been tremendous grief and outpouring of love for him from fans from all over the world cutting across regions and races. It is because Chester and his band were there for them when they needed them. "We were utterly shocked when we first came to know that Chester committed suicide. We were clueless what could we do for the departed soul. Finally, we came up with this idea of giving a small tribute concert", say Musicians United Manipur, a group of like minded musicians who got together to organise the tribute concert for Chester, adding that many fans across the state supported the idea and came forward to take part in it.
It was over the last one month or so the group Musicians United Manipur and a host of Linkin Park fans have dedicatedly been working on for the tribute concert. Now things have been chalked out and the concert is scheduled today (26th August 2017) at Iboyaima Sanglen, Imphal, where diehard fans of Linkin Park will gather to pay a homage to Chester Bennington.
The bands slated to play at the tribute gig are: On The Verge…, The Wishess, Cleave, Star Crossed and Rubicon.
If you are fan of Chester/ Linkin Park, don't be late, be there on time!
———————————————————————————————-
(The writer can be reached at www.facebook.com/ringo.pebam . He and his friends regularly update the local rock music scene at www.facebook.com/rockmusicmanipur)
[ecwid widgets="productbrowser search minicart" categories_per_row="3″ grid="10,3″ list="60″ table="60″ default_category_id="21294227″ category_view="table" search_view="list" minicart_layout="MiniAttachToProductBrowser"]