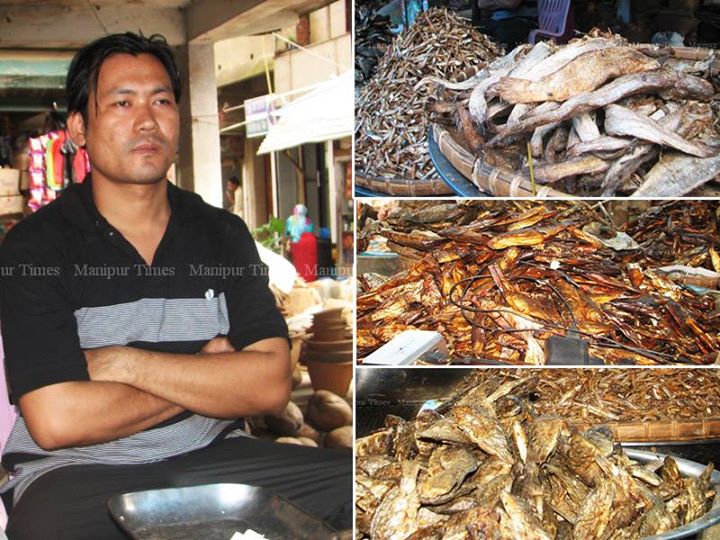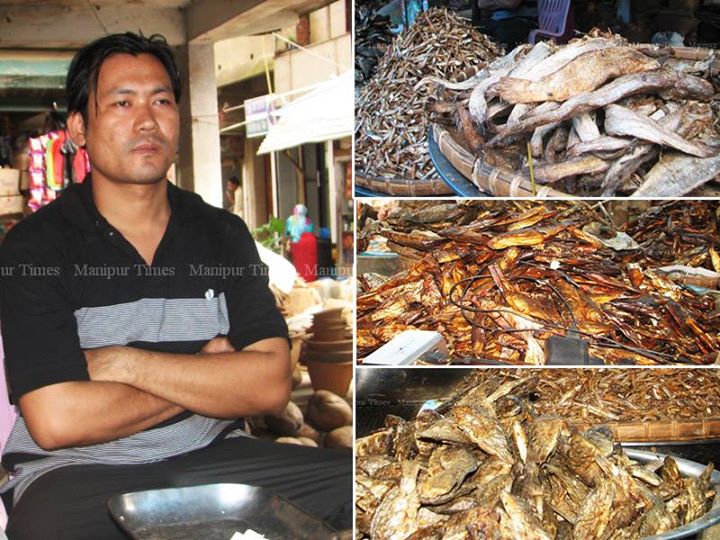 "Ngari (fermented fish) and dried fishes are the favourite food items of every Manipuri. For the last ten years, I have been selling Ngari and varieties of dried fishes at Kongba Keithel. I collect Ngari from a firm at Singjamei. One Ngari Kharung (standard sized earthen pot of Ngari) weighing 45 kg to 50 kg usually costs Rs10,000 to Rs15,000. I started my dried fish business with an initial investment of Rs10,000, borrowed from one of my friends. I started my business by collecting only six to ten kgs. I could not buy even a single Kharung as I could not afford to big investment at that time. With the profits earned from this business, I can invest about Rs10 lakhs in my Ngari business now".
Kshetrimayum Momo Singh shares Manipur Times the journey of his Ngari and dried fish business.
MOMO IS ALSO AN ACTOR
Interestingly, Ksh Momo Singh is not only a Ngari and dried fish trader but also an actor who is acting in short and documentary films. Since childhood, he loves art and acting very much. He used to take part in many plays organised in his locality.  Recently, he got the chance to act in a celluloid short film written by late MK Binodini and directed by Makhonmani Mongshaba. The film which is based on the present scenario of domestic violence and atrocities meted out to women in Manipur has been nominated for Indian Panorama section, said Momo and added that he is so eager to watch it and anticipating for the success of the film.
"In fact, I love acting so much. However, I cannot make acting as my career since I keep confined myself in this business all the time. Sparing some moments from my business, I sometimes take part in some films as a hobby," he said.
EARNING GOOD PROFIT
Ngari, Thumyakpi, Nga Tunghanbi Ayaiba, Ngasang Ayaiba, Ngamu Leirou, Ngaton Ayaiba are some of the dried fish items available at Momo's stall. Price of local Ngari available at his stall ranges from Rs300 to Rs400 according to the quality or taste. He sells Ngaton Ayaiba at the rate of Rs140 per kg, Tunghanbi Ayaiba at Rs640 a kg, Thumyakpi at Rs240 a kg, Ngasang Ayaiba at Rs240 a kg, Ngamu Leirou at Rs720 a kg. He can earn Rs5000 to Rs7000 a day from selling these fish items.
CUSTOMERS WANT QUALITYNGARI
Ngari is usually prepared by fermenting small fresh water fishes locally known as Fabou Nga with mustard oil. It is roasted lightly prior to consumption and then added in different Manipuri dishes like Eronba, Morok Metpa, Kangsoi, Singju and many other.
"Although it may be a bit unpleasant to non-users, it is an inseparable food item for every household of Manipur. For every Manipuri, it is a favourite food item in the state. Sensing its business prospects, I determined to be one of the Ngari traders by investing some money. Now, what I thought turns true because many customers throng at my stall everyday to buy Ngari. At least, ten Ngari Kharungs have to be stocked at my stall for supply to the costumers. For other dried fish items, my wife personally goes to Moreh and collects the items", Momo said.
Momo said that he always tries to sell quality Ngari at affordable price to his customers as Manipuri Ngari consumers prefer the kind of Ngari having best taste. When he does not maintain quality in his business, costumers hardly come to his stall.
FAMILY BACKGROUND
Kshetrimayum Momo Singh, 35 years, son of Kshetrimayum Ranjit Singh hailing from Kongba Kshetri Leikai has been maintaining his family with the income earned from his fish business.
He is the eldest son among five siblings in the family. Being the eldest, he always helped his parents in maintaining the family. He could not even completed his Graduation while struggling for his family although he liked to complete his studies for the sake of his future career. After passing Matriculation and Class XII from Ananda Singh Higher Secondary Academy, he admitted himself in Standard College. But he dropped out in BA second year.
Momo's father used to run a rice hotel at Kongba Bazar. The hotel was the only source of living for his family including all expenses of family maintenance and their studies. He used to help his father in running the hotel as his father alone could not attend the costumers. As a result of this, almost the whole part of Momo's youth life spent in the hotel instead of attending college.
MOMO'S MESSAGE TO ALL
Conveying his message to the people, the youths in particular, he said, "We should keep this in mind that our state is a poor and undeveloped state. Educated youths living in such a poor state where the government cannot provide jobs to all should look for alternative means of earning rather than thinking and waiting only for white collar jobs. When work culture is cultivated in everybody's mind, the state will become developed and there will be no more violence and crimes such as extortion, ransoming, killing etc. Extortion culture itself comes out from the mindset of those people who like to be rich without hard work. An idle brain is a devil's workshop. When everyone is busy with his business, there will be no space in his mind for thinking about extortion. We should not feel shy for doing any work. The earning by the sweat of one's brow is more valuable than the earning from thievery. We must earn through self-employment with maximum mobilisation of the available resources in the state. Our state has rich resources but we do not mobilise it properly."