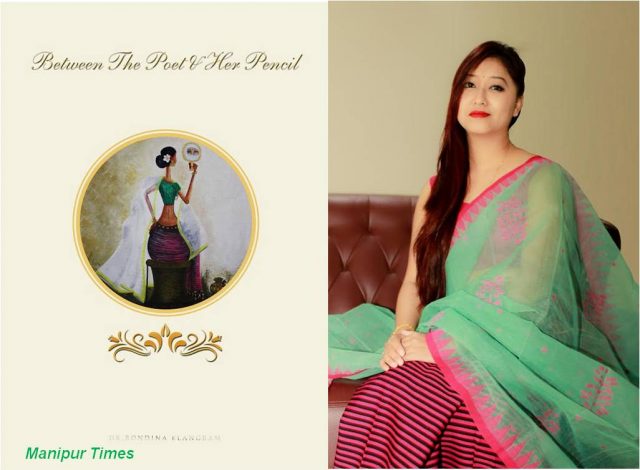 Dr Bondina Elangbam published her first poetry book that will make women connect with her words. She is a newbie in poetry world, and she starts her career with the endeavours to write verses that will mesmerize women to thread.
The poetess is soon going to publish her debut collection 'Between the Poet and her pencil' that encapsulates the gist of what women in India go through emotionally and physically.
Speaking on the subject, she says, "Though I am not a feminist, however, in one or another way, my poetries echoes the voice of the female mass. I feel that zest of my poems is in such a way that every woman will feel somehow connected and can relate herself instantly."
Born in Imphal, Manipur, Dr. Elangbam inherited both the Meitei and Mao-Naga cultures of her parents and this cross cultural bonding and conflicts at times is also reflected in her poems. Further she highlighted that her Ideas are something related to one's mind innovativeness.
She visualized her surroundings, past happenings and present phase into an entirely contemporary view which is evident in her writing as well.
Facing challenge to get a good publishing house for her work, she decided to self-publish it. "Self-publishing is wonderful which removes many restraints of publishing houses, who always shows limitation to new authors.
Also, writers can get direct to the readers, and have feedback from the people who are their genuine target market. Obviously, monetary aspect is a challenge and I have prepared myself to face this financial impact."
Recently, she came out in support of Bollywood Actress Kangana Ranaut on social media. She feels that her classmate as well as roommate, who being a famous actor still keep in touch with her old school friends and spare time to meet them, cannot be the person that many people are trying to portray.
"She is a woman who stands up for herself. Kangana is self-made and keep breaking the barriers which inspire so many (I have seen her evolving from a school girl to this reigning Queen of Bollywood). I admire her courage and go for a kill attitude," she said in the social media post.
With an emotional tint she further highlighted that "Despite being a famous and busy personality, she spared time to read each poem and write foreword for my debut poetry collection. Indeed, this reflects an iconic example of being down to earth and supports everyone by standing on their side"
In fact her favourite Bollywood movie is Kangana Ranaut's Queen. "I love this movie because of Kangana and also because it boost the assurance of every woman's being. I like how the movie ended in an optimistic note. In Hollywood movies I like God's not Dead (2014) by Harold Cronk. This is an amazing movie because it reaffirms the existence of God," Dr Bondina says.
Pointing out that her school days crafted her thought process that has come in handy while writing poems. "School Days are the seeds of one's thoughts and expressions. Like other kids, I also shared the usual life stage theme, but, in spite of being a timid child, somewhere from inside a deep inquisitiveness was there, which allowed me to transform into a wholesome good listener and observer," she says.
She believes that poetry is an art which allow readers to delve into their inner minds and set free their souls. "Poetries are boundless and should not be restricted to one style. Following this thought, I barred the traditional way of writing and tried to present a complete contemporary taste to the audience. My poetries are diverse in nature and is intended for everyone," she says.