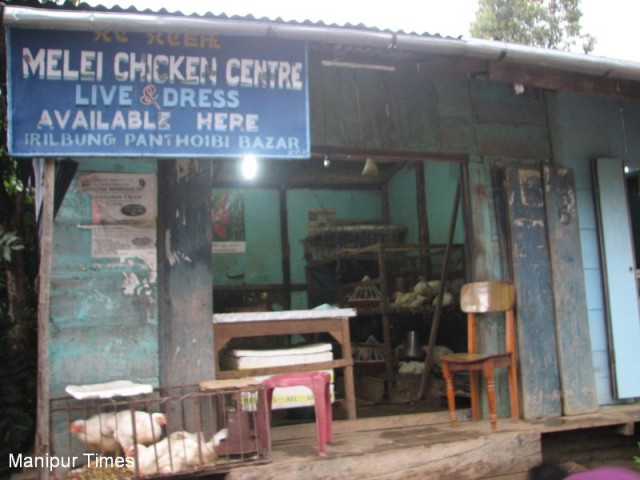 "You may not believe me but I started my poultry business with only 20 broiler chickens which I bought from Khwairamband market in 2005. Gradually, the number of chickens got multiplied and hence my business flourished leaps and bounds. Later, I opened 'Melei Chicken Centre' at Irilbung Panthoibi Keithel, where I have been selling chickens produced from my poultry farm. Now I have stopped trading chickens to other chicken shops".
Ningthoujam Ingobi Singh, Proprietor of Melei Chicken Centre shared his life journey during an interaction with Manipur Times recently.
28-year-old Ingobi, popularly known as Ambi in his locality, has been in poultry business since past ten years. Apart from chickens reared in his poultry farm, Ambi also collects chickens from Yairipok, Keirao and other nearby villages to cater the demands of his Melei Chicken Centre.
At present, he has fixed live and dressed chicken rates at Rs150 and Rs180 respectively. Ambi sells 60 kg to 80 kg of chicken daily earning Rs1000 to Rs1500. However, sale of chicken witnesses sharp rise during festive seasons like New Year's Day, Cheiraoba, Ningol Chakkouba, Yaoshang, Id-ul-Fitre etc.
Ambi got his primary education from Keirao Awang Leikai LP School. He passed matriculation from Irilbung High School and class XII from Standard College, Kongba. Although, he wished to continue his studies, he could not do so as he had to earn to feed his needy family.
Ambi said, "My father was a bicycle mechanic and he used to run a cycle repairing workshop at Irilbung Bazar. But his earning was meagre and he could not meet the family needs. Frankly saying, our family had frequent quarrels due to poverty. Owing to the situation, my mind started inclining more towards earning rather than continuing studies although I had dreams to crack competitive examinations and become a government officer".
Ambi aka Ingobi is the fourth son born to Ningthoujam Tomba and Ningthoujam Ongbi Padama Devi of Keirao Awang Leikai, Imphal East. He is the fourth son among five siblings in his family.
Before going into poultry business, Ambi tried to substitute his parents' income by working as a day labourer in construction works and, sometimes, as a salesman in shops. As the wages were obviously less and it was hard to make it tidy, he started looking out for other jobs which he could own and control.
Recalling his past days, Ambi said, "Like my friends, I also wanted to attend college regularly to complete my studies. I felt like crying when I saw my friends going to college. For me, my poultry farm became my college which I had to attend it daily. Despite all odds, I could pass class XII. Then I could not continue my studies as a result of my decision to earn for my poor family. In fact, poultry business was not my dream venture. Circumstances compelled me to take it up as a challenge. Now, I am fully satisfied with this job as I can manage my family with the income earned from it. I am happy that I am able to provide jobs to a few local youths as well. Expansion of my poultry farm and Melei Chicken Centre has become my objective and dream. For this, I am looking for banks which can provide loan to me although I am presently running my business without financial assistance from anybody."
For a state like Manipur where there are less resources and small and medium industries, it is impossible on the part of Government to provide jobs to all the educated youths. So they need to look for other self-employment opportunities rather than depending on the government. It can be said that there are many job opportunities for those who have work culture although some lazy people generally claim that there is no job in Manipur. The government also needs to encourage the promising entrepreneurs by providing loans and grants. When more numbers of entrepreneurs come out, unemployment problem in the state can be minimized to some extent, Ingobi observed.