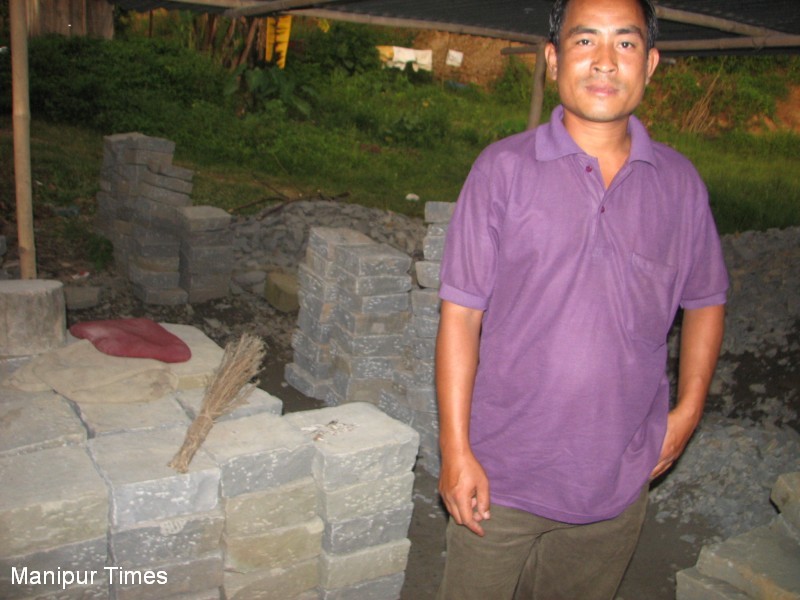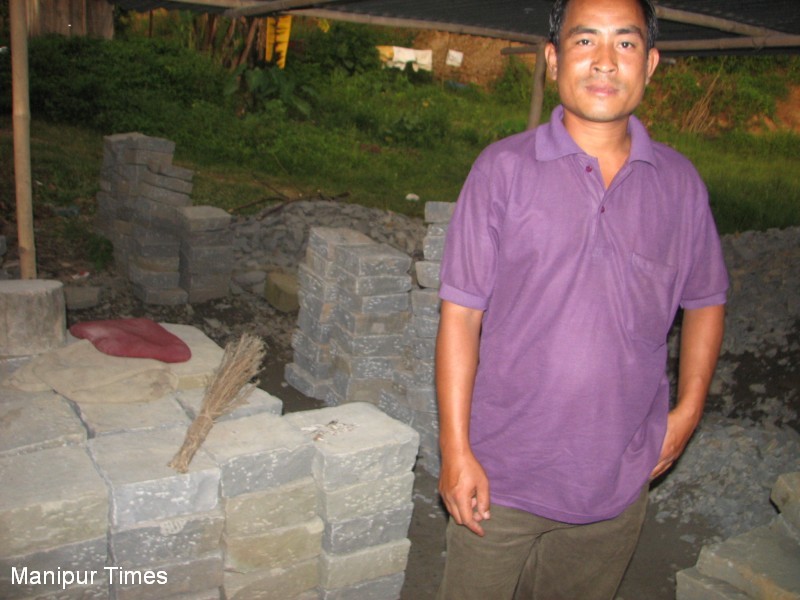 "The business of stone  is a seasonal one. During rainy season, the firm cannot supply stone to its costumers due to its shortage. And employees can't work in hills during the rainy season. Due to bad road connectivity during rainy season, it's hard to transport stone products the hills. When this section of men stopped working in hills due to rain, there is no good stock of stone in the firm and we can't meet the demand of our customers. Presently, there are lots of supply orders from the customers in our hand but we can afford it"
Mutum Ojit Meetei, proprietor of Amuchou Stone Works, in an exclusive interview with Manipur Times, shares the ups and downs of his stone business.
Varieties of stone-made items displayed at the Amuchou Stone Works located at Keirao Khunou, Imphal East attract many customers. The stone-made items available at this firm are mainly for housing and other construction purposes. Moreover, many decorated stone carvings are also available here. Mainly, the people in rural areas of Manipur throng this firm as these square shaped stones are required for building houses.
Mutum Ojit Meetei, 35 years is the eldest son of M. Amuchouhailing from Keiraokhunou, Imphal east. He passed matriculation from CC Higher Secondary School and graduated from DM College of Arts, Imphal. After completion of his studies, he has been looking after the whole affairs of the firm since his father is weak now.
Presently, his firm sells varieties of stone-made Items like 'Sumbal' (indigenous Manipuri Rice Grinder ), sambreitolla ( Stone-made Temple with artistic carvings ), Chakri ( Rice Grinder ), Sumbal Macha ( small Rice Grinder especially used for grinding Spices, Ginger etc.), Various Square shaped stone chips with decorated carvings on it known as Salami, Maipombi, Tongjeikhangand other ordinary square shaped stones of Nine inches and 10 inches sizes which are mainly used for housing purposes.
Recollecting the hardship days how his father tried to set up the firm, Ojit said, "It's an emotional story to recall how my father struggled his life as a rikshaw driver and could become the owner of the present Amuchou Stone Works which can now earn a turnover of Rs. 5 to 7 lakhs annually. We have been doing this stone business which is the bread and butter of the family for the last 30 years. Before my father's entry into the world of this stone business, he,  being the eldest among the 3 siblings, had to support the family by doing any available manual jobs as his father, a cultivator by profession, failed to maintain the family with his low income. There was a time the family suffered extreme poverty that they starved many times. With a view to maintain the family, he had to leave the school forever and went from one place to another seeking for ways of earning. As the question of survival in the family was a matter of great concern that his career of life was changed and he started working for survival. He got married in 1977 and the pressure of life increased after marriage. He tried to support his family as a rikshaw driver, sometimes, as a kerosene hawker by selling kerosene riding his  rikshaw. His earning could not make ends meet for the family and so he thought of some better ways. He started learning the art of stone carving or sculpture and breaking big stony Rocks using Martun ( big hammer) Kutha ( Pyramid shaped pointed tool ) from the local elders who were expert in this field.
With those elders, he went to Hingamlok hill and Kangamdabi hill, four km from his village. Many big stones were found lying in the gorges of these hills. He broke the huge stones into chips of different sizes and returned home on foot carrying those stone chips on head known as 'Potaan'.  The stone chippings brought from the hill were sold out to a local trader at the rate of Rs.2 a piece. He could carry 4/5 stone chippings on his head during those days of his energetic, robust and young body.
By doing so, he could manage the family somewhat. He thought of giving up the way he was earning and wanted to be a stone trader himself. He borrowed Rs. 5000 from one of his local cousin brother named Mutumkhomba  to start his new venture on stone. He collected stones from the labourers and selling to other traders with some profits. He found the business to be an easy, tireless and profitable one. After sometime, he could achieve a speedy growth in his business, Ojit told Manipur Times recalling the past days of his father.
The firm is presently employs at least 20 men. The firm have two types of employee sections according their mode of work. One section of employee works in the far flung hill gorges ( quarry ) and breaks huge Rocks using tools like Kutha and Martun and makes stone chippings of different sizes. The stones are then transported to the firm. Another section of employees work inside the campus of the firm shaping, carving the stones. The wages of the workers are paid on daily basis. Like in other sectors, there is no strict working hours. A worker can canRs. 300 to 350 a day.
In past, the stone quarries were available in the nearby hill gorges of Kangamdabi, Hingamlok and Andro hills. As these resources are running  out day by day, the firm is collecting stones from Leimakhong hill which is very far from the Firm office.
The firm sells Sumbal at Rs. 650 to 700 a piece, Sambreitolla(Temple) at Rs. 2000, Chakri(Grinder) at Rs.1000, SumbalMacha at Rs.150,Maipombi at Rs. 200 per piece, Salami at Rs. 150, Tongjeikhang at Rs.250. For ordinary square shaped stone chippings of 10 inches, it sells at Rs.40.
The products in this firm are mainly supplied to Thoubal, Lilong, Sangaiyumpham, Wabgai,,Wangoi, Uchiwa, Samurou,, Yairipok  and others. Presently, the firm is supplying huge quantity of stone to PHED Minister IrengbamHemochandra for construction of his Firm. "The firm has got a supply order from one MLA Biren of Heingang. However, we are unable to meet the demand", says Ojit.