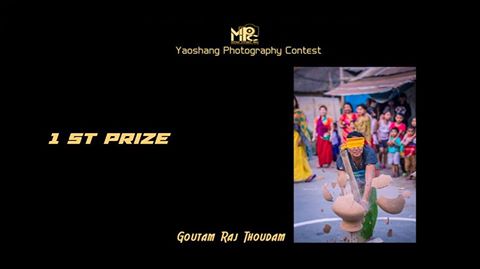 Final Results of the "Sporty Manipur- Yaoshang Photography Contest" are announced. The event was organized by Manipur Photography Club, while Decathlon Anubhava and Manipurtimes were main sponsor and co-sponsors, respectively. A total of 104 participants took part in the contest and awards were announced for 14 winners in different categories. Mr Goutam Raj, Mr. Dinesh Sharma and Mr. Soibam Pritam Singh excelled in the contest by winning the 1st, 2nd and 3rd positions respectively. While Khundongbam Lily Chanu won the Happiest Moment Award. Five consolation prizes went to Bablu Mangang, Gopi Waikhom,  Suchitra B Sharma, Somananda Ningom, Momo Khundongbam respectively.
Guneshwor Tongbram, Guru G Sharma won the "Critics Awards" while James Phanjoubam , Romesh Moirangthem and Aarkay the "Viewers Choice Awards"
Sporty Manipur - Yaoshang Photography Contest - Award Winners
Top 3 award winners will be rewarded with one Arpenaz2 Tent each. Meanwhile, Happiest Moment award winner will get Arpenaz 20 Sleeping bag. These items are sponsored by Decathlon Anubhava. Five Consolation Winners will get Rs. 500 vouchers each. On the other hand, award winners of Critic Awards and Viewers Choice Awards will be rewarded with one pair of Mukta Shoes each sponsored by ManipurTimes.