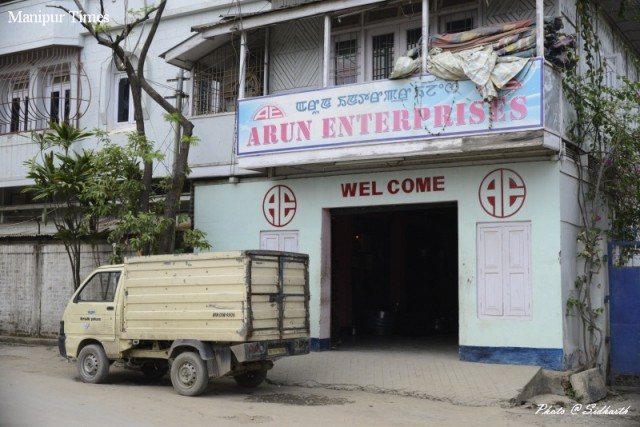 Be it religious ceremonies like shradha and wedding, or public gatherings like functions and musical concerts, tent houses play important role in making the function look beautiful and successful. Tent houses are many, but it is the service and quality of the items that matter most.
Arun Enterprises located at Chingmeirong Mamang Leikai, Imphal East is one of the leading firms that provide tent house service in Manipur. The firm has not only the facility of hiring sound and light system, but also items like chairs, utensils, firuk, catering services,  materials for mandav (temporary community hall), stage construction for musical concerts, marriage ceremonies, fairs and so on.
Thangjam Arunkumar (46) s/o late Th. Birachandra of Chingmeirong Mamang Leikai started this firm with only three staff and Rs 3 lakh capital investment in 1995. The firm is presently giving jobs to 40 full time working employees and around 100 indirect employees earning good monthly turnover.
Thangjam Arunkumar, proprietor of Arun Enterprises, passed his Matriculation from Tiny Tots' Unique School, Imphal. After passing Class XII (Arts) from DM College, he went to Bangalore and completed Graduation from Christ College, Bangalore. He also completed LL.B from IILS, Pune. Having completed his studies, he returned home and did legal practice under Advocate Surjamani of Khagempalli for some time.
He gave up legal practise after Advocate Surjamani was appointed as the Judge of Gauhati High Court. At that time, he didn't want to work under any other Advocate. He could not afford to run his own Advocate Chamber as well.
For some time, he tried to earn money as a distributor of Airtel and DTS services. The present firm Arun Enterprises was set up with the suggestion and financial support of his brother Dr. Th. Dhabali, owner of Babina Diagnostics Centre and Classic Hotel.
One day, their family had to hire items like semiana, karnat, utensils, mat, chairs and mandav construction materials for the wedding ceremony of Arun's younger brother Brojen.
During a chit-chat in the family, his brother Dr. Dhabali suggested him to do the business of tent house making observation that it would be a profitable one. With an initial investment of Rs 3 lakh financed by his brother, Arun Enterprises was opened. However, the firm did not take time in winning hearts of many customers through its unique services.
Arun told Manipur Times that Arun Enterprises was the first firm which introduced home delivery service of tent house items. The service was helpful in attracting many customers, he said.
For the families which do not have time and men for mandav construction, hiring stage, utensils, semiana, karnat etc. for wedding ceremony and other religious function, home delivery service is a boon. It is a system in which the staff of his firm delivered all the required items needed in a function or religious occasions through its own transportation.
In the past, customers usually transported their required items of their own. It was a headache to the customers to do so. The burden of the customers to collect materials is now eased by home delivery service.
Arun Enterprises tries to make available of all the necessary items needed in a function to win the customers' satisfaction. Varieties of items available in this firm are too many that one would be tired of counting them.
For holding a musical concert, necessary items like sound system, light and stage are available here. Some men of Arun Enterprises would transport the materials to the spot. Some men of stage section of the firm would design the stage while some men of the sound and light section arrange the sound and light of the musical concert.
For marriage ceremonies or other religious rituals, the firm lends out utensils like korfu, dishes, glasses, fakshang (long mat), khangs (cooking pot) of medium and large sizes, firuks, fans, fijang, semianas, karnaats, carpets, chairs and so on.
For the convenience of the customers, Arun Enterprises has opened a branch at Uripok as well.
Besides this firm, Thangjam Arunkumar is also working as a distributor of Airtel providing jobs to 20 to30 persons. Recently, he had handed over the distributorship of DTS service to one of his cousin brother.
He said that his business deals with responsible and risky tasks. As ceremonies like shradha and marriage ceremonies are very important functions of a family, his men have to work with responsibility and dedication. Any loophole on the part of Arun Enterprises may spoil the whole function, Arun said.
Regarding musical concerts, Arun said that his staff go to and fro carrying heavy items of sound and light worth around Rs 10 to 12 lakhs. The present hiring charge of light and sound of Rs. 7000 per concert is too less. Labour charge, transport and fuel charges etc are all high these days. After paying all the charges, his men get Rs 2500 to 3000 as profit.
[ecwid widgets="productbrowser search minicart" categories_per_row="3″ grid="10,3″ list="60″ table="60″ default_category_id="21294227″ category_view="grid" search_view="list" minicart_layout="MiniAttachToProductBrowser"]