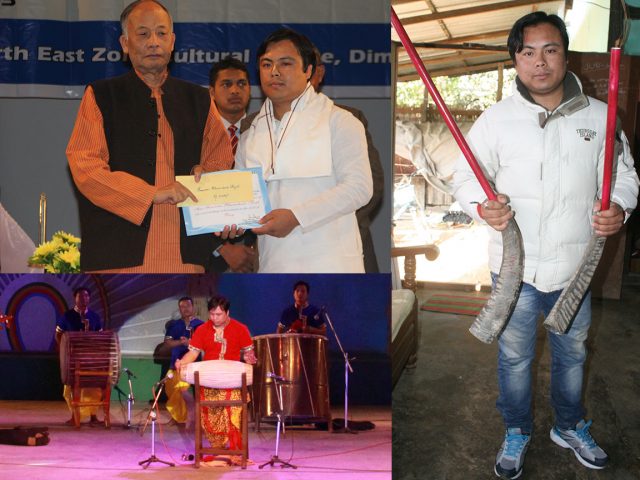 Among the varied art forms, Manipuri Nata Sankritana Pung (percussion) is a globally popular art form. Manipuri Pung cholom, the soul of Manipuri Sankirtana music and Classical Manipuri dance, is world famous. It is a form of Manipuri drum dance where the performer plays the "Pung" or drum while dancing with graceful vigour and acrobatics. Yumnam Bhumeshor is a young Manipuri Pung Artiste who has been adorned with many awards and honours in recognition of his contribution towards reviving the Manipuri pung tradition. He is training around 20 students under his Yumjaomayum Living Art Centre.
His Gurus
Born on February 1985 to Yumnam Shyamsunder Singh and Yumnam Binokumari Devi in Langmeidong Mamang Leikai, Thoubal district, Yumnam Bhumeshor started learning the art of nata Sankritana Pung right from his age of nine under the feet of various Gurus like Guru Shri Leishangthem Temba Singh of Langmeidong, Leishanthem Thambalsang Singh of Langmeidong, Leishangthem Thoiba Singh of Langmeidong, Wangkheimayum Nilachand Singh of Singjamei Wangma, Imphal, Mairembam Maniton Singh (Sangeet Natak Akademi Awardee) of Moirang, Mairembam Ranit Singh (Manipur Shahitya Parishad Awadree)of Moirang, Sougaijam Thanil Singh, Sangeet Natak Academy Awardee.
He is now working with the renowned Gurus like Guru M. Ranjit Singh (Manipur Sahitya Parishad Awardee), Padma Shri Guru S. Thanil Singh,Guru L. Lakpati Singh (Sangeet Natak Akademi awardee) and Guru E. Chaobhal Singh (Sangeet Natak Akademi awardee) in all ritual ceremonies in nook and corner of the valley districts of Manipur and outside Manipur and moreover abroad at the best level.
His passion for the art
Recalling how he started his career in Manipur pung, Bhumeshor said that initially, he was a football player under DSA Thoubal and he used to practice football at his local playground at Langmeidong with his friends. While doing so, he used to see his local Pung artiste Leishangthem Temba who was always carrying a Meitei pung on his cycle on which tempted young Bhumeshor to make a try of the percussion instrument. Leaving his football practice at the playground, he often beat the Pung which Temba was carrying on his back after performing in sharda or marriage ceremonies.
The news about Bhumeshor beating Temba's Pung reached to the former's grandfather who later on asked his grandson to pursue the art of Meetei Pung under Temba if he had the passion for it. Bhumeshor also readily agreed to his grandfather and started learning the art under Guru Temba.
Professional background  
He completed his Class X from Langmeidong Junior High school and graduation from Pole Star College.  He completed PRAK SHASTRI From Manipur Sanskrit Mahabidyalaya Sangai Pat, Imphal,Manipur, Post Diploma in Sankirtana Pung  from Jawaharlal Nehru Manipur Dance Akademy  and 2  years  training in Kartar Cholom under the guidance of Guru Shri Elangbam Chaobhal Singh (Sangeet Natak Academy Awardees and Retd. Guru J.N.M.D.A). he also did Research under renowned Scholar Guru Shankhya Ibotombi Haorokcham (Theatre Director).
As a music director in film
He has worked as music director in a Manipuri film Tumba Chaba Khangdana directed by Ojitkumar Elangbam. He is planning to showcase uniqueness of Manipur Pung in international arena.  A Nata Sankritana artiste needs to maintain a robust body, skills of hand and knowledge of music tunes.
His effort in popularizing the art
To his credit, Bhumeshor has popularized the Manipuri Nata Sankritana Pung in many parts of the country and abroad. He gave the performance of Manipuri Pung in the 7th Kalanidhi international dance festival in Canada in 2004, as lead drummer in the dance drama Pattano Pradesh produced by Menaka Thakkar dance company in 2004, the Krishna culture festival in Hong Kong in 2008, the India festival Moscow in 2009 and the Festival of Maha Sankritana in Bangaladesh in 2015. Participated India Festival Moscow, a Cultural Exchange Programmed India and Russian Government held on 23rd August to 6th September 2009, organized by ICCR And Russian Government, Festival of Maha Sankirtan as Pungkok Chatpa held on 12th to 13th March 2015 at Bangladesh, organized by Bangladesh Bisnupriya people.
Awards and Honours
He has been honoured by many prestigious Institutions including the Tezpur University, SPIC MACAY at the Virasat series of Manipuri dance in 2015, Manipur state Kala Akademy Award in 2011, Ustad Bismillah Khan Yuva Puraskar of Sangeet Natak Akademy for 2013-2014 for his notable talent in the field of the music tradition Nata Sankritana Pung, Gulapi Nata Sankirtana Academy Merit Award on Solo Pung Cholom Competition, Certificate of Merit offered by Ranganiketan(International Centre for Manipur Arts & Culture) Manipur at the Pung Cholom Duet Competition 1997, Gulapi Nata Sankirtana Academy Merit Award on Solo Pung Cholom Competition 1998, Certificate of Honour offered by Gulapi Nata Sankirtana Academy at the XII Guru Kirtana Seva 2004, Certificate of Honour offered by Sarwajanik Kala Vawan at the 1st Dist. Level 5 days Ras Phangnaba Festival 2006 ,  "Abhinandan Patra" offered by Shri Shri Govindajee Nata Sankritan (Imphal), Guru Gulapi Nata Sankirtan Academy (Imphal) and Shri Shri Radha Govinda Cultural Development Organization (Tripura) at the Dhrumel in 2009,  Certificate of Honour offered by Guru Nameirakpam Manao (Visiting Guru J.N.M.D.A.) at the Rash Uparash and Bashak Khandita Phangnaba Festival 2009, Certificate of Honour offered by The Guru Gulap & Kula Memorial Academy, Khurai at the Pung Cholom,Kartal Cholom,Holi Dhol Dholok Cholom Festival 2009, Certificate of Honour offered by The Nata Sangeet Academy & Research Centre, Imphal at the Lalsa Prathana Festival 2009.
Besides, he bagged National Scholarship in Nata Sankirtan Pung in 2006 by Department of Culture, Govt. of India, Scholarship Award in Manipuri Nata Sankirtan pung in 2014 in the standard of Post Diploma by Jawaharla Nehru Manipur dance academy Imphal.
Research work
Bhumeshor is also carrying on a research work "On the relation between Natya Shastra and Nata Sankritana" under the guidance of renowned scholar Guru Sanakhya Ibotombi Haorokcham, Former Theatre Director. Above all, he is also working with Padma shri Darsana Javeri.
His appeal to government
Everybody claim that Manipur is globally recognized for its rich heritage of art and culture. Yes, the tiny state, although economically backward, is known for its art and culture. However, the living status of the artistes who have been contributing towards popularizing and promoting the art form is still in a pathetic condition with the government failing to introduce a policy for the welfare of the artistes. Notwithstanding their contribution, Manipuri artistes have no future. Government needs to introduce a policy for the welfare of the artistes, he said.