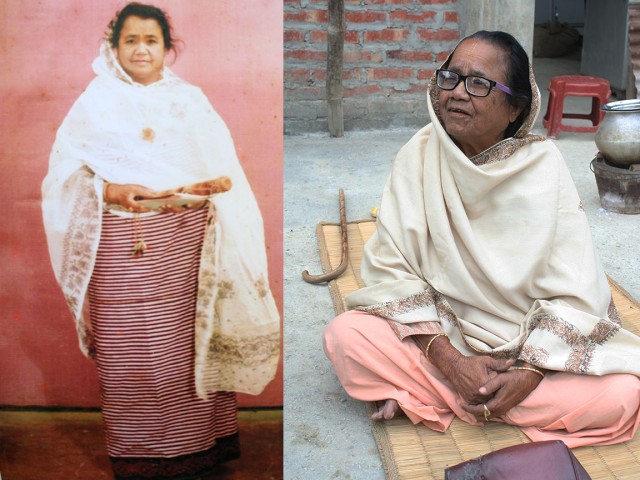 Love of Art and beauty is inherent in the people of Manipur who are artistic and creative by nature. It would be difficult to find a Manipuri girl who cannot sing or dance. Varied art forms and cultural expressions and ramifications distinctly showcase Manipur to the world. The state is inhabited by varied ethnic group having their own distinct culture and tradition deeply embedded in its dances, music, customary practices and pastimes. Among the varied rich art forms, the state is a land of great Nat Sankritana movement.
84 years old RK Sanatombi is among the noted woman Nat Sankritana performers who have contributed and dedicated her art. She is a living legend of Manipur and a true exponent of the traditional Manipuri Nata Sankritana art. As a Sankritana singer, she has survived the toughest of times, through the ups and downs of the Nat Sankritana Tradition. Despite physically weak and her elderly age, she is still committed towards promoting and popularizing the art.
Learning of the art
Born on September 13, 1931, RK Sanatombi, daughter of late RK Ibotonsana of Sega road Konjeng hajari Leikai had a great passion for dance and singing. She inherited her artistic talent from her late grandfather, a Nat Sankritana artiste by profession, who used to motivate his grand-daughter to be an artiste. Sanatombi learnt the art of singing and dancing from various teachers. She learnt Khubak Ishei from Oja Jugol, Nouka Bilash from Oja Nilakomol, Nimai Sanyas from Sagolshem Kalidaman, Sankritana from Oja Gulapi and Oja Parijat. Nupi Pala (Kartal cholom and cymbal dance) is ramification of the Manipuri style of dance and music. It is normally performed by female artistes using cymbals and wearing traditional phanek. They sing and dance to the rhythm of pung.
 Awards and honours
In recognition of her contribution to revive the art, Manipur government honoured her with certificate of honour on the occasion of Republic day of India 1991. She also received gold medal from Manipur Sahitya Parishad in Nata Sankritana in 1992, Manipur state kala Akaemy award in Nata Sangeet 2006, recognition certificate in the field of Ras Sutradhari from Shri Shri Govindaji Temple board 2004, recognition certificate from Manipur Nata Sankritana Apunba 2005.
She completed Post Graduate diploma from JN Dance Academy, Imphal in 1981, fellowship of Manipur l0 State Kala Akademy in 1985 under Guru Amubi, B-High graded artiste of Manipuri Sankritana of Akashvni and Doordarshan.
Her artistic Performance
She participated as an artiste of Sutradhari of Ras Nritya at ISKON congress held at Mumbai, Gujarat and Hyderabad in 1971, 1985, regular performance at AIR and DDK Imphal in Nata Sangeet. Besides, she gave many performances as sutradhari and as a Nata Sankritana singer in various festivals of Ras dance, concerts and religious ceremonies.
At the age of 27 in 1958, she produced her first Gramophone disc records of four Manipuri song at Kolkata entitled Ha Chekla Nungshibi, Nokmi Nokmi Nungshiba, Thoibina Loi Karakpa, Shamu Khongyetpa.
She participated as an artiste cum teacher in the guru Kritana Seva organized by Guru Gulapi Nata Sankritana Academy in October 2003. She also served as a Ras sutradhari of Shri Shri Anumahaorabhu Seva Samiti, Shrisham Nabadweep from 2003-2004.
She still endeavors to popularize the art
Despite her elderly age, Sanatombi's passion for art never gets withered away. She is actively serving as the Ras Sutradhari of Shri Shri Govindaji temple, Imphal since 2004 appointed by Govindaji Temple Board.  Apart from this, she has been working as an Artiste of Manipur Dramatic Union since 1995 till date, serving as a Seva Sutradhari at Shri Shri Gopinathjee Temple, Ningthoukhong since 1979.
She also became a visiting Guru of Shri Shri Govindaji Nartanalya (Government Dance College) Imphal in 2004. She had produced a number of students in the field of Nata Sangeet as well as in Manipuri Dance and still continuing teaching works at her home.
Presently, Sanatombi is a recipient of financial assistance of persons distinguished in arts who may be in indigent circumstances and their dependents under the Ministry of Culture, Government of India.
Nat Sankirtana performance
Nat Sankirtana, a ritual singing, drumming and dancing of Manipur, encompasses an array of arts performed to mark religious occasions and various stages in the life of the Vaishnav people of Manipur plains. It is practiced at the centre of a temple, where performers narrate the lives and deeds of Krishna through songs and dance. In a typical performance, two drummers and about ten singer-dancers perform in a hall or domestic courtyard encircled by seated devotees. The dignity and flow of aesthetic and religious energy is unparalleled, moving audience members to tears.
Sankirtana brings people together on festive occasions throughout the year, acting as a cohesive force within Manipur's Vaishnav community. It establishes and reinforces relationships between the individual and the community through life-cycle ceremonies. Sankirtana, nominated from India is now among the 14 elements inscribed on the Representative List of the UNESCO Intangible Cultural Heritage of Humanity.