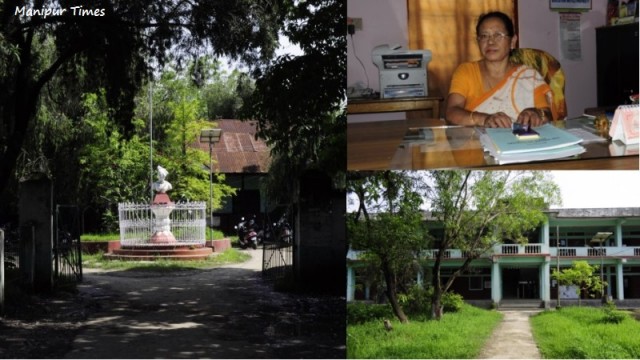 Until few years back, some Government schools used to regularly produce students who could secure positions in top 20 in Class X and XII examinations. Churachand Higher Secondary School was also among such schools which could produce position holders. However, the situation is no more the same. While the performance of the school in higher secondary examination is satisfactory to some extent, performance in Matric exam is not up to the mark.
Although, a number of factors can be cited as the reasons for this downfall of Government schools, lack of co-ordination between teachers and parents is the most important. Majority of the students reading in Government schools do not get proper attention from their parents and guardians as they generally belong to families of lower income group. In Class X and XII examinations where close competitions are witnessed every year, there is need for serious attention from both school and parents. 
With most of the students have migrated to private schools, enrolment of students in Government schools is also decreasing every year. Government schools are left in such a situation that they have to teach those children who generally do not get proper attention from parents while the private schools are teaching those children who get full parental support.
S. Indrani Devi, Principal, CC Higher Secondary School, Imphal shares her viewpoint regarding the present scenario of Manipur Government schools.
Churachand Higher Secondary School is a premier boys' school in Manipur. The school was earlier known as Manipur Public Institute when it was set up at Kangabam Leikai, Imphal. The dedicated founders and teachers of the institute approached the then King of Manipur, Churachand Singh K.C.S.I, C.B.E seeking some financial assistance to run the institute. 
King Churachand agreed with their request and granted royal fund sanction to run the institute without delay. In recognition to the king's contribution, the name of the institute was changed and renamed as Churachand High School. The school was upgraded to higher secondary level in 1964-65 under C.B.S.E, New Delhi having classes upto XI standard. At present, the school is a full-fledged Government Higher Secondary school having classes from IX to XII standard and affiliated to Board of Secondary Education, Manipur and Council of Higher Secondary Education, Manipur. 
The school is located in the North western side of historic Royal palace (Konung), very close to Sanjenthong bridge. 
The school aims to impart education so that a student may develop his personality as a complete man; unfold all his inherent good qualities; provide all possible facilities to attain academic excellence and train a generation to become worthy, reliable and resourceful citizens of the country. 
Among the best government higher secondary schools in Manipur, CC Higher Secondary School is a remarkable and popular one. The school has produced many position holders so far in the high school leaving certificate (HSLC) examinations and higher secondary school leaving certificate (HSSLC) examinations. 
ACHIEVEMENTS OF THE SCHOOL 
In the HSSLC examination held in 2000, eight students of the school bagged positions in Science stream. The students who took positions are Ng. Bonamani Singh (3rd position), G. Ramcharan Singh (5th position), Khaidem Toni Singh (6th position), Nepoleon Huidrom (8th position), L. Tiken Singh (16thposition), RK Picky Singh (18th position), M. Momocha Singh (19th position), Ng. Bikram Singh (20th position). Ranjit Kumar Prasad of this school got first position in Commerce stream.
In the HSLC exam 2000, out of 134 students appeared, 14 students passed in first division while 47 and 16 students passed in second and third division respectively with a pass percentage of 58. Out of 47 students appeared in class XII Arts exam, 5 students passed in first division while 28 passed in second and 9 students passed in third division with a pass percentage of 89.36.  Out of 147 students appeared in XII science exam, 62 students passed in first division while 83 students passed in second division and 2 students passed in third division with 100 pass percentage.  The same 100 pass percentage happened in XII commerce stream also with 2 students passing in first division while 9 and 10 students passing in second and third division. 
In the HSSLC examination 2001, students of this school who got positions in science stream are W. Sidhartha (4th position), T. Jashobanta (8th position), Kh. Bankimchandra and I. Sobhachandra jointly got 12th position and Kh. Dijen (18th position). In Arts stream, M. Nandakishor Singh from Thoubal Kiyamsiphai got 5th position while Simon, L. Michael Singh, A. Manglem Singh, Kamei Paokhonglung got 8th, 10th 15th and 17th positions respectively.
In the HSSLC exam 2008, Heigrujam Premkumar Singh S/o H. Shyam Singh from Konung Mamang got first position in Arts stream. In HSSLC exam 2012, Salam Bidyasagar Singh S/o S. Ningthouremba from Laphupat Tera got 5th position, Khundongbam Birlal S/o Shyam from Heirok Part II Devi Mandop Leikai got 13th position and Moichingmayum Ahamed S/o M. Absul Quasim from Moijing Wangmataba, Thoubal got 20th position. Moirangthem Henthoingamba from Kumbi got highest marks in Engineering Drawing in the HSSLC 2012 examination. In HSSLC 2011, Baskar Thingujam S/o Sharatchandra from Kongpal Chanam Leikai got 3rd position and Chingakham Rajendrakumar S/o Ch. Leikham got 5th position in Commerce stream. Akoijam Subhash S/o Ibungobi from Naaharup Pangong got 14th position in Arts stream in the HSSLC 2011. Johnson Hemam S/o H. Iboyaima from Moirangkhoiru got highest marks in physical health and sports scoring 72 marks out of 100.
The result of the HSSLC exam 2011 recorded a pass percentage of 97.59 in Arts, 43.90 in Commerce and 66.34 in science. 2008 result recorded a pass percentage of 51.19 in Arts, 33.33 in Commerce and 81.45 in Science.
The result of the HSLC exam 2013 which was declared recently recorded the school a pass percentage of 73 in Science stream, 58 in Arts stream and 60 in Commerce stream. Two students could bring laurels to the school scoring highest marks in Education and Engineering subject. Naorem Ramkumar from Keishampat got highest marks in Education subject scoring 88 marks out of 100 while Anand Thingbaijam from Irengband Mamang Leikai got highest marks in Engineering Drawing scoring 99 out of 100. 
The school opens three streams – Arts, Commerce and Science in higher classes. A Guidance Officer appointed by the school authority looks after the students for their future career. 
Churachand Higher Secondary School Gallery
AWARDS AND SCHOLARSHIPS – Ningsing Marup, a voluntary organisation of 1966 Matric batch of CC High School has started awarding a cash award with citations to the meritorious students of this school in the Matric exam every year.
INCENTIVE AWARDS – Incentive awards are given by the subject teachers to the outstanding students in the school/Board/Council examinations. The facilities of post Matric scholarships sponsored by the central and state governments are also available for the ST/SC/OBC students. Tuition fees concession is granted to economically backward and deserving students. 
NCC unit, NSS and Scout are opened in the school. About 1000 students are studying in the school. 
Downfall of the Government school lies with both the Government and people. The saying, "everybody's business is nobody's business" can be applied here. People generally neglect government properties. The common fact that almost all the teachers in government schools, except some teachers, are lack in sense of dedication cannot be denied. Inspectors fail to monitor schools, government fails to take up stringent action against those errant employees who neglect duties. Infrastructure and manpower problems faced by the school are not solved by the government in time. 
Parents are also responsible behind the downfall of government schools. Parents do not visit the school where their children are reading to discuss the weakness of the children with the teachers despite they have the right to look after the school. There is a great communication gap between teachers and parents.  So as long as there is no coordination between the teachers and parents, education cannot be improved, observed Indrani.