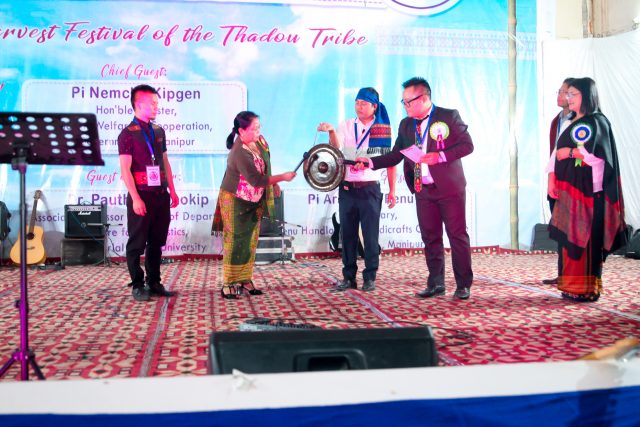 Thousands gather to celebrate "Chavang Kut", the post-harvest festival of the Chin, Kuki, Mizo tribes, under the aegis of Thadou Inpi (Delhi & NCR) in New Delhi on 7th November 2018 at MTNL Hall, R.K Puram. Ms. Nemcha Kipgen, Hon'ble Minister, Social Welfare and Cooperation, Govt of Manipur; Shri Ginkhomang Simte, Deputy Secretary (Retd), Govt of India; Dr. Pauthang Haokip, Associate Professor and Head of Department, Centre for Linguistics, Jawaharlal Nehru University and Ms. Arambam Renu Devi, Secretary, Renu Handloom and Handicrafts Cooperative Society Ltd., Manipur graced the Kut as Chief Guest, Kut-pa, Guest of Honour and Special Guest respectively.
Speaking on the occasion, Chief Guest, Ms. Nemcha Kipgen, Hon'ble Minister stressed upon the importance of unity for peace and for any development to take place in the society and expressed her wish that all the Chin, Kuki and Mizo kindred tribes put importance to Kut and celebrate it in a more grandious manner inclusive of all. Kut-pa, Shri Ginkhomang Simte explained what is Kut and how it was celebrated during our forefather times and its significance. Guest of Honour, Dr. Pauthang Haokip, who is also the first to confer a doctorate degree in researching Thadou language – The phonology of Thadou and also has published various articles/books with regard to the phonology, noun morphology, oral literature in Thadou etc. explained the importance of language for one's cultural intact. He pointed out that language is one's identity and losing one's mother tongue means losing the culture of one's identity. Special Guest, Ms. Arambam Renu Devi has praised Hon'ble Minister, Ms. Nemcha for her humble and equal treatment of all whether rich or poor and for her availability when needed. She also encouraged and challenged the gathering that if she, having no proper education could give employment to more than four thousand persons in the state of Manipur through her handloom industry, today's youth, who excelled in their education could do much better but wondered why most of them remain jobless. She wished that Kut may bring unity and peace amongst all.
Apart from cultural dance shows from Zillai (Vaiphei students), showcasing Vaiphei cultural dance; Khangthah Zuun Pawl (KZP), a Simte students organization, showcasing Simte cultural dance; Thadou Students Association (TSA) and Lenchonghoi Cultural Troupe showcasing Thadou dance, various artiste performed. Most prominent were the invited artiste Lovejoy Khongsai and Kakai Kipgen who were considered as the melodious singer of the Thadou society.
The entertainment session witnessed performances from Kut Band led by famous guitarist in Delhi, Boithang Haokip, various artiste and a beauty contest – selection of "Chavang Lanu",  an equivalent title to Miss Kut. The coveted title "Chavang Lanu" was crowned to Miss Evelyn Vahboi. The 1st Runner Up and 2nd Runner Up were crowned to Miss Phahoithem and Miss Nemneikim.  The three subtitles – Best Catwalk, Best Traditional Attire and Miss Personality were begged by Miss Bisola Zaineithem, Miss Mercy Ngahhoilhing and Miss Rosy Tingneichin. The Chavang Lanu title holder got a prize money of Rs. 30,000; and the 1st and 2nd Runner up received Rs. 20,000 and Rs. 10,000 respectively. All the subtitle holders were awarded Rs. 5,000 each and a sum of Rs. 2,000 has been given to all the contestants who do not receive any title as consolation prize.
The programme ended with a closing prayer from Paomang Sitlhou, Chairman, TCF Delhi.
Press release by CHAVANG KUT 2018, ORGANISING COMMITTEE