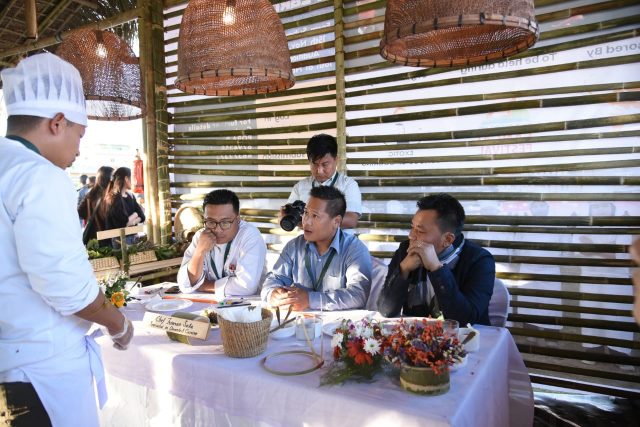 Sangai Chef: Season 1 completed its fifth round of competition today on the fifth day of the Manipur
Sangai Festival 2018 in Hapta Kangjeibung
This cooking competition which began on 21 November will continue till the 29 November. The
winner gets to go back home with a cash prize of one lakh and technical assistance to start their own
restaurant serving authentic Pan Manipur cuisine. As the competition reaches mid-way, with few
elimination rounds in between, the contestants is down to only sever in number.
With a vision to put Manipuri Cuisine on the culinary map of the world, by unearthing the exotic
indigenous food of the Manipuris, the Exotic school of Cooking with support from the Tourism
Department, Government of Manipur, is organising this one of a kind competition as part of the ongoing
Manipur Sangai Festival 2018. Additionally, all original recipes from the contestants will be
compiled and published as the first cookbook of the competition.
A panel of expert judges from the industry are empanelled to judge the competition based on taste,
presentation, authenticity, food knowledge and hygiene. Our main panel includes – Chef Trimran
Saka, specialist in oriental cuisine; and Chef Surchandra Ningthoujam from Imphal Hotel by The
Classic. Mrs. Sanyaola Kengoo Raman, Nutritonist; Mr. Rashingam Ngouroh, Foodie,
Restaurateur; Mr. W. Ibohal, Director, Tourism Department, Chef Partho Pratim Bose, Executive
Pastry Chef, Four Seasons, Bangalore were our Guest Panellist in the last fiv days.
Day 5 which was a "Childhood memories" round encouraged contestants to prepare their favourite
childhood dishes. Some of the special dishes presented were – Kanglayen Kanghou, "Nga-Heiribop-
Lomba anganba" (steamed), "Nga marum-soibum thongba", "Napakpi-Chak", "Thabi-yen thongba"
"Kaleja-kanglayen-yongchak" singju, "yongchak eromba", "Yen-kobi thongba", "Nu-ei-hok-ann"
served with "Lomba koom" etc
Day six promises a master class on healthy cooking and a tight competition on "Innovative round" in
the presence of Chef Alemjungla Jamir, Food Writer, restaurateur.
For more details, please log on to sangaichef.in
Day 5 Sangai Chef Season 1