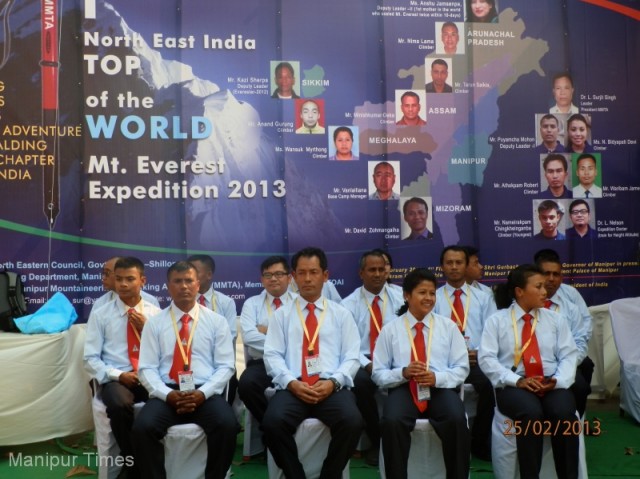 First North East India top of the world Mt. Everest expedition was flagged off by Governor Gurbachand Jagat Singh at Kangla Fort on 25th Feb 2013. Altogether 16 members from the North Eastern States are participating in the venture.
The expedition is organised by Planning Department of Manipur and sponsored by North East Council. Implementation of the expedition is done by Manipur Mountaineering and Trekking Association of Manipur, member club of IMF and ATOAI.
Members of the team headed by Dr L Surjit president of MMTA are :-
1)                  Dr L Surjit Singh – Manipur
2)                  Kazi Sherpa – Sikkim
3)                  Puyamcha Mohon – Manipur
4)                  Anshu Jamsenpa – Arunachal Pradesh
5)                  Athokpam Robert – Manipur
6)                  N Bidyapati- Manipur
7)                  Nimai Lama – Arunachal Pradesh
8)                  Tarun Saikai – Assam
9)                  David Zohmangaiha – Mizoram
10)              Anand Gurung – Sikkim
11)              Nameirakpam Chingkheinganba – Manipur
12)              Wansuk Myrthong – Meghalaya
13)              Waribam James – Manipur
14)              Manishkumar Deka – Assam
15)              Dr L Nelson – Manipur
16)              Vanlalliana – Mizoram
D.S Poonia Chief Secretary in his well-wishing speech
 "I hope everyone will come back with glory. We are proud to have an association like MMTA in Manipur. The combine effort of the North East team is good and we are proud of the joint venture.
It will be a glory for the North Eastern States and the Country as well when the team successfully scale the highest mountain".
I Hemochandra Minister PHED
I pray that the nature and weather condition are good when the team moves ahead for the highest peak. I wish him success and good luck.
Gurbachand Jagat Governor of Manipur
The stamina of the North East people is very good. The terrains they live in are hilly and the team is the best candidate as they are well skilled. Perhaps the cost factor involve in climbing the Mount Everest was a hindrance in the frequent venture of scaling the Everest. He also thanked the sponsor of the trip North East Council and the Manipur government. Gurbachand Jagat also prayed that the team be acclimatise to the weather at high altitude.
Among the organising committee Okram Ibobi CM Manipur (Chief Patron), Tarun Gogoi (Patron), CM Assam (Patron), Nabam Tuki, CM Arunachal Pradesh (Patron), Dr. Mukul Sangma, CM Meghalaya (Patron), Dr. Pawan Chamling, CM Sikkim (Patron), Zodintluanga Minister YAS Mizoram (Patron), U.K Sangma Secretary NEC (Patron), D.S.Poonia Chief Secretary GoM (chef de mission), Dr.L.Surjit, President MMTA & Chairman IMF NEXCC (Leader of the expedition),  Pradip Phanjouba, senior member of MMTA & Editor IFS (editor souvenir) could be mentioned.
In the expedition team, Anshu Jamsenpa the first lady from Arunachal Pradesh who has scaled MT Everest twice in the past is present for her third time to create history, N Chinkheinganba, a 16 year old boy is participating and on completion he will be the youngest to scale the Everest. The expedition is the first expedition which is to be executed under the leadership of a State government according to a hand out of MMTA.