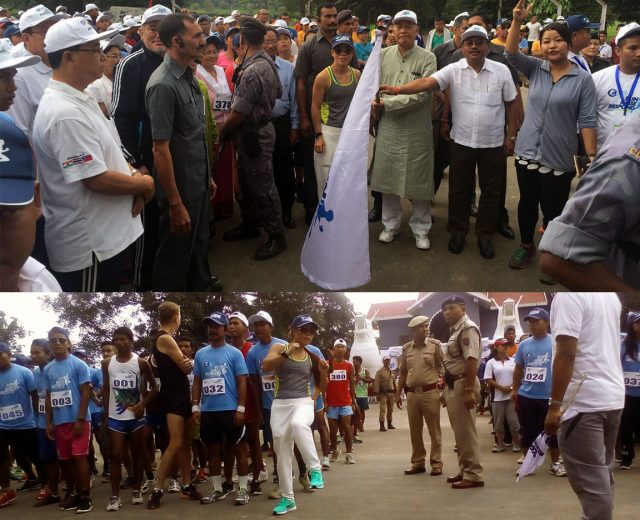 Ibobi says Govt alone cannot create employment opportunities for all
Imphal, Sept 10 : Chief Minister Shri Okram Ibobi Singh today flagged-off the Imphal leg of the charity half marathon run "Run Raise Respond North East" from the historic Kangla Fort organised for the development of entrepreneurship in the region. The event was organised with Dynamic Manipur as local partner.
Speaking on the occasion, Chief Minister said the government alone cannot create employment opportunities for all. With such a good initiative let us all join hands to venture new projects that would create more employment opportunities for the development of the state, he appealed. He expressed his concern on the frequent bandh and blockades and the law and order situation in the state which hamper the pace of development. He said that due to these problems no entrepreneur from outside the state are willing to come and invest and even a tourist is also reluctant to visit Manipur which is endowed with natural beauties. Pointing out the importance of entrepreneurship in the development of many sectors, Chief Minister also said that not only in the country but in the entire world, a number of employment opportunities are created by individual entrepreneurs.
Speaking on the occasion, Mr. Nigel Eastwood, a technology investor and international entrepreneur from UK, who is the man behind this event said that the North East India is critically important to the growth and development of India moving forward. This run is to support local entrepreneurs in the region and to highlight the immense potential of the region in commerce and tourism to the entrepreneurs of the rest of the country and the world, he added. It is about time to think by how we can support the entrepreneurial eco system in this region to create wealth, he continued.
Commerce and industries Minister Shri Govindas Konthoujam and MP Rajya Sabha and Olympic Bronze Medallist M.C Mary Kom also attended the flag-off function.
It may be mentioned that in today's event around 400 participants comprising of walker, runner, cyclist and biker are taking part. The destination of 21.1 km. Run (Half marathon) is at the 2nd World War Memorial at Maibam Lotpa Ching and will culminate at Nambol Bora site. The event is being organised in association with MNet, one of the North East India's leading telecom companies, and has been already organised in Guwahati, Shillong and kohima.