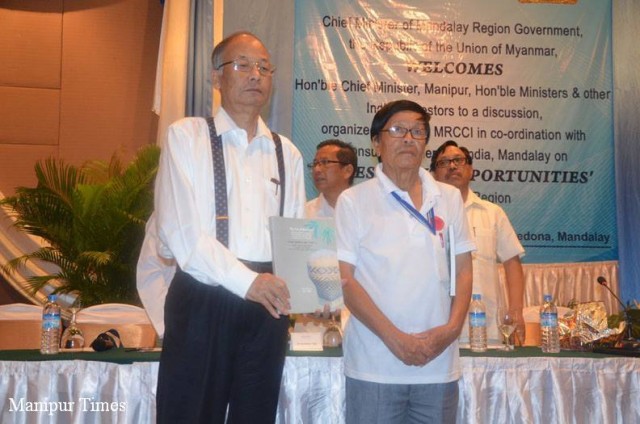 A Book titled 'Art of Bamboo' written by Mr. Mutua Bahadur was released by Okram Ibobi Chief Minister of Manipur at Hotel Sedona, Mandalay, Myanmar on 30th May 2013.
Earlier Mutua Bahadur has written books like
 i)                    The art of Textiles
ii)                  Traditional Textiles of Manipur
iii)                Tribal Hand Woven fabrics of Manipur
iv)                Cane and bamboo crafts of Manipur
v)                  Potteries of Manipur
vi)                Art ki wari singbun…
And many more illustrated manuscripts of Manipur. On top of that he has opened the Cultural Heritage at Andro and initiated a private museum at Imphal. He is also the member of Art Committee Govt. of Manipur. The writer had done intense research on the settlement of Manipuri's at Myanmar and Bangladesh.
U Htun Swe, O. Nabakishore, IAS, Kh. Ratan Singh, Minister Works O. Landhoni Devi MLA, Govindas Kontoujam, Minister Industries, Manga Vaiphei, MLA, Korungthan, MLA and M. Prithiviraj MLA were also present during the function.
The writer veteran art collector Mutua Bahadur highlighted his views on how he conceived his book in the releasing function.
He is a crusader who does lots of information, collection of the past, he is a museum keeper, he is an art collector, he has gone to different countries to collect the information about our tradition, culture of the Manipuri's and it's root from Bangladesh, India (NE states), Myanmar and China.