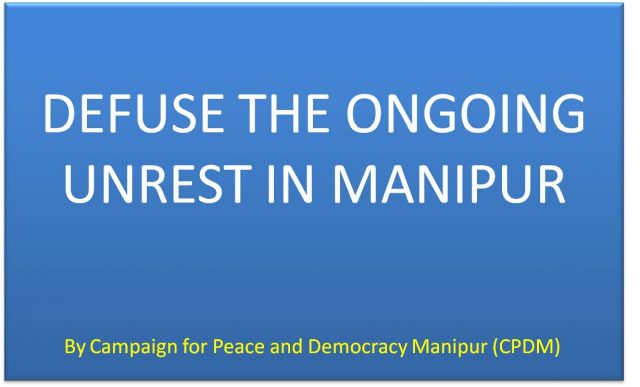 Appeal from Campaign for Peace and Democracy Manipur (CPDM)
Date: 18th December 2016: It is very unfortunate to witness the development of social unrest recently in Manipur and the failure to bring a peaceful solution by the stakeholders. The nexus of agitation which started from the economic blockade called by the United Naga Council (UNC) against the creation of Sadar Hills and Jiribam revenue district and counter economic blockade carried by disgruntled sections in the valley districts have given an unimaginable hardship and suffering among the people. In the meantime, failure of the government to bring a peaceful solution to the situation has left the people divided and frustrated resulting into many forms of unwanted agitation and escalation of social unrest. In this scenario, the forces who are carrying out economic blockade and counter economic blockade need to rethink their forms of agitation as it added to escalation of social unrest and many unwanted incidents. The needs and sufferings of the people must be addressed urgently and adequately to prevent from further escalation of divide and unrest.
We appeal:
(a) Congress regime in Manipur to bring reconciliation and peace immediately;
(b) BJP regime of India to immediately play an active role to end the tension;
(c) progressive forces in Manipur to play active role in neutralising communal propaganda and in building collective effort towards peace;
(d) revolutionary forces to strengthen social vigil against hate mongers and social crimes;
(e) people not to encourage any form of communal propaganda and riot.