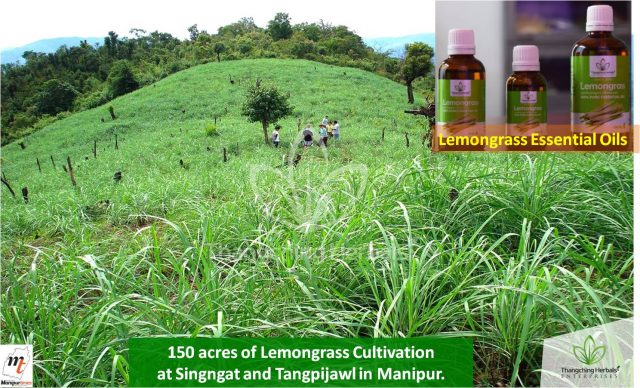 Thangching Herbals Enterprises was born out of the desire to bring out a sustainable farming and economic development in the hills of Manipur. Established in 2008, it takes up a project on lemongrass cultivation at Singngat and Tangpijawl in Manipur. Our firm felt that replacing the age-old shifting cultivation practice of the tribals with scientific method is long overdue. To realise this dream, we have been closely working together with farmers, NGOs and SHGs in Manipur and Mizoram promoting organic based scientific farming and we are very proud of this initiative.
Mission
To  catalyse the transformation of uneconomic shifting cultivation to economic based cultivation.
Vision
To be the leading producer of essential oils in India.
We support Angels' Place, a Home for orphans and destitute children in Manipur, and our profit goes in supporting the Home. We also provide skill training in farming to the children.
The cultivation of lemongrass is done on our farm stretching over 150 acres of land. Our firm provides employment to more than 200 individuals. Our business approach is much in line with the phrase "Think global, act local". In this globalised world, knowing the world is equally important with knowing your world.
​We are registered under the Ministry of Micro, Small and Medium Enterprises (MSME) of India bearing UAN MN03B0000015. Our firm is managed by a dedicated team backed by experienced technical, financial and legal professionals. We deal in cultivation of lemongrass for extracting its essential oil. ​
​
​We believe real growth is not exclusive but inclusive.
What is
 l

emongrass?

Lemongrass is a perennial plant with thin and long leave. The leaves and the oil is used to make medicine. The plant is indigenous to India and common in Thailand, Cambodia, Indonesia, Malaysia, Vietnam, Central America, China, Guatemala, Java, Madagascar, Sri Lanka, the West Indian islands and Zambia. The lemongrass plant usually reaches the heights of three feet or one meter.

Its health benefits is many. It is used for treating digestive tract spasms, stomach-ache, high blood pressure, convulsions, vomiting, cough, achy joints (rheumatism), fever, common cold, and exhaustion. It is also used to kill germs and a mild astringent.

The essential oil can also be applied directly to the skin for headache, stomachache, abdominal pain, and muscle pain. By inhalation, it is used as aromatherapy for muscle pain.

In food and beverages, lemongrass is used as a flavoring. Also, commonly used as "lemon" flavoring in herbal teas and foods. It is also popularly known as Thai Food.

In manufacturing, lemongrass is used as fragrance in soaps, candles and many other cosmetics. It is also used in making vitamin A and natural citral.

​Health Benefits Of Lemongrass
* Reduces pain and inflammation in joints, muscles and teeth.
* Has antipyretic properties that helps bring down high fever.
​* Inhibits bacterial and microbial growth in the body.
* Works as antiseptic for internal and external wounds.
* Provides relief from excess flatulence.
​* Increase urination and helps clean out the kidneys.

Essential Oil Trivia?

Did you know that lemongrass essential oil contains 67% aldehydes? Aldehydes give oils some of the best fragrances known to the perfume and cologne industry!

What can you do with lemongrass oil?

Possessing a fragrant and uplifting scent, lemongrass oil has both internal and external applications. Good for general aches and pains, lemongrass oil can be massaged into sore joints and muscles. Used in aromatherapy, lemongrass oil is a natural antidepressant that has relaxing and sedative qualities.

Lemongrass Essential Oil and How to Use it

Historical Uses

Historically, lemongrass oil has been used in a variety of ways to treat a number of ailments. A drop of lemongrass oil was placed on a sugar cube and given to patients to cure digestive complaints such as vomiting and gastric irritability. Applied topically, lemongrass oil has been used to treat ringworm, kill skin fungus and ease joint pain. Ancient civilizations also used lemongrass oil in food flavorings, cosmetics, perfume and incenses.

For the Skin

The natural antiseptic properties of lemongrass oil make it ideal to help heal wounds. As it is also a natural antibacterial, lemongrass oil can help prevent infections when applied topically to broken skin. Lemongrass oil can even be used as a natural deodorant. Much like citronella, lemongrass oil is a natural insect repellent. For this purpose, it can be added to carrier oil and massaged into the skin or it can be mixed with water to mist on the skin before going outside. People who have sensitive skin should avoid applying lemongrass essential oil directly to the skin as it is likely to cause irritation.

Steam Inhalation

Add a few drops of lemongrass oil to a bowl of steaming hot water for a steam inhalation treatment. Breathing in the aroma of lemongrass oil is useful in many ways. Its citrusy fragrance is a natural mood lifter that helps relieve depression and anxiety. Lemongrass essential oil used in aromatherapy can help relieve sadness from many situations such as loneliness or when a loved one has passed away.

Internal Uses

Although more commonly ingested in an herbal tea form, lemongrass oil can also be taken internally in very small amounts. As it is very potent, it must be diluted in a beverage such as water or tea and only a couple of drops should be taken at a time. Though most commonly used internally for digestive complaints, lemongrass oil can help bring down a fever and work as a natural diuretic. Women who are pregnant should not use lemongrass essential oil internally or externally.

Contact Details
Thangching Herbals Enterprises

Bungmual, Lamka – 795128

Churachandpur District

Manipur

Promoter

R. Sanga

Phone: +91-9436022454, 8729871959

E-mail: [email protected]

Head of Sales & Marketing

Siam Laingek

Phone: +91-9862466125

E-mail: [email protected]
Website: http://www.tcherbs.in/
Facebook Page: https://www.facebook.com/tcherbs