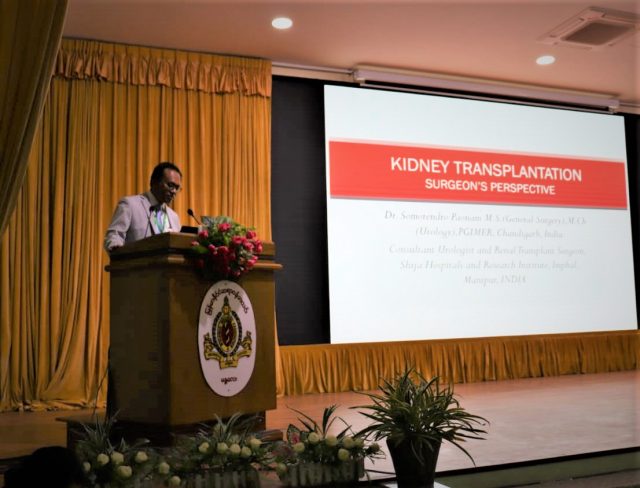 Imphal, January 4: Dr. Somorendro Paonam, Consultant Urologist and Renal Transplant Surgeon, Shija Hospitals and Research Institute and Dr. Sachindra Laishram, Consultant Ophthalmologist, Shija Eye Care Foundation presented a paper each today in the ongoing 18th Mandalay Medical Conference 2018, organized by Myanmar Medical Association from 3rd to 6th January, 2019 at Yadanapon Auditorium, Mandalay, Myanmar.
Dr. Somorendro Paonam presented a paper on "Kidney Transplantation: Surgeon's perspective" and Dr. Sachindra Laishram on "Corneal Transplantation". The session was chaired by Prof. Khin Maung Myint and Prof. Khun Aung.
Shija Hospitals and Research Institute has been at the forefront to develop medical tourism in the region. In its endeavor towards developing a good rapport with the neighbouring country of the Republic of the Union of Myanmar, Shija started the venture of Shija Mission Myanmar in May 2013. So far, three successful missions were ventured wherein 134 cleft lip and palate, 179 cataract blindness and 32 key-hole surgeries were performed for free at Monywa General Hospital, Myanmar. Shija Hospitals in collaboration with AMASI (Association of Minimal Access Surgeons of India), took up the initiative of providing free training to two surgeons and six nurses from Monywa General Hospital, Myanmar for two months in the areas of Laparoscopic surgery, Operation Theatre Technology and Critical Care under Shija Overseas Training Program. Shija Hospitals has been treating many patients from Myanmar and today it has become one of the most sought after healthcare destination of the region by the population of Myanmar.
---
Press Release submitted by Shija Hospitals on January 4, 2019.