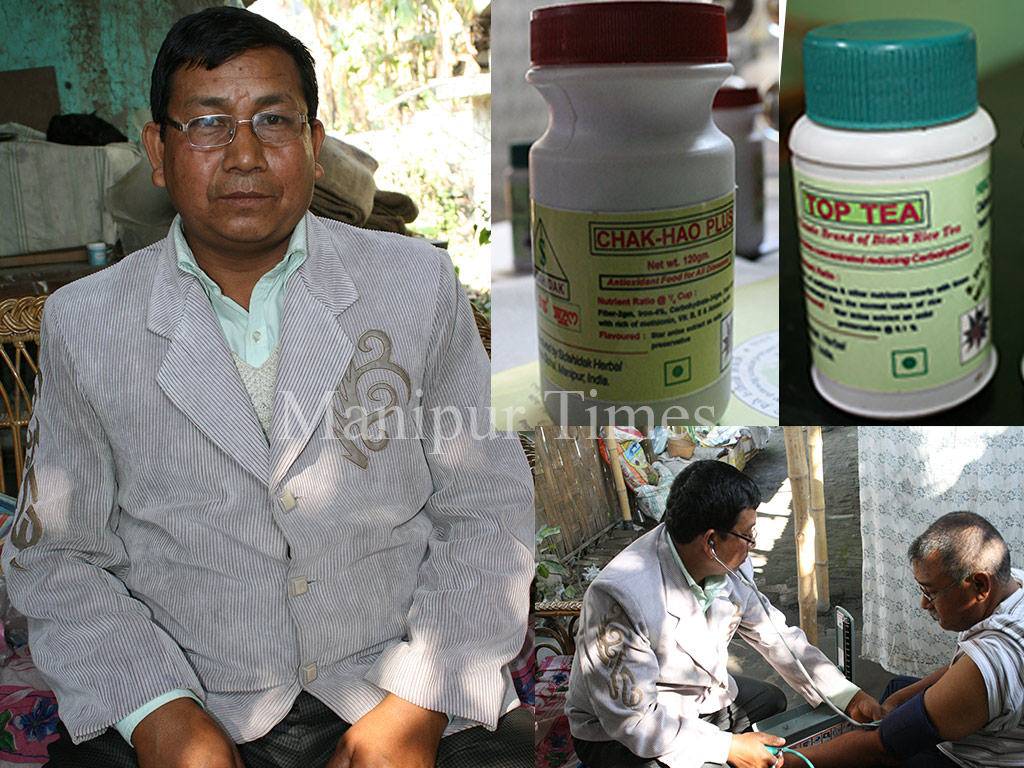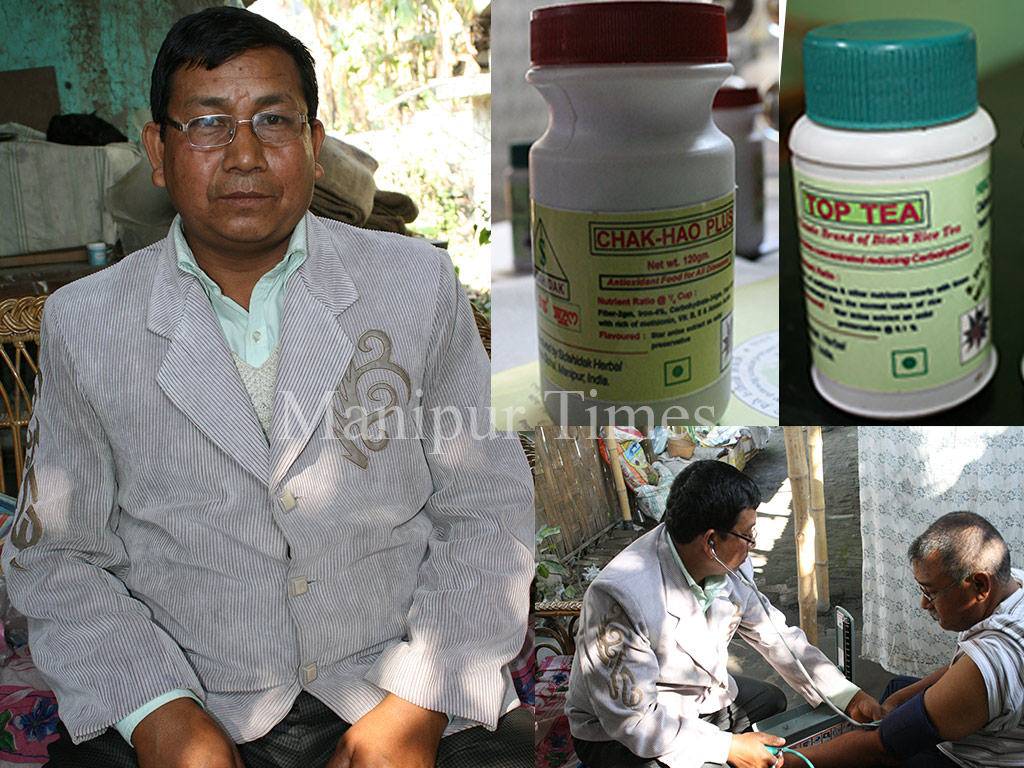 "Generally, we consider local chak-hao rice as food item only and nobody studies its medicinal values.  Manipuri Chak-hao rice contains high medicinal values. Chak-hao rice contains nutrients like fibre, iron, carbohydrate, fat with rich methionine, Vitamin B, E and amino acids.  After long research on this particular rice and considering its health benefits, I tried to produce it in the form of medicinal cum daily dietary food supplement under the brand Chak hao plus. A good demand comes from people from various walks of life for this brand", said Dr. Kalanjoy, Managing Director of Sidahidak Herbal Industries. 
In an interaction with Manipur Times, Dr. Kalanjoy said that Chakhao plus and Top tea manufactured using local Chak-hao( Black rice) are the noted food brands of Sidahidak Herbal Industries . Chak-hao Chagem, Chakhao Suji  are the best raw materials for preparingthese food brands providing lots of health benefits.   It is an anti-oxidant food for all diseases which can benefit the health of people afflicted with diabetes, cancer, HIV,  brain disease, heart disease, malnutrition in children, allergy and tiredness. It is also beneficial for lactating mothers. One bottle of chak-hao plus weighs 120 gm and contain nutrients like fibre, iron, carbohydrate, fat with rich methionine, vitamin B, E and Amino acids.
Dr. Kalanjoy worked as a medical practitioner in Arunachal Pradesh, Mizoram, and Nagaland. He returned home and started his venture of producing various herbal medicines using the locally available herbal plants having medicinal values under the brand M/S Sidahidak herbal since 1995. He has around 20 medicinal brands under his company made with the locally available herbal medicinal plants.
 Dr. Phairenjam Kalanjoy Singh, son of Late Phairenjam Kameshor hailing from Phumlou Siphai, Imphal west , a medical practitioner cum innovator of the state studied at Mayanglangjing High school and completed his Bachelor of Medicine and Homeopathy science, BMHS from  IIMS, Kolkata under New Age International university. For his work on alternative medicine (Folk medicine) with a focus to North east plants including Sikkim, Kalanjoy was conferred a doctorate degree in 2004. A book entitled 'Medicinal plants in North east and Sikkim' authored by him was also released in 2009. Patients with chronic diseases like Tumour, Hepatitis-C, Liver problems, initial stage of cancer, arthritis, BP, Gastrointestinal problems, menstrual problems are given treatment through alternative medicine at his home clinic. He has also completed veterinary and laboratory technician training courses.
Manufacturing of nasal drop, eye drop and ear drop and industrial reagent for dying with the crystalline (polysaccharide) extracted from the stem of Mustard plants is a great innovation of Dr. Kalanjoy. This will encourage mustard plant growers and their income will be increased gradually. Polysaccharide, which is a burning issue in international market, extracted by him through simple home method has been confirmed and appreciated by the experts of Manipur University.
For public convenience, the products of Sidahidak are made available at the registered office of Sidahidak herbal located at Uripok near flyover point, Pishumthong Leirak, Yangui and Groups, Ukhrul bazar, Watiangla Imchen, Makokchung, Nagaland.
Black rice (Chak hao) was proclaimed as a 'superfood' by the World Health Organisation, WHO. Dr. Zhimin Xu,  a researcher, confirmed  that "just a spoonful of black rice bran contains more health promoting anthocyanin antioxidants than are found in a spoonful of blueberries, but with less sugar and more fibres and vitamin E antioxidants". Several value-added products have been launched using Black Rice. These include noodles and Black Rice Cracker Chips. In China, noodles made from black rice have been produced added Dr. Kalanjoy.
That the local Chak hao rice came with the people of Manipur, particularly Meiteis when they first settled on this land is the belief among the Manipuris. Chakhao amubi and Chakhao angouba were named after the black and white colour of this particular rice. In ancient China, black rice was considered the finest grain and only served to the Emperor. So, it is also called "forbidden rice," as it was restricted to use by general people. Black rice is, sometimes, known as spiritual rice among the Budhists as it was served to Gautama Buddha while he meditated.
 Six people are employed by Sidahidak herbal at its manufacturing unit at Phumlou Siphai.  As production of Chak hao plus brand entirely depends on the availability of Chak hao rice in plenty, he procures the raw materials from the farmers through contract farming at the rate of Rs.55 to Rs.100 per Kg. He has been able to install machineries like Micro Pulvariser, Auto Net, Dryer, Filtering zone, Tableting machine and other laboratory items.  His chakhao plus brand is produced in the form of Powder and capsule. He is eying for providing jobs to more people by expanding his Industry.