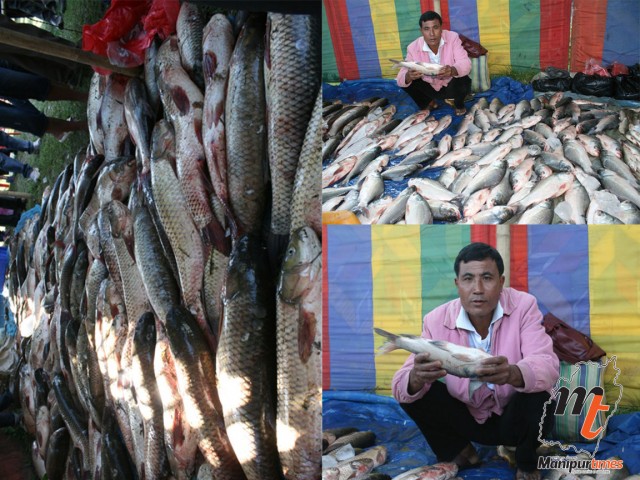 Fishery and aquaculture farming is being practiced in around 1 lakh hectare in Manipur. The state has the potential to produce 56,500 tons of fish per annum. However, despite having this good potential of fish production, the state produces only 18,000 tons per annum with an average production of 2 tons per hectare. As such there is a huge gap between demand and supply of fish as the state needs around 48,000 tons per annum. So, the state relies on other states for this deficit requirement thus throwing away a huge amount of money outside the state. If the potential areas of fish farming are properly managed to increase fish production as well as the fish farmers are encouraged with adequate financial assistance by the government from time to time, the state can witness good economic growth by exporting surplus fish products to other states, said Khundrakpam Hemanta, a successful fish farmer hailing from Wabagai.
45-year-old Khundrakpam Hemanta Singh is the son of Brajabidhu of Wabagai Thingel Leikai in Thoubal District. He is one of the most successful fish farmers of the state. He is contributing to the state's fish requirement by producing varieties of fish every year from his four-acre fishery pond located at Khomei Pat in Wabagai in Thoubal district.
FISH VARIETIES
He is nurturing fish varieties like Rou, Silver Kaf, Grass Kaf and local indigenous fishes such as Ngamu, Ngakra, Ukabi and Pengba etc. When his fishes become big enough for sale, he sells it at the rate of Rs150 to Rs300 per kg according to different fish varieties earning a good profit. He feeds cow dung, maize, banana leaves, grass, rice husk etc to his fishes.
EARNING GOOD PROFIT
Earning a profit of Rs 4 to Rs 5 lakh every fish crop season, Hemanta has been able to support his family having three children comfortably. He was introduced to fish farming way back in 1992 and still continuing the profession successfully. This year, he could produce 32,000 kg.
Hemanta's journey to a successful fish farmer was not an easy one. Prior to taking up fish farming, he used to cultivate paddy and vegetable in his paddy field for livelihood. As the income was not sufficient to maintain his family, he starting thinking about other options.
INTRODUCTION TO FISH FARMING
"I had big dreams in my childhood days. I wanted to be a Government Officer after completing my studies. But man purposes, God disposes. My dream went flat with no support. Being the eldest son among six siblings, I had to drop my studies after passing Class X to help my parents in their effort to run the poor family. It was hard for my poor peasant father to run the family with his small income. In fact, we led a hard and severe unsecured life with no enough income and saving. In such a crucial juncture of family survival, I had to compromise my studies with earning at an early age", Hemanta told to Manipur Times.
After finding no better livelihood option, Hemanta dug a pond in his paddy field to take up fish farming there. On trial basis, he released about 300 fingerlings of Rou and Grass Kaf fish varieties which he got from a friend, who was also successfully running a fish farm. All the fingerlings became big with none of them died. He could earn a good income from selling fish. Success in his initial venture became a spring board to a successful fish farmer of today.
The hard work and prolonged dedication of Hemanta has well paid off. Life has changed dramatically for Hemanta after he started fish farming. He could thrive more in his fish business when he met the officials of Fishery Department, Government of Manipur who provided him various technical knowhow and inputs related to fishery. Under the sponshorship of the department, he once went to Hyderabad to join a month-long fishery training. After the training, he could enhance his farm using the technical knowhow learnt from the training.
Once Fishery Department, Manipur also honoured him with cash award for producing good fish crop at the State Level Ningol Chakouba Fish Fair cum Fish Crop Competition. Energetic and hardworking, farmer Hemanta has also been able to generate employment for other people by engaging them in management of the farm.
LIFE WITNESSES CHAGE
"Fish farming is now a thriving business and my passion for it has changed my life to a great extent. Now, I am looking forward to the future. I am planning to expand my fish farm to bring out more production. With the demand of fish is on the rise every year due to increase of population, the state has been importing the required fish quantity from other parts of the country. For fish farmers, they need not worry for market as the demand of fish is always on the rise. Demand always exceeds supply. In such a situation, fish farming is now a thriving business with no huge capital investment, machineries like other manufacturing industries. A farmer can comfortably earn a good profit from such venture if he endeavors enthusiastically", he said.
"Why should we worry for jobs for survival when there are ample opportunities. Problem of unemployment can be reduced when we look out for self employable jobs. Our vision needs to be expanded beyond the white collar jobs to enhance our economic conditions. Government has key role to play in motivating the entrepreneurs. While planning budget, state needs to focus more on the entrepreneurs, taking the lead in providing jobs to many jobless while contributing state economy", he observed.
[ecwid widgets="productbrowser search minicart" categories_per_row="3″ grid="10,3″ list="60″ table="60″ default_category_id="21294227″ category_view="grid" search_view="list" minicart_layout="MiniAttachToProductBrowser"]