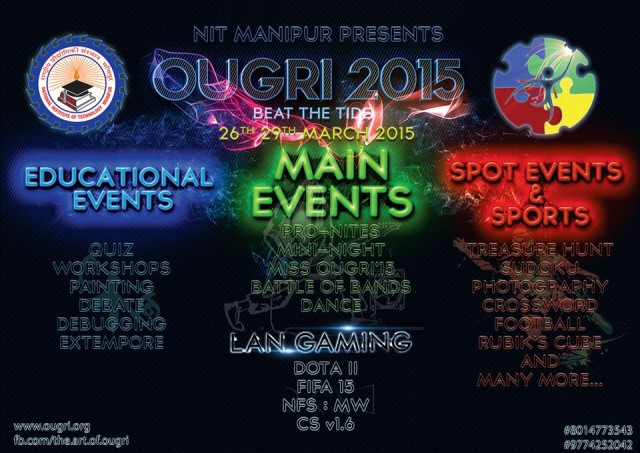 National Institute of Technology is celebrating "OUGRI" from 26th-29th March, 2015 for the third time since 2013 with the vision of sharing knowledge in various engineering disciplines and cultural events. This year, honouring the theme "Beat The Tide" is going to be organized on an even larger scale to explore and unleash one's latent talent without fear with events which will provide a platform where one can explore their skills and talents in various technical and non-technical fields. Professional singers and bands across the country will be performing live shows to bring ecstasy and delight to those who share with us the valuable moments at the fest.
Some of the events which we are about to host are:
1. Workshops
2. Debugging and Programming
3. TechQuiz
4. Debate
5. Painting
6. Extempore Speech
7. Hackfest
8. Dance
9. Soccer
10. LAN Gaming
11. Battle of Bands
12. Photography
13. Spot events
13.Mega Concerts and many more….
The term OUGRI, which was also known as Leiroi Ngongloi Eshei, was an anonymous and undated poetry written in archaic Meeteilon which is believed to have been written in the pre-Christian era. It was a part of LEISHEMLON PUYA, the old scripture about Meetei cosmogony.
For details, updates and queries connect us at
www.ougri.org
www.facebook.com/the.art.of.ougri