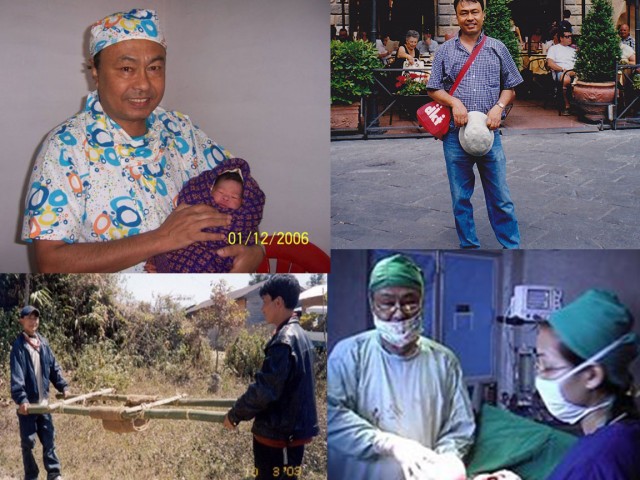 He is the 'living directory' of health centers of Manipur, an unbeatable specialist in family planning and a pioneer of no-scalpel vasectomy and Laparoscopic tubal ligation, but Dr Choudhurimayum Nabakanta Sharma never thought during his childhood days that he would join the medical profession one day. Although, he grew up under the strict eyes of his father Late Nityai Sharma and mother Late Ibema  Devi, he never had any specific ambition till Class X like many other students of his time.
Born on August 5, 1950 at Brahmapur Aribam Leikai, Dr Nabakanta was the first child of his parents among four sons and two daughters. He grew up as a quiet childhood and could not enjoy mingling with the children of his locality as he did not have the courage to defy his strict father.
His first school was Pettigrew LP School and he was later shifted to Moirangkhom Junior High School from Class III. After the completion of Class VI, he joined Ramlal Paul High School where he got to learn different subjects from noted teachers like Late RK Shitaljit, Padmakumar and Modhuchandra etc.
Remembering his childhood days, Dr Nabakanta said, "I really didn't have any space for going astray during childhood and high school days. At home, my father guarded me like an alert sentry.
Apart from studies, he has interests in art as well. Dr Nabakanta said, "As a student, I used to observe the paintings of RKCS with keen interest. His residence is just next to School, I just could not take out my eyes from those paintings, and I was almost glued. On the other hand, Michael Angelo's 'Making of Adam' is my all time favorite, unknowingly I am going to spend a good time of my life at Rome, Pompeii,  Florence and Venice of Italy,
ASPIRATION TO BECOME A DOCTOR
During his high school days, he happened to get treatment at District Hospital for a dental ailment one day. He was so impressed by the look and personality of the doctors that he forgot all his pains and kept on looking at them. From that fine day onwards, he started dreaming to become a doctor to serve the society.
After he passed matriculation exam from Ramlal Paul High School in 1967, he was admitted in PUC (Science) at DM College. In 1973, Dr Nabakanta cracked PMT and got admission at King George Medical College, Lukhnow. However, luck did not favor him, his father told him that he could not afford to send him to outside Manipur at  Lucknow.
Off course, it was a discouraging situation. However, lady luck smiled at him again after some time. Regional Medical College (now known as Regional Institute of Medical Sciences) launched its MBBS course from that year and Dr Nabakanta got admission in the first batch of the medical institute in.
Dr Nabakanta said, "As the institute was at the infant stage, one year was lost due to shortage of faculty members. I later passed MBBS from RMC under Gauhati University in 1978."
After he got MBBS degree, he continued to serve RMC in 'house job'. At the same time, he also dropped an application at Manipur Government Secretariat seeking a suitable government employment.
As he continued his house job at RMC, he never enquired about the application he had submitted to Manipur Secretariat for many months. He never thought that he would get a government job so soon. But one fine day, he was returning home in a bicycle from RMC after completing his duty. On the way, actor Birbabu (The first Manipuri film) informed him about his appointment as a government doctor.
That is the way how Dr Nabakanta started his career as a doctor working with the State Government in 1978. His first posting was at Tuwai Waichong on IT road and he worked there as an ad-hoc doctor.
LIFE AT TUWAI WAICHONG
Notwithstanding many people were dying of malaria at that time, he enjoyed his first posting in the village. But he made sure that he had enough stock of anti-malaria Chloroquine tablets. Being a young man, he did not sit idle in his office but he roamed around to distribute the medicine to the villagers. This intensive work helped him return to Imphal with a regular post in the Family Welfare Department after two years.
The Government held an interview to upgrade his position to regular post after two years of his appointment as an ad-hoc doctor. Dr Nabakanta said, "The interview was not that tough for me as I had enough field-experience of Tuwai Waichong."
Although the interviewers tested him with some tricky questions about the prevalence of malaria in the village, he could easily give elaborate and convincing answers. At Tuwai Waichong, Nepalese were the most vulnerable community as they usually built houses in the foothills while tribal's mostly live in top of the hills where mosquitoes could not reach with a smoke laden rooms. Moreover houses of tribal's were usually engulfed with smoke that came out from the fire used for drying up of meat.
When Dr Nabakanta narrated these stories to the interviewers, they probably decided instantly – 'this is the right man'. After the interview, he was appointed as the regular Mobile Medical Officer of Urban Family Welfare Centre.
PAIR OF LUCKY BREAKS
At about the same time, he entered marital life with Apabi Devi in 1980. The couple has two sons and one daughter. Their first son Anand has a business which deals in medical equipment and daughter Maya is a Dental Surgeon settled in the US. Their youngest son Swami is a techie working in Bangaluru.
FAMILY WELFARE SCANDAL
In 1982-83, the government put many doctors, except Dr Nabakanta, under suspension after a scandal rocked the State Family Welfare Department. Regarding the scandal Dr Nabakanta said, "I became a 'big doctor' overnight after many senior doctors in my department were suspended."  By share chance I was escape the scandal my requirement was minimum But I love to watch the English movies at Imphal Talkies most of them are Italian Films and Second world war pictures.
Dr. Nabakanta Sharma Photo Gallery
"I'VE SEEN ALL THE PHCs of MANIPUR"
In 1983, an expert from John Hopkins University (Baltimore Merryland, USA) came to India to impart training on Laparoscopic Tubal Ligation to India. Dr Nabakanta took this opportunity and went to Osmania Medical College, Hyderabad to get training. Later, Dr Nabakanta not only trained the newly acquired knowledge to many doctors in Manipur but also extensively used it at interior areas like Parbung, Henglep, Kasom Khullen, Mao and Chandel etc. Dr Nabakanta said, "During this time I travelled extensively across the state. In fact, I'm lucky that I have seen all the PHCs of Manipur." It's a very rare opportunity of my fellow colleagues.
… to be continued